For adrenaline junkies, the winter season brings all kinds of ways to get a fix. Zigging and zagging down snowy mountains at furious speed will make even the coolest hand sweat.
But there is an undeniable element of danger that can't be ignored. In many aspects, that is part of the thrill. When that risk decides to rear its ugly head, a fun winter ski session can become a frenzied race against time.
For skiers at the Arapahoe Basin ski hills in Keystone, Colorado, the afternoon of January 4, 2017 will forever be tattooed in their brain.
Horror and heroism were on full display, and the entire encounter was recorded on an onlooker's cellphone.
Skiers at the Arapahoe Basin Ski Resort were horrified as a man helplessly hung by his neck from the ski lift in January 2017.

Mickey Wilson, a professional slackliner and ski instructor at the resort, had plans to meet with three friends that day. Two of them he'd known for years; the other he'd met only that morning.
Wanting to give Wilson the chance to catch up with his old buddies, the friend he didn't know as well, identified only as Richard, decided to ride in a different ski lift.
The lift allowed only three people to sit side-by-side at a time.
When Wilson landed safely on the ground with his other two friends, they couldn't find Richard. That's when they heard someone yell from behind them.
"At first, we don't think it's going to be anything serious," Wilson said in an interview with Denver 7 ABC. "I think I'm about to see something funny. I'm about to see a friend hung by his trousers or something."
The scene was anything but funny. Wilson and his friends walked over a hill and caught a glimpse of their friend dangling motionless from the ski lift.
While trying to exit the ski lift, Richard's backpack got caught in the lift. The strap wrapped around his neck and suffocated him.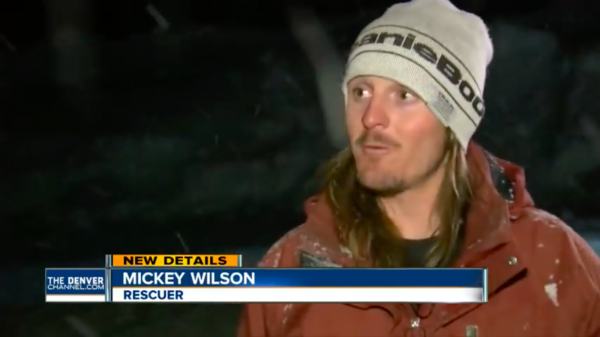 "This guy is a really advanced skier, he knows what he's doing," Wilson said. "It was just bad luck in a lot of ways."
The group of friends, along with the lift operator, tried several different ways to free Richard. But with their friend roughly 10 feet off the ground, initial rescue attempts failed.
"We're starting to realize he's dying. He's been unconscious, without air for two or three minutes now," Wilson said.
Ski patrol was on their way with a ladder, but because of the size of the mountain, it was going to take too long for them to arrive. If Richard wasn't cut down immediately, he was going to die.
With time ticking away, Wilson looked at his friend's unconscious body and the ski tower and started climbing.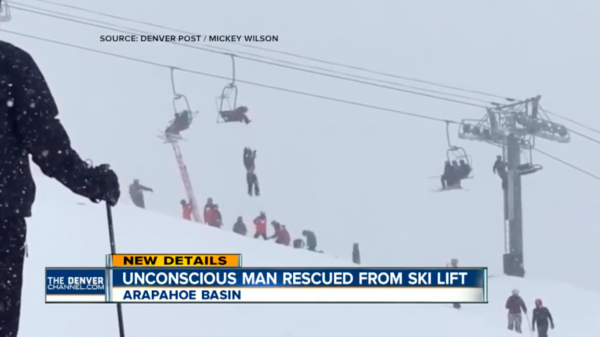 As soon as Wilson started climbing the ski tower, the crowd yelled at him to get down, fearful of another tragedy. But Wilson, who is a professional slackliner, possesses superior balance.
Slacklining is an extreme sport that evolved from tight-rope walking. It incorporates balance, aerial acrobatics, and momentum to perform stunts along a thin cable.
With his unique skills, Wilson figured he was his friend's best chance at survival. He climbed the tower, shimmied down the cable, and landed in the empty ski lift bench.
Once he arrived, Wilson realized he didn't have a knife in his jacket. Fortunately, ski patrol had arrived and was able to toss a knife up to him.
Wilson caught it on the first throw, with a badly injured hand, no less. He cut Richard down and several ski patrol workers immediately started trying to get him breathing.
"I collapsed in my chair, realizing there was nothing more I could do," Wilson said. "Thank God I'm a slackliner."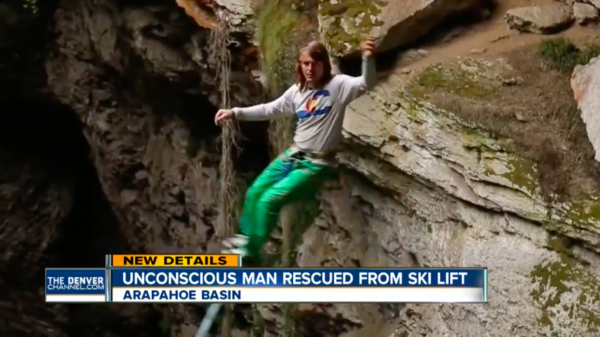 Footage of Wilson's daring rescue spread quickly, though at the time he said he was totally unaware.
"I've been skiing powder at A-Basin all day, today. I had no idea this was becoming breaking news," Wilson said in an interview days after the event.
The hero didn't remain in the dark for long. His courage earned him appearances on countless high-profile shows in the United States.
Notably, he and Richard appeared alongside each other on the Ellen DeGeneres show. It is the only time Richard has talked about the incident publicly.
After all the drama, Richard said he had a broken rib, a tweaked neck, and some soreness, but was out of the hospital shortly.
Richard intentionally stayed out of the spotlight, not wanting to take any of it off of Wilson. At the end of their appearance on Ellen, they were each given a seven-day trip to visit an island in Hawaii.
Wilson, who married his girlfriend while tight roping over a 300-foot canyon drop in Utah, used the trip as a honeymoon with his new bride.