Every day we pass by countless people and have no idea what they're going through. Some people struggle with financial issues, some people struggle with family issues—and others struggle with life itself.
Glen Oliver may not be able to solve everyone's problems with their money or family, but his habit of paying for the person behind him in the drive-thru helped save a man's life.
A man revealed that Oliver's good deed changed his entire perspective.

An anonymous letter was sent to the Pickering News Advertiser from a man who shared that he was planning to commit suicide—until he got a "sign" in the Tim Hortons drive-thru line.
According to BuzzFeed, as he pulled up to the line to pay for his food, he got a little surprise.
"The nice man already paid for it and he said to have a great day," said the cashier. This small gesture and simple phrase made this person rethink his original plan. It was too much of a coincidence that on that specific day someone did something so nice for him.
He wrote to the Advertiser, "I wondered why someone would buy coffee for a stranger for no reason. Why me? Why today? If I was a religious sort I would take this as a sign. This random act of kindness was directed at me on this day for a purpose."
Because of Oliver's good deed, this man decided to keep the chain of good deeds going. "I decided at that moment to change my plans for the day and do something nice for someone. I ended up helping a neighbour take groceries out of her car and into the house."
Oliver is happy to have helped make a big difference in one person's life.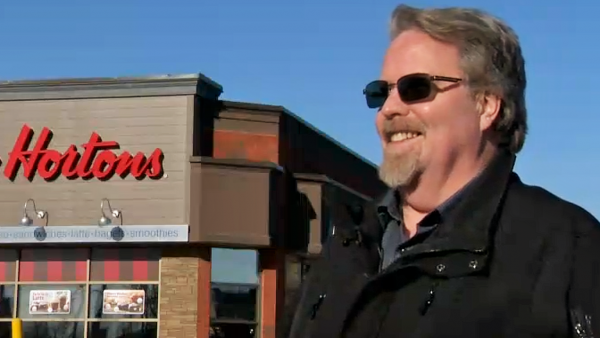 Oliver explained to BuzzFeed Canada that he found out about the anonymous writer after his wife started reading the letter. "I was lying on the couch right beside her and I could hear her sniffling at what she was reading." His wife told him to read the letter too, and he admitted to getting the sniffles as well.
They figured out by the timing, location, and wording of the letter, that Oliver must have been the one to pay for the man's order that day. He's been paying for the person behind him in drive-thru lines for years, and he always makes sure the person was told to have a "great day."
"I married the love of my life and I've got four great kids, so anything you can do to make someone's life a little bit better, you do it," he said. "We're not rich but we have it all."
Oliver wanted to tell the man that he's happy his message changed his plans. "I'm glad you took it as a sign and decided to change your plans for the day. It makes me feel like a million bucks to feel like I had some part in that."