A long-distance relationship can be between a couple that's 4 hours apart, or 24 hours apart. But if you love someone enough, you will learn to make it work.
Jun and Minttu had been going strong for five years in a long-distance relationship. Even with Jun being in the United States and Minttu living in Finland, they found some way to keep going; they obviously love each other very much to make it work even with that amount of distance between them.
Which is why Jun decided that he wanted to pop the question.
Jun made the decision to fly from the U.S. to Finland to surprise Minttu and propose to her.

Jun recorded the entire thing, starting out with him stating his plan to surprise Minttu.
"I'm super excited to surprise you right now," he says to the camera, presumably addressed to Minttu for whenever she watches the video. The video follows him all the way to Finland, where he casually walks into a cafe and goes straight to a piano.
His plan is to play the piano and sing while he waits for Minttu—who is sitting a few tables away—to notice him.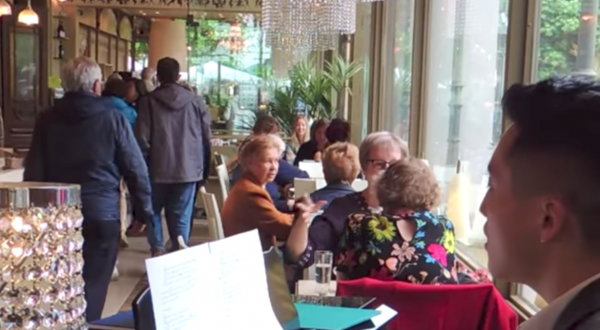 "As I was sipping my tea, suddenly some music started to play," Minttu later wrote in the caption to the video posted on YouTube.
After Jun starts to play Ed Sheeran's "Thinking Out Loud" for a minute, Minttu looks like she recognizes who is playing the piano. She smiles and was probably wondering what on earth her boyfriend was doing there.
It was, of course, all pre-arranged with the help of Minttu's friends.
Minttu said that she was with her friend that day, who had told her she wanted a "girls day" and had taken Minttu to the cafe.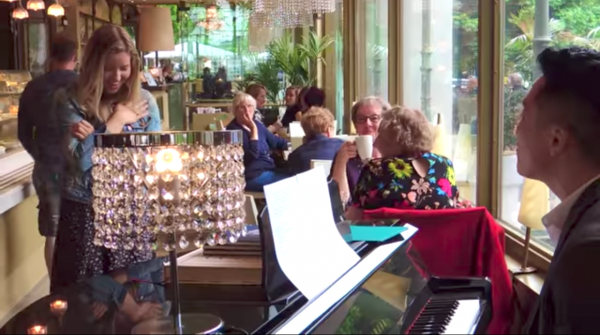 Jun performed the song in its entirety as he looks lovingly on at his girlfriend. After a while Minttu comes over to stand in front of the piano, clearly delighted to see him and enjoying the song as she places her hands over her heart.
When he finishes, onlookers give him a round of applause, and the couple hug for a long time.
As Jun slips from the embrace, he reaches for something in his coat pocket.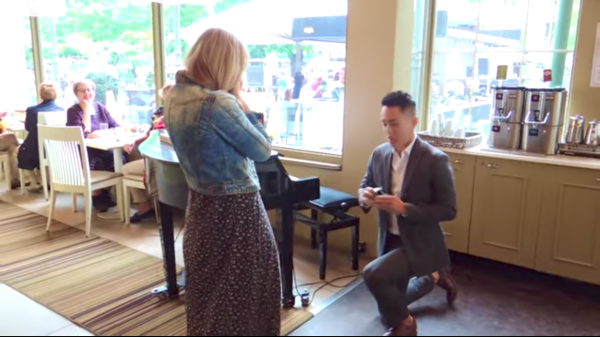 Jun wastes no time as he gets down on one knee and proposes right then and there, to which Minttu, through happy tears, says yes!
The customers in the cafe warmly applaud again for the happy couple.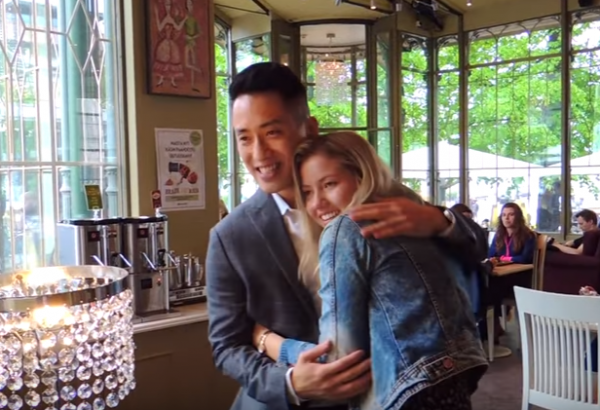 The couple still has yet to be married, but if Jun puts as much effort into the relationship as he did the proposal, then they'll have no problem staying together forever.
They are, at least, now both living in the United States, as Mintuu is studying for her doctorate in California.
Watch the beautiful proposal here: