One emergency department nurse recently got both the scare and surprise of her life when an ambulance pulled up to the hospital with her boyfriend inside.
Tom Ciancia, who also works as a nurse at the same hospital as his girlfriend, Lauren Trulli, wanted to propose to Trulli, but he wanted to do it in a way that reflected how the two met, at work.
With the help of a first aid squad he was able to pull off a frighteningly good marriage proposal.
Ciancia and Trulli met while they were working at a hospital in New Jersey.

One day while Trulli was at work, Ciancia arrived at the hospital on a stretcher in the back of an ambulance. His girlfriend was shocked when she opened the doors and saw her boyfriend. Almost immediately she asked if he was at the hospital because of his peanut allergy, but not before inquiring why her colleagues were recording the interaction on their phones.
Trulli ran ahead while the first aid squad rolled Ciancia into the emergency room.
Trulli had no idea Ciancia was faking his allergic reaction.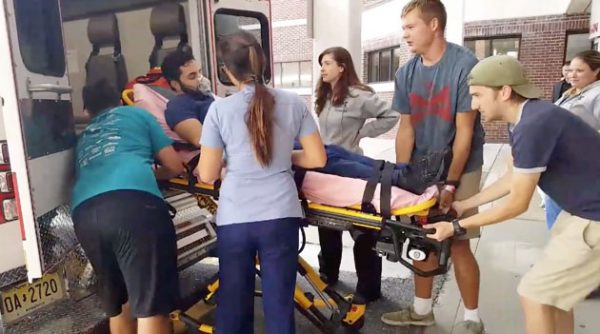 Ciancia pretended to stumble as he got off the stretcher and as he seemingly lost his balance he grabbed Trulli's hand. Trulli finally caught on.
"Shut up!" the nurse said.
Ciancia got down on one knee and proposed to the love of his life.
"This was the best way to surprise you," he said.
Ciancia professed his love to Trulli and asked her to marry him all while in the middle of the emergency room and in front of their co-workers. She happily said yes.

He admitted to Inside Edition that he was a little nervous about asking his girlfriend because he couldn't imagine what would happen if she said no in front of everyone. Luckily he didn't have to worry.