With the winter season dropping snow across the country, people everywhere are bundling up.
With the snow constantly falling, the homeless population struggles to keep themselves warm. Many find themselves poorly equipped for the cold, and rely on the kindness of others to survive.
In large, traditionally cold cities, the winter has been particularly brutal. Chicago is known for its bitter winters; the breeze off the Great Lakes cuts like a knife and makes it one of the most merciless in the U.S.
A good pair of boots means comfort for everyday people. But for someone who is homeless and trying to ride out the season on the streets, it may literally save their life.
On January 12, in a Chicago train car, Maurice Anderson noticed a homeless man with badly tattered shoes.

Anderson was riding the Red Line of Chicago's transit system. He was on his way back from work.
"My gut told me to do it first, but I kept thinking, 'man, these are new, I don't want to take these off,'" Anderson told NBC 5 Chicago. "But then I was just like, man, here, go ahead, take them."
An elderly homeless man was riding the train, poorly dressed for the cold weather.
Anderson said the man was wearing tennis shoes that were folded in the back "like slip-ons."
"It bothered me that he was out like that and no one had even lifted a finger to say, 'Here man, go get yourself a pair of boots,'" Anderson said.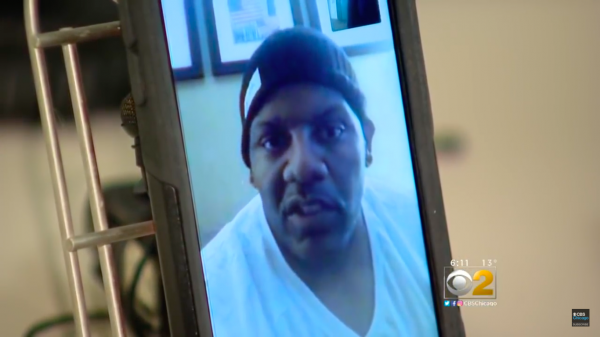 The homeless man was wearing several pairs of socks in an attempt to keep his feet warm. It didn't make a difference; his feet were still chapped and bleeding through.
"I wear a 12 and a half so I just took [the boots] off and said, 'Here you go,'" Anderson said.
Anderson also pulled out a pair of socks from his bag and handed them over.
The incident was captured by Jessica Bell, a fellow passenger on the train, who snapped a couple of photos and made a post on Facebook.
"I love that in a time and place where hate and apathy are rampant, quiet compassion appears without warning," Bell wrote in her post.
"I think all of us like to be reminded of the good that's in the world," Bell said. She also said she was "floored" by Anderson's kindness.
The act of generosity is even more impressive when you consider that Anderson faces his own financial struggles. He has to travel to Kentucky to find work, and every penny is important.
He said the reason why he helped the old man comes down to one word: character.
"Character is doing something for someone having knowledge that they can't do anything for you in return," Anderson said. "That's character to me."
He didn't even realize anyone was watching. But Bell said she had to get a photo because she'd never seen someone give the clothes they were wearing to someone in greater need.
"The reason I posted about Maurice, is because we've all given or see people give food, or money to the homeless, but I have never seen someone give the clothes off their back so unselfishly and so humbly," she wrote in her post.
It was a stunning act of kindness during a time in which it is sorely lacking. The elderly man said he was going to wait until his feet thawed out before putting on the socks and boots, but was sure they would fit.