Staying at a grand hotel can be an exciting experience. Entering the lobby and looking around wide-eyed and intrigued, there's a certain sense of wonder that adds to the welcoming atmosphere, which is aided by the friendly hotel staff.
After getting the key and riding the elevator up to the room, there's feelings of anticipation as you turn the knob and enter, wondering what your room will look like. The guest rooms are meant to portray a sense of home and comfort, which many accomplish beautifully.  
For one hotel goer, he discovered that his hotel had a bit of a twist. One which he welcomed with open arms.
After Twitter user @EvansPosts, or simply Evan, checked into Hotel Nikko in San Francisco, California, he found a bit of a surprise waiting for him in his room.
There was something on his hotel bed. It was a stuffed animal with a note.

More specifically, it was a stuffed dog. Lying against it was a note, which Evan eagerly looked over.
"Welcome to Hotel Nikko San Francisco!" the note said. "I'm so glad you're here and I look forward to spending time with you during your stay!"
Charmed with the gesture, Evan would have been satisfied if that was the end of the surprise.  
But there was more information on the note.
The hotel I'm staying at puts a stuffed puppy on the bed. They allow their guests to dial the operator and they will bring the REAL pup to your room pic.twitter.com/KVREqVfG8j

— Evan (@EvansPosts) December 28, 2017
"If you want to meet me (the real pup) in person, feel free to dial 0 and the Operator will be happy to check my calendar," the note went on to explain.
The note was signed by Buster Posey Presutti, the hotel's COO, or Canine Operating Officer. Under Buster's watch, no hotel patron is left without a cuddle buddy if they so desire one. In fact, Buster spends his days patrolling the hall of the hotel greeting guests and demanding pats and belly rubs.
As for Evan, he loved the idea and took to social media to share pictures.
"The hotel I'm staying at puts a stuffed puppy on the bed," Evan explained in a Tweet.
"They allow their guests to dial the operator and they will bring the REAL pup to your room."
Although, he later clarified that they don't bring a puppy to your room, you can just arrange to meet Buster on one of his daily walks.
After sharing the message, Evan's Tweet proceeded to go viral, amassing over 50,000 likes. Many fellow Twitter users shared how adorable the idea is. Some users even went as far as to say they planned to visit the hotel to see Buster.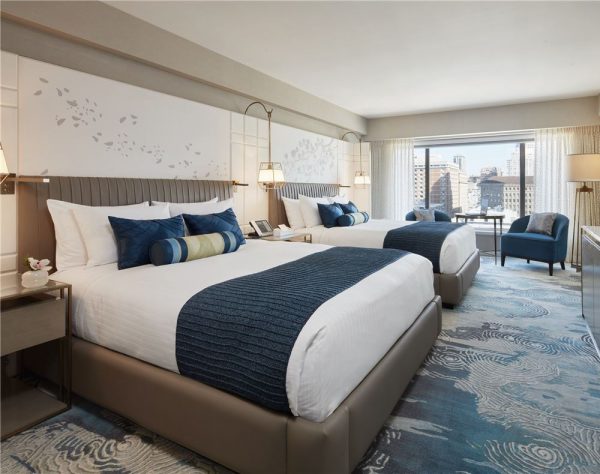 In addition to his patrols through the halls, Buster sometimes waits by the front desk to welcome the guests. Essentially the hotel's mascot, Buster loves his job and appreciates the gratuity in the form of snacks that he is given in place of a salary.
For those times when Buster isn't feeling well or has a full schedule elsewhere, his buddy Tamago is always happy to substitute.
After helping introduce Buster to more people on the internet, Evan is happy that so many people are finding joy in his pictures.
Buster has been a hit.
After making headlines, Evan hopes Buster doesn't become too overwhelmed with the hotel's new guests hoping to be his friends. There's likely to be quite a few of them.