Bringing your dog to work may not always be the best option. They can make a mess on the floor, scratch up furniture, and whine if you have to leave the room.
Still, dogs can get lonely sitting around an empty house all day, and bringing them to work is sometimes a great way to alleviate that. While it's possible they'll be a pain, it's also possible that they'll adapt to the new environment quickly. You'll never know unless you bring them.
In the case of Doug Dawson, his teacup poodle, Nala, turned out to be a natural fit for the workplace—but he didn't expect that when he brought her.
One day, Doug Dawson decided to bring his dog, Nala, to his job at a nursing home.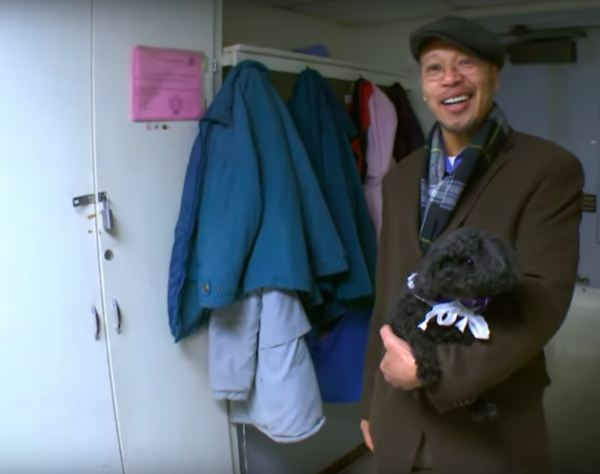 Dawson works at the Lyngblomsten nursing home in St. Paul, Minnesota. For years, he's worked long shifts, leaving Nala sad and lonely back home. So, one day, he decided to bring her in, hoping it would help her be less lonely.
He let her roam the halls unsupervised, which at first might not seem like a good idea. Yet, much to his surprise, Nala was able to track down elderly residents and bond with them instantly.
The residents loved little Nala, so Dawson decided to keep bringing her back, letting her loose in the hallway as soon as he got to work. She learned the nursing home like the back of her paw—and even got on the elevators by herself.
"If she could, she'd press the button," Dawson told USA Today.
Nala barely interacts with Dawson at work, instead looking after patients in need.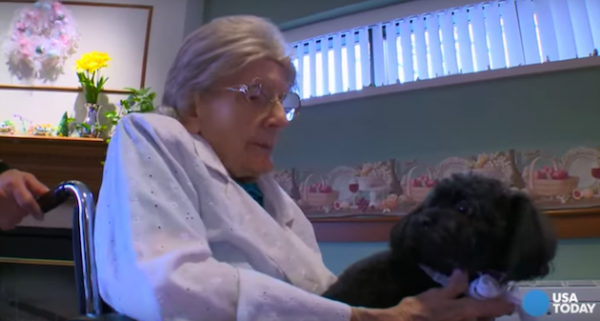 While Nala's on patrol, she barely interacts with her owner—who spends much of his time on the job sorting pills.
"We just meet in passing in the hallway," Dawson said.
Instead, the pup spends her time at work looking after the people who need her the most.
"If I put her down, she'll pick out the person with Alzheimers," Dawson said. "She has a way of picking the sick."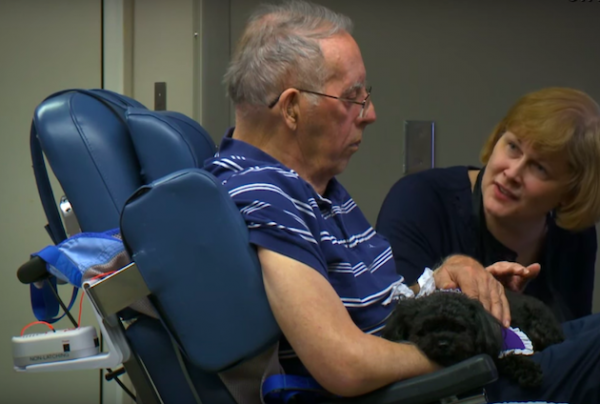 It's not just the Alzheimers patients though. Nala knows to come to people with wheelchairs who can't come to her. She also spends much of her time with residents who are sick and nearing death, lying on their beds as they rest.
Still there are those who have their wits about them and are in decent health, but rarely get visitors. Nala makes sure to give them attention too. Between everyone she visits, it's not uncommon for Nala to receive dozens of kisses in one day.
Perhaps the best example of this was her interaction with the late Inez Gugisberg. On the day she died, Nala sat by her side and comforted her.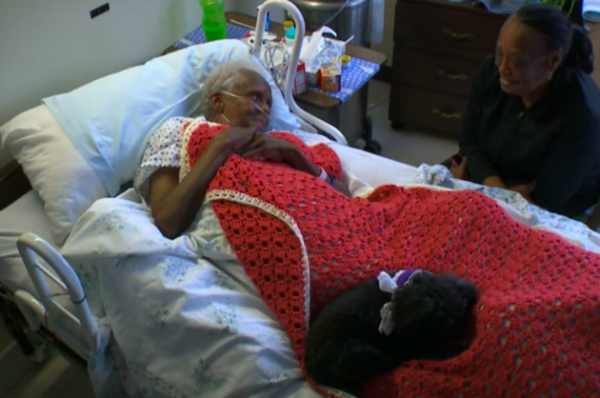 "It was wonderful, and we all were in tears," Lyngblomsten employee Sandy Glomski told USA Today.
Perhaps it was fate that drove Dawson to bring her to work that day, as he believes she's found her true calling.
"Just where did this little being come from?" he asked. "She's here for a purpose. I really believe she's doing God's work."