Usually, when one gets an unwarranted or wrong text, it's easily ignored at best or a nuisance at worst. Then there are those perfect storms where the right reply turns into an amazing event or encounter.
When Matt Chalifoux got a completely unexpected text one day, he ended up sending 40 pounds of cookies through the mail halfway across the world.
Chalifoux might have been mildly confused when he received a text that read "Always loves going to grammy's!" along with a photo of, presumably, Grammy, and a young child. But the comedian decided to roll with it, sending the reply "Looks like he's having a blast!"
He'd been mistakenly added to a family group chat via text, and he figured they'd realize his was a number no one recognized, remove him from the chat, and be done with it.
That didn't happen.
The family members continued to text around his rogue message, seemingly not noticing he was there by mistake at all.
He even replied, as the family held a conversation about the child and his new toy car, "I don't know why I'm part of this, but I'm happy that kid got his car."
The reply he got was, "Because you are family!"

He wasn't, but it was nice. He made no move to remove himself from the group just yet.
Two weeks after that, more texts popped up. This time it was a photo of four soldiers in front of a helicopter.
"Christian and his unit shipping out for six months," the text read, drawing in several responses of well wishes and some prayers.
Then Chalifoux replied "Which one is Christian?" thinking this would end the ruse—the family members would realize he was clearly not family, and he'd be kicked from the group.
Instead, he got a reply that read "third from the right."
At that point, Chalifoux gave up trying to nudge these nice people into kicking him out, and just "embraced it."
"A true patriot," he replied.
After that, the chat was quiet for about a month. But then one person sent out a long text about how to send Christian a care package while he was on deployment. Chalifoux, now an honorary member of this family's chat group, wanted to send a package as well. So he took to Facebook and shared this story.
"Anyways, I guess my question is, what do you send in a care package to a complete stranger whose relatives don't know how to text right?"
He eventually decided he would send "Christian" cookies. Who doesn't like cookies? Chalifoux personally liked Oreos, so he decided he would send Christian a bunch of them.
And he wasn't just going to send cookies, he was going to send 3,000 cookies.
Chalifoux made a GoFundMe page to raise $1,000 to cover the cost of sending all these cookies—and his story went viral, with many more strangers wanting to chip in so Christian would get all the cookies he deserved and more. The baffling simplicity of the gesture made it strikingly easy to relate to.
The fundraiser didn't make a whole lot of sense, and Chalifoux readily admitted not a lot of thought was going into this whole thing. The purpose was simple.
"It's just a way to do something nice for a total stranger," he wrote.
"There's a lot messed up in this world. Take a minute to put some positive energy out there. Give people something to believe in. And buy some cookies for a guy none of us have ever met."
It's a message that resonated with thousands.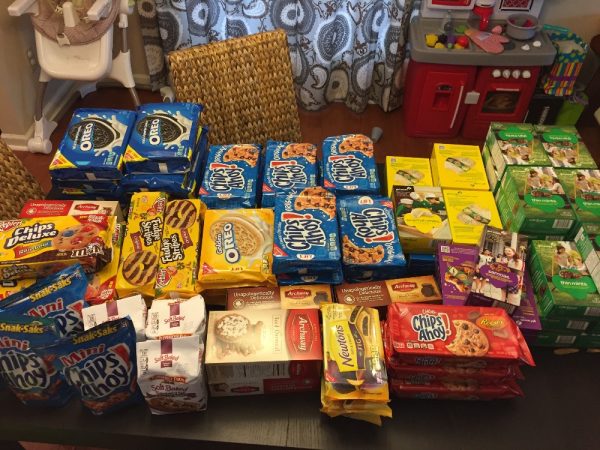 Upon receiving 3,000 cookies, our mystery soldier sent Chalifoux a reply:
"I received the boxes of cookies and I can't thank you enough. The rest of my platoon enjoyed the cookies as well, and they have already destroyed about 2/3rds of them (haha). It means a lot to us that all those people donated money and their thoughts and prayers. The packages were a very nice surprise to get from someone besides family members. The girl scouts were very sweet with the cards they wrote. But, we are all grateful for you going out of your way and giving us support."