Few things get people more excited than free pizza.
So many people were excited in 2016 when Little Caesars announced an enticing promotion: a contest where one lucky winner would receive free pizza for a year. The prize of 52 weekly  pies, a $500 value, would be a pretty cool treat for anyone.
But it turns out, there are more important things in life than pizza.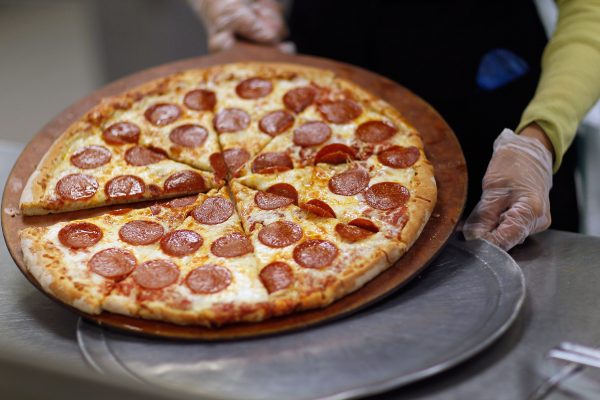 In August of last year, the fortunate winner of the prize was announced: the pizzas were going to Hannah Spooner, a 19-year-old from Detroit.
Spooner had entered the giveaway with her boyfriend, Pete Kadry. But while they could've settled in for a year of complimentary Hot-n-Ready pizzas, it turns out Spooner had nobler intentions in mind:
She decided to donate the pizza vouchers to the homeless!
"I don't think I should be eating a year's worth of free pizza when there are people who go hungry at night," she told FOX 2 Detroit.

It wasn't just a sudden change of heart, either—this was her plan since the beginning. The prize just happened to go to the right person.
"I knew before we had won that I was going to donate it," Spooner said. "[Pete] said 'You wouldn't even keep a couple?' and I said no."
"If I won it they would all be donated. I knew right away."
That said, there was maybe another reason she didn't want the prize all to herself:
"I just lost a lot of weight, I wasn't trying to eat a lot of pizza," she joked to Inside Edition.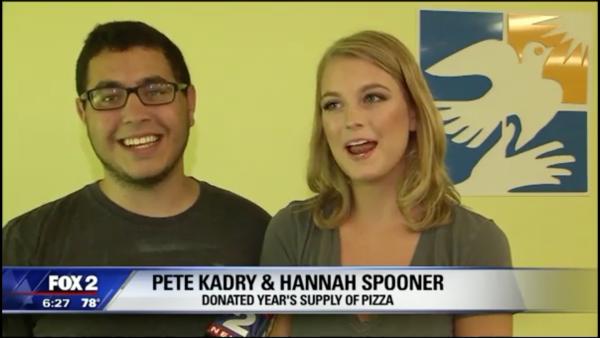 Spooner looked for the perfect place to donate—and found it in her own neighborhood.
"Detroit is going through a lot of negativity," Spooner said. "I wanted somewhere close to home that would be affected by my donation."
She decided to gift the pizza vouchers to Covenant House Michigan, a youth homeless shelter in Detroit.
The center was thrilled to receive the donations. "Our kids would eat pizza every day," center PR director Melissa Golpe told The Huffington Post. 
"We have a cafeteria here, so they're provided food, but pizza is like super exciting," Golpe added to ABC News. "They're just really excited. They love pizza and they love having it as a treat. They're also really grateful."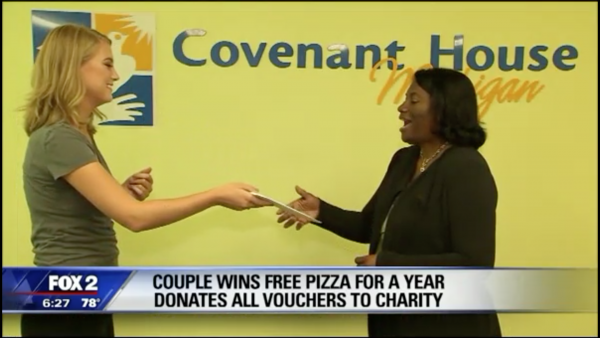 Covenant House used the coupons to throw a pizza party for the homeless teens, and planned to have more spread out throughout the year.
Spooner was thrilled the coupons went to good use, and the difference it made in their lives.
"I could tell it would actually make a difference," Spooner told Inside Edition. "I would actually see people who benefited from it. They were really sweet, warm and welcoming."
But her act of kindness didn't go unnoticed—and the shelter workers were impressed that she would make such a delicious sacrifice for others:
"I look at young people and they believe it's very important to give back to the community," a Covenant House administrator told FOX 2.
"But I don't know if they would give pizza back."