Bob's Lobster Bisque
Introduction
According to executive chef Sean Merchant of Texas-born Bob's Steak & Chop House, the secret to this decadent delight is a more flavorful, concentrated lobster stock, simmered for two-three hours and finished with cream, lobsterclaw/knuckle meat and sliced green onion. It's deceivingly simple yet utterly impressive–a starter that will be sure to impress any date this Valentine's Day! For the ultimate pairing, opt for a buttery Chardonnay or an earthy Cabernet Sauvignon.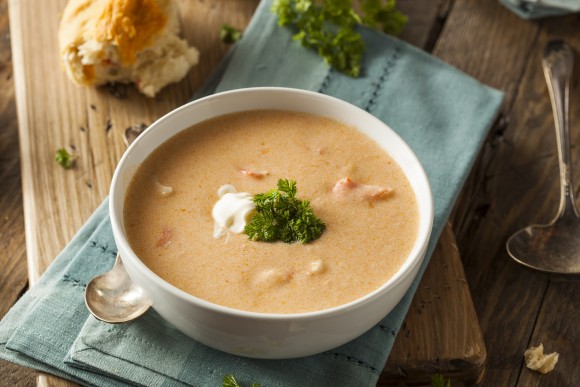 Ingredients
1 pound lobster shells
1/3 cup plus 1 tablespoon tomato paste
1 medium yellow onion, diced 
2 stalks celery, diced 
1 pound carrots, diced
2 garlic cloves, minced
1 tablespoon plus 5 ounces brandy, divided
2 quarts water
1 1/2 teaspoon cayenne pepper
1 1/2 tablespoons paprika
1 1/2 ounces sherry, plus more to finish
1/4 teaspoon nutmeg
3 cups heavy cream
Cornstarch
Salt and pepper, to taste
Directions
Heat oven to 375 F. Rub lobster shells with tomato paste and place in a roasting pan with carrots, celery, onion, and garlic. Roast for 40 minutes.
Remove from oven and immediately deglaze pan with just a splash of brandy (about 1 tablespoon). Transfer to a Dutch oven or large soup pot.
Add all remaining ingredients (except the heavy cream) and simmer for 2 hours.
Once simmered, remove lobster shells, then blend soup and strain.
Add heavy cream and thicken with cornstarch slurry (2 parts cold water, 1 part cornstarch).
Season to taste with salt, pepper, and sherry (to taste).
Serve with lobster claw, lobster knuckle meat, and green onion.
Recipe courtesy of Sean Merchant, executive chef at Bob's Steak & Chop House