The storefront is banal. Inside, though, is another story. Step in and you almost feel the breeze of the Caribbean flutter over you.
The real gem is in the back: a recently opened patio, seating about 30, with vibrant colors from the islands—turquoise, sunset orange, purples, greens, pinks. It's color therapy after such a long brutal winter.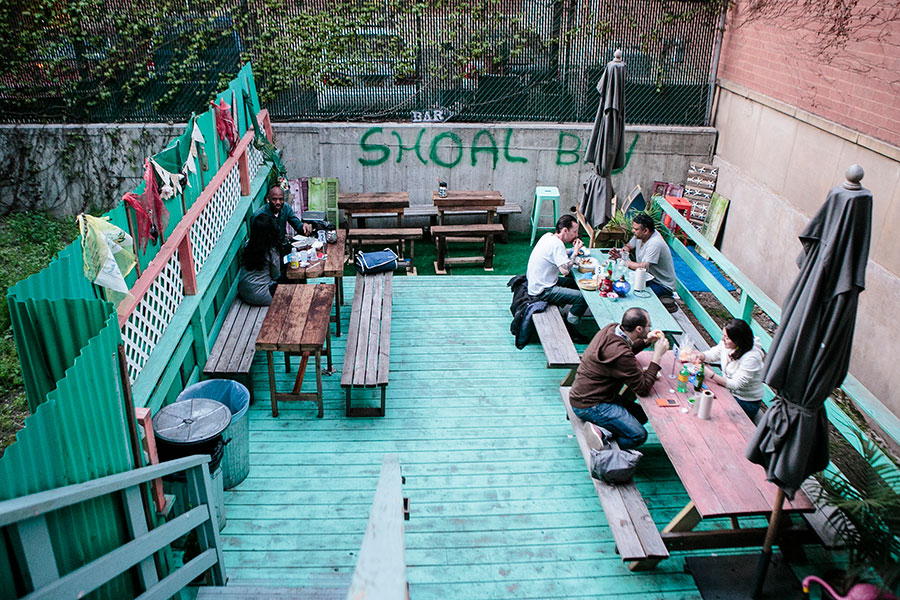 LoLo's Seafood Shack has been open for about six months, but it's actually hardly a secret. The constant flow of customers in and out is telltale—everywhere couples and friends and families hunch over steampots of seafood and "shark and bakes." The seafood is the star here, and it all gets gloriously messy.
Did I mention that nothing is over $12? (Save for the snow crab legs at $19).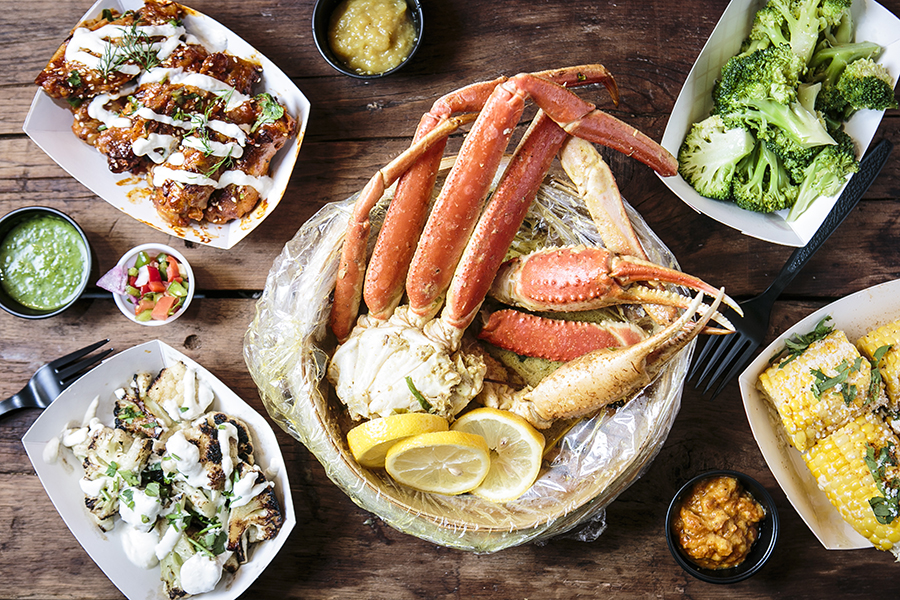 The outfit is run by wife-and-husband team Leticia Skai Young and Raymond Mohan. Both have roots in the Caribbean. Young is from Harlem, but while growing up took frequent trips to Belize, where her father is from.
Mohan, the chef, grew up close to the ocean in Guyana, in South America. "Every day I would go to the market with my mother. It's a fascinating place to be as a kid," he said. His mother had a roadside stand selling mavi, a fermented drink made with with the bark of the mavi tree. He would observe the fish coming to market every day. "The fish were still breathing when they came to the market."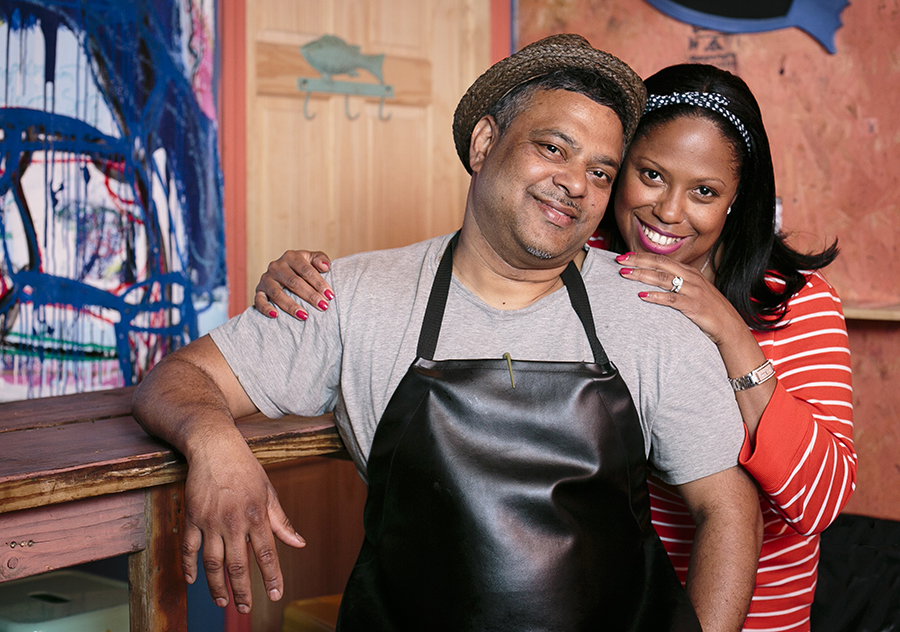 Young and Mohan spent some time living in Anguilla and recall the 20-minute ferry ride it took for them to get to the island of St. Martin and visit lolos.
Lolos? "They're these little beachside shops, really cool casual places with seafood and ribs where folks gather," Young said.
When they set out to create Harlem's own little lolo, they added a twist to it (beside the no-ocean bit) by calling it Cape Cod meets Caribbean.
"We wanted to have seafood but there are no snow crabs or crawfish in the Carribean," Young said. "It's a little bit of a mix of everything and folks can customize it."
For example, those snowcrab legs—you can have them with the classic garlic butter and Old Bay, or you can have them with a coco curry sauce, which is what we had. Thai curry powder, turmeric, coconut milk, and some fish sauce for good measure make for an enticing smell and messy delicious eats.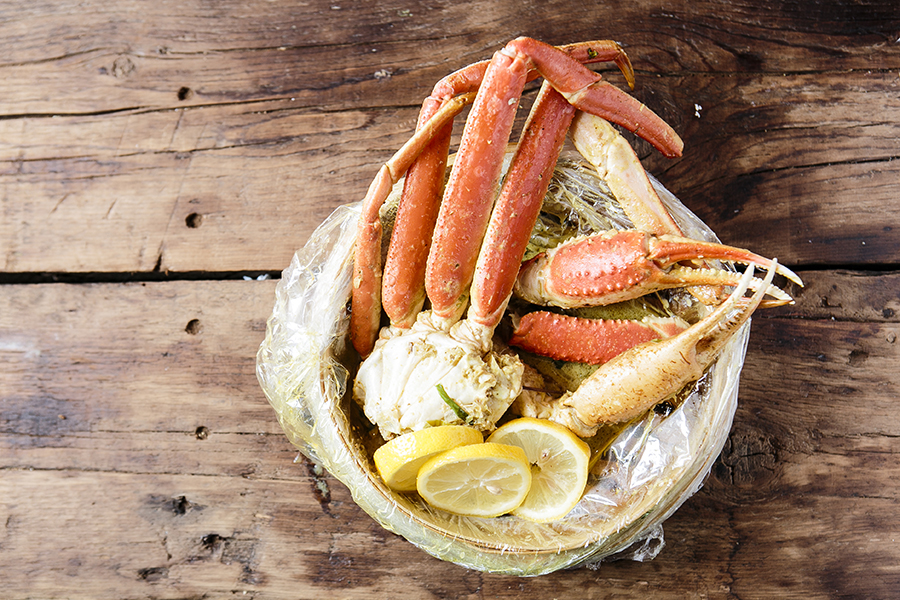 Mohan, who has worked under Jean-Georges Vongerichten, has also traveled and eaten his way through southeast Asia.
There's a sensibility that he brings to the dishes, with a careful attention to the balance of flavors and textures. He adds a wonderful twist to classics (whether from New England or the islands).
Don't miss the Crabby Dip, made with callaloo (a type of Caribbean greens), manchego, and topped with panko crumbs ($9). It is served with super addictive crispy plain chips dusted in curry salt.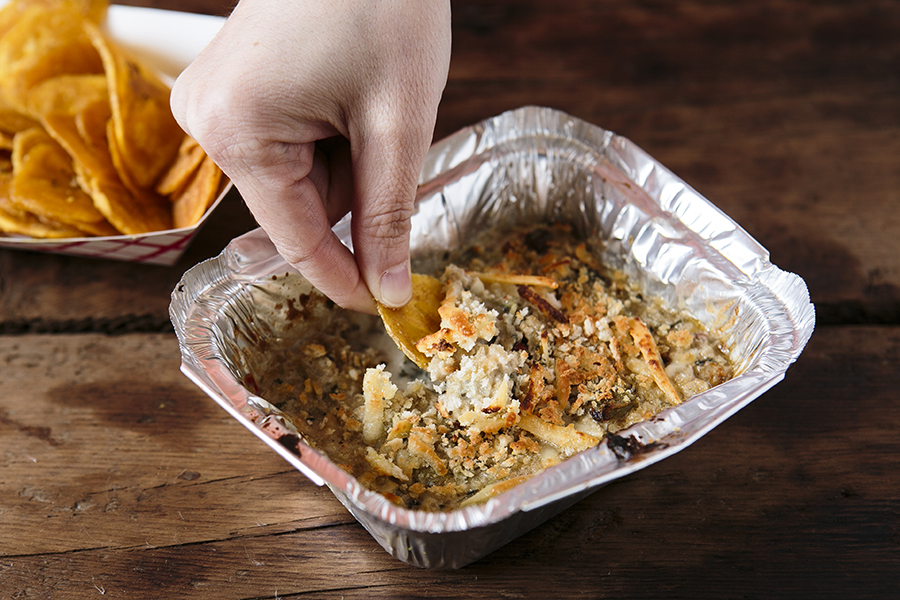 The golden Belizean Conch Fritters ($9) are light and oh-so-crunchy on the outside, thanks to rice flour. Inside: conch and bacalao. Dip them in an eye-opening lime zest remoulade, so good it could be shamelessly eaten on its own.
Now for the "bakes." These are really sandwiches, but instead of bread there are johnny cakes—fried up dough that can also be ordered on the side (those too are amazing, drenched in honey butter). They come in a few versions like salmon or avocado ($11 and $9, respectively).
We tried the Soft Shell Crab and Bake. The flavors melded beautifully—the crab, with crispy bacon, and pickled cabbage.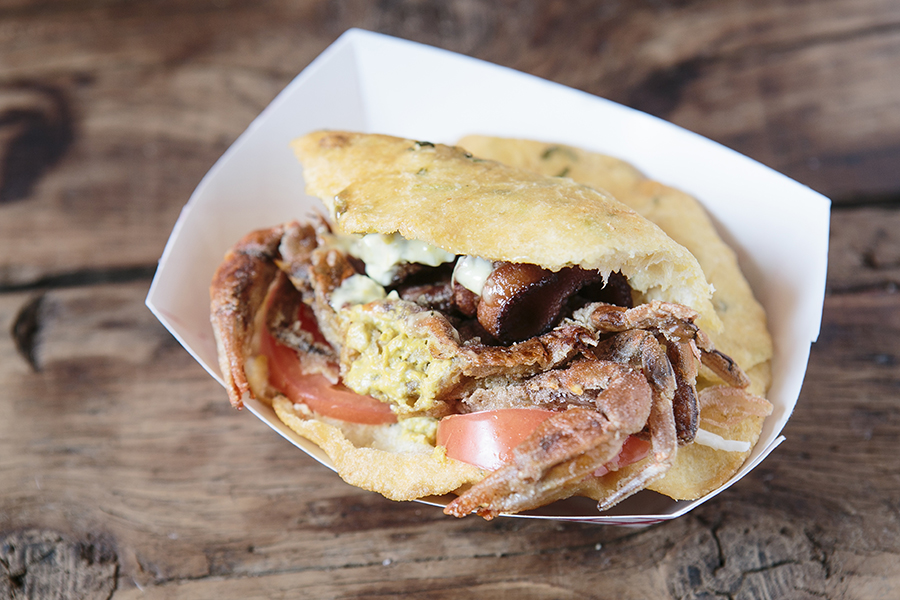 Don't forget the handful of homemade hot sauces, which are all delectable. They all deliver a spicy kick in their own way. The ghost pepper sauce, for example, delivers a prompt blow to the throat, and the pineapple-habanero starts with a deceptively sweet overture before releasing its salvo of heat.
There's a variety of snacks and sides, from corn on the cob, with cotija cheese sprinkled all over, a chilled broccoli salad drizzled simply with lemon juice and olive oil, to smoky chicken wings, with achiote glaze and garlic crema ($6, $4, $10, respectively).
Young and Mohan expect their liquor license to come through soon, "about a month and a half," Young estimates. They're planning out the drinks, possibly a smoky margarita with mescal, "and a rum punch for sure," said Young. "You can't be in the islands without having a rum punch."
LoLo's Seafood Shack
303 W. 116th St.
646-649-3356
LoLosSeafoodShack.com
Tuesday–Friday 4 p.m.–9:30 p.m.
Saturday 3 p.m.–9:30 p.m.
Sunday 3 p.m.–8 p.m.
Will open on Mondays starting the last week of May.