A Little Caesar's in Fargo, North Dakota, has a problem with homeless people going through their dumpsters looking for food. Recently they attempted to put an end to the dumpster diving with a simple sign.
Store employees had reportedly attempted to approach one of the people who consistently ate out of their garbage, but they always left without receiving any food.
Someone shared a photo of the sign on Twitter.
The sign offered to whoever was going through their dumpster looking for food "a couple of slices of hot pizza and a cup of water at no charge."
Michelle Lussier, general manager of the store, told Valley News Live that the day a local report ran about the sign they did have someone come in and take them up on their offer.
"Don't feel embarrassed if you're hungry and you don't want to do what others do, you know stand on the corner for handouts," Lussier said. "You feel down about that, you're more than welcome to come here and grab a couple slices."
This isn't the only time this location has helped the homeless.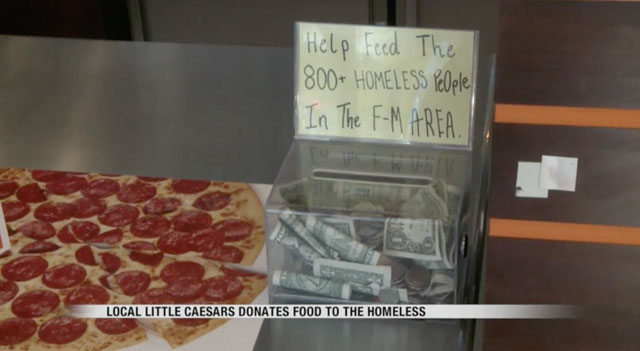 When the store opened in May 2015 they often found that they had many leftover pizzas. Their policy was to throw out any pizza that wasn't purchased within 30 minutes of being made. Store employees occasionally ate the leftovers, but eventually it became too much so the store's owner searched for another way to dispose of the pizzas.
He called up a local homeless shelter and they were more than happy to accept the pizzas.
Now the store donates leftover pizzas to three separate shelters.
In addition, the store also set up a donation box to help pay for more pizzas.
Mike Stevens, owner of the Little Caesar's, is amazed at how the community has stepped up.
"It's gotten so big," Steven told West Fargo Pioneer. "Our customers love it."