Brothers, no matter if they're older or younger, will always protect their sisters, at least that looks to be the case for a little boy named Jash.
In a video clip sent in to WNDU in South Bend, Indiana, Jash can be seen running into the middle of a wrestling match to protect his bigger sister, who was wrestling at the time.
"That is the best thing I've ever seen."
Four-year-old Ruby Lewis was wrestling in her first match and she was up against a worthy opponent, a 5-year-old boy named Ryan.
While the two were wrestling, Ruby's little brother ran out onto the mat and attempted to wrestle her opponent. The crowd applauded and roared with laughter before Jash was pulled off of Ryan.
Jash ran from the sidelines and tried to help his big sister.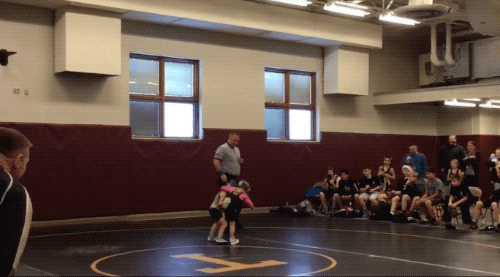 Crystal Lewis, Ruby and Jash's mother, told WNDU that her husband, Joel, got their entire family into wrestling. And even though Jash still has two years before he's allowed to compete the little guy is certainly ready.
According to Lewis, Jash would rather play with his wrestling gear than any other toys.
Each child is very protective of their sibling.
Tori "Allen" Prendergast, Ryan's mother, originally shared the video on her Facebook page. She told HuffPost that she wasn't able to attend the match, but her husband showed her a video and she knew she had to share the hilarious clip.
And we, along with the millions of other people who have since watched the video, are glad she did!