The only thing better than ice cream is free ice cream—and better still, the dessert given as a reward for a job well done.
That kind of treat was what drove 54 second grade students to read 100 books in their school year. And when the time finally came to get their promised reward, needless to say they were ecstatic.
But upon the kids' arrival at the ice cream parlor, another surprise was waiting for them—and it made the whole situation all the more deliciously heartwarming.
Amber Ploutz challenged her second graders to read 100 books in a year and get free ice cream.

On May 16, teacher Amber Ploutz from Indiana's Greenwood Community Schools was taking her second graders on a field trip.
However this was no ordinary field trip.
Earlier in the school year, Ploutz gave her kids a challenge: if they could read 100 books by the end of the year, she would take them to Mrs. Curl's Ice Cream Shop for a free ice cream cone.
To her surprise, 54 kids managed the feat—a record for the contest, which Ploutz had issued before.
"This year we had more kids than ever before," Ploutz said to NBC 26 News. "So you can imagine it was quite a sight, all of us walking down."
But Ploutz was not the only one proud of them.

As the students neared the ice cream shop, they were excited and chatting about their good luck when they passed a group of road workers. 
This proved to be a moving encounter, because when one of the construction workers overheard the students, he decided to make their ice cream field trip even sweeter.
"He paid for all 54 kids' ice cream cones," Ploutz told NBC 26 News.
The generous Samaritan did his best to remain anonymous, too.

In total, the man spent around $60 of his own money to pay for all the students' ice cream.
Unsurprisingly, Ploutz and her students were extremely grateful to the man, but he refused to identify himself to ensure no one was able to thank him. He only told them his nickname, Bub.
"He didn't want any recognition and said he did it because he was proud of all the hard work they put into school and told them to keep up the great reading," Ploutz told NBC 26 News.
Despite his efforts to remain anonymous, his act of kindness did not go unrewarded.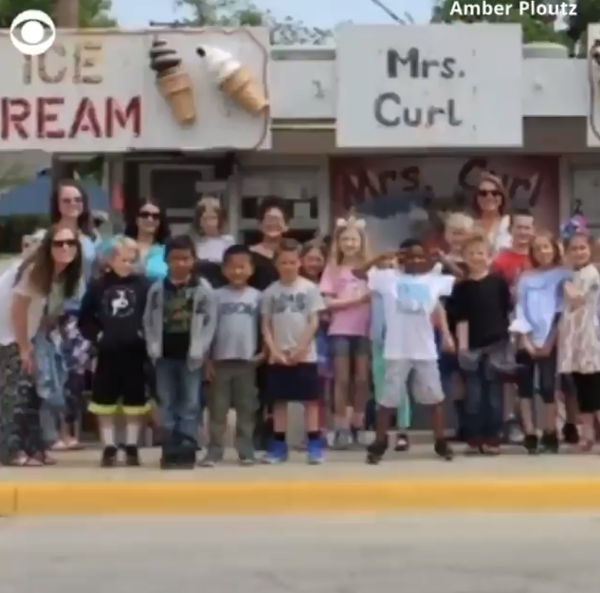 Inspired by this good Samaritan's generosity, Mrs. Curl's Ice Cream Shop decided to give free drinks and ice cream to the whole road crew, and police officers directing traffic.
Even better, though, was the way the kids have continued to say thank you.
"The kids wave and shout hello to the construction crew every day from the buses going to and from school," Ploutz told NBC News.
Watch the full story below:
These 2nd graders did so well in reading that their teacher took them for ice cream. The cherry on top? The bystander who unexpectedly picked up the tab. VIDEO/CBS

Posted by News 4 WIVB Buffalo on Friday, May 18, 2018