Creole Seafood Jambalaya
Serves 6
 Ingredients
½ pound andouille or other smoked sausage, chopped
1 pound fresh pork sausage, removed from casings
½ cup bacon fat or oil
1 large onion, chopped
1 bell pepper, seeded and chopped
1 stalk celery, with leaves,chopped
3 garlic cloves, minced
2 cups white rice
1 teaspoon dried thyme
1 teaspoon cayenne pepper
2 bay leaves
1 cup crushed tomatoes
2 cups Go-To Chicken Stock (below)
1½ pounds medium wild
American shrimp, peeled and deveined
Salt and pepper
2 green onions, chopped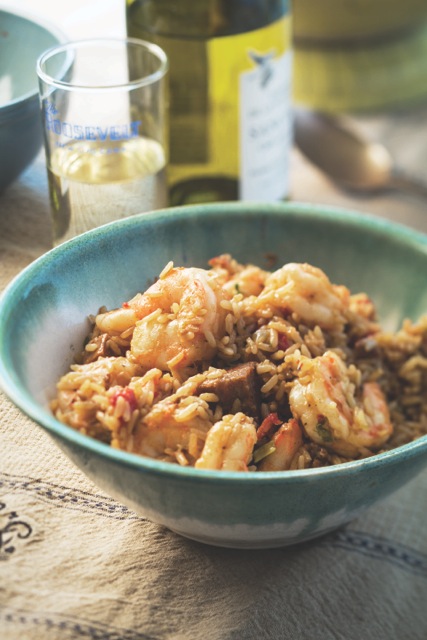 Directions
Heat a very big, heavy-bottomed pot over high heat, then reduce the heat to medium. (This lets the pot heat uniformly, preventing hot spots which are likely to burn.) Brown the andouille and pork sausage in the bacon fat, stirring slowly with a long wooden spoon to build color.
After the sausages have browned, add the onions and let them caramelize for about 15 minutes to build more flavor. I add the bell peppers late, to save as much of the color as I can. Add the celery (I always use the leaves, too) and garlic, and cook for about 5 minutes, stirring occasionally so that everything cooks evenly. 
Next add the rice, thyme, cayenne, and bay leaves to the pot and cook, stirring often, for about 3 minutes. Increase the heat to high and add the tomatoes and stock. Bring the liquid to a boil, then reduce the heat to medium low, cover, and simmer for 15 minutes.
While the rice is cooking, season the shrimp with salt and pepper. After the rice has simmered 15 minutes, fold in the shrimp and green onions. Cover again, turn off the heat, and let everything continue to cook in the hot pot for another 10 minutes. Fluff the jambalaya with a fork and serve!
Go-To Chicken Stock 
Making stock is not complicated. I freeze the carcasses from every chicken I roast and make stock when I have enough of them. I start by putting the carcasses in a stockpot. Often I'll brown some chicken and/or turkey wings in the oven (about 1 pound of bones total), and throw them into the pot as well. I then add a couple of chopped carrots and celery stalks along with a few cloves of crushed garlic and a couple of bay leaves. Then I pour in enough cool water to cover the bones by a few inches and bring to a boil. Then simply simmer for about 2 hours. Strain it all and you're done. (And remember, in a pinch, do as so many New Orleans home cooks do: use water.)
From "Besh Big Easy: 101 Home Cooked Recipes" by John Besh/Andrews McMeel Publishing.