They are long, round, and thin, like strands of spaghetti—making them highly efficient for slurping. The noodles' springiness, the way they bounce back slightly as you chew, only makes them more enticing.
Mixian rice noodles originated in Yunnan, a province in southwestern China, where a piping hot bowl topped with meats, vegetables, herbs, and an assortment of condiments is a common meal. They are also an object of obsession for chef Simone Tong.
Whenever she visits her hometown of Chengdu, Sichuan, a close neighbor to Yunnan, she finds herself eating them for breakfast, lunch, and dinner. "When [my parents] don't know where I am, they're like, 'Oh, she went to eat mixian,'" Tong said.
Last year, she finally decided to travel to the noodles' birthplace. "I always wanted to do something of my own culture, upbringing," she said. After years of working in New York restaurants including WD-50 and 15 East, Tong wanted to open her own noodle shop. "Nothing is better than opening [with] something that I love to eat, and share with the people here."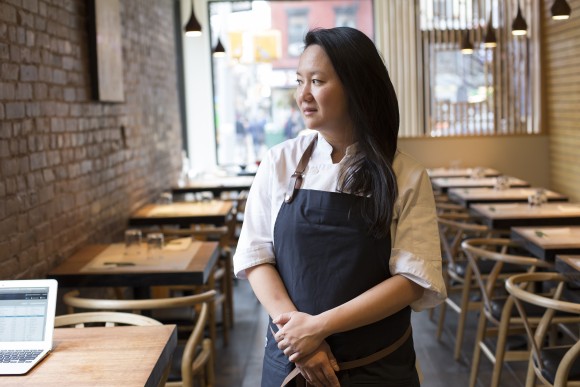 For inspiration, she set out for rural Yunnan, a fertile land of diverse landscapes, from tropical forests to high plateaus, where people still forage for food and slaughter their own chickens for dinner. Villagers often don't have refrigerators, and simply buy what they need from the market that day. "The essence of Chinese cooking is basically getting whatever is in the market and stir-frying it," Tong said.
In different towns, she sampled all types of mixian: with cold noodles, with offal-infused broth, served in clay pots. Later, she interned at a popular Yunnan restaurant in Beijing, where the chef taught her about the region's ingredients and cooking techniques. The chef called her "Little Tong" in Chinese.

She adopted the name for her newly opened noodle shop in the East Village, where she serves bowls of mixian grounded in the diverse flavors of Yunnan (see here for an explainer on why Yunnan cuisine is difficult to define) but adapted to her tastes, using ingredients from the local farmers market. The restaurant seats 24 in a long, rectangular space lined with wooden paneling that gives it a calm feel.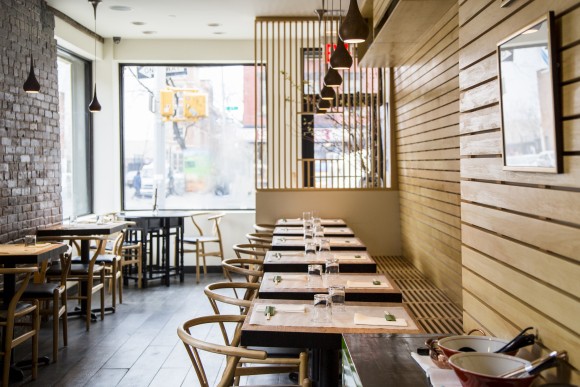 In Yunnan, mixian vendors make their noodles fresh, but without the capacity for that in New York, Tong blind taste tested 25 different mixian brands.  She chose the one that most closely resembled what she had in Yunnan, with a touch of acidity, she said. Almost everything else is made in-house, like the condiments, including fermented chili and chili oil, which can be ordered as add-ons to the noodles ($1 to $3.50).
Traditional mixian bowls tend to be very salty and spicy, Tong explained. Hers are light but full-bodied. The Grandma Chicken Mixian was inspired by a restaurant she often visited in the city of Dali, Yunnan, where an elderly woman tended to a big wok of local black chicken frying in its own fat. For her version, Tong uses fall-apart tender, free-range chicken and adds a layer of roasted black sesame-garlic oil to the chicken broth, then tops it with fermented red chili and pickled daikon radish—a touch of sharpness that complements the savory ($16). Edible flowers, commonly used in Yunnan cooking, and an egg cooked in spices and pu'er tea, a Yunnan specialty, finish off the dish.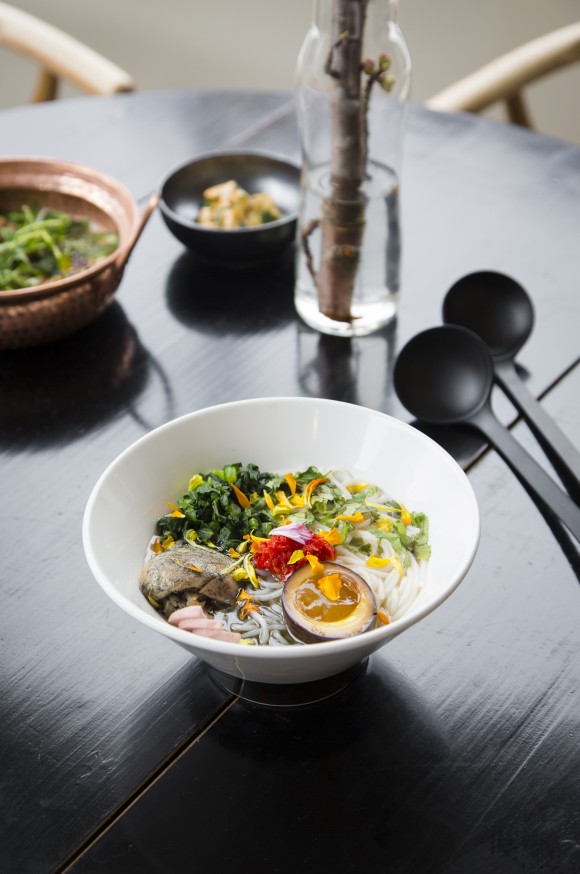 The Little Pot Mixian, served in a copper pot, shows off the synergy of sour and spicy ($16). The pork broth, simmered over two to three days, gains extra flavor from added prosciutto. Strands of garlic chives, alongside bits of minced pork mixed with shiitake mushroom, cooked à la minute, deepen the umami. But it's the pickled mustard stems and chili vinaigrette, with a touch of numbing Sichuan peppercorn, that make this bowl special, adding a slow burn that ends in a satisfying tang. Tong said her experience at WD-50 taught her the science of "extracting the most flavor out of ingredients." This dish seemed to demonstrate that training best.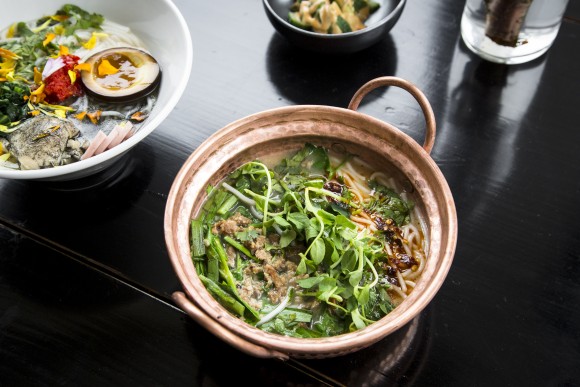 Those seeking a more numbing heat can try the Mala Dan Dan Mixian, where the classic Sichuan saucy noodle dish gets rehashed with mixian ($15). Tong throws in the typical ground pork, chili peanuts, Sichuan peppercorns, and Sichuan-style pickled vegetables (ya cai), but incorporates pickled celery and mustard seeds for additional crunchy texture, and a drizzle of green peppercorn oil for an herbaceous note. Make sure to evenly mix up the sauce, which pools at the bottom.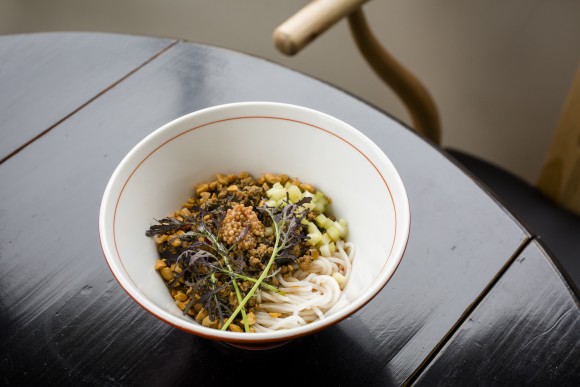 Another saucy noodle dish, this one with a more vegetal, earthy quality, is the Mushroom Wood-Ear Mixian, seasoned with what Tong calls "trinity sauce"—a Chinese riff on the French mirepoix, but with ginger, scallions, and garlic—and celery oil ($15). The noodles are dusted with seaweed powder and fried shallots, and topped with an abundance of mushrooms, a nod to the large variety of wild fungi that can be found in Yunnan, such as oyster, enoki, wood ear, and shiitake.
The shop also serves a small menu of appetizers, like Sweated Cucumbers in "bang bang" sauce, a take on a Sichuan chicken dish named after the sound made when the meat is tenderized with a mallet ($4). Tong said the dish is usually very garlicky, so she opted for tahini and sesame instead. The result is a nutty sauce with serious heat, cooled down with ribbons of mint. Meanwhile, the Ghost Chicken ($7) is a bright, piquant salad, with chili, pickled red onions, basil, and other fragrant herbs, that will perk up your appetite for the meal ahead.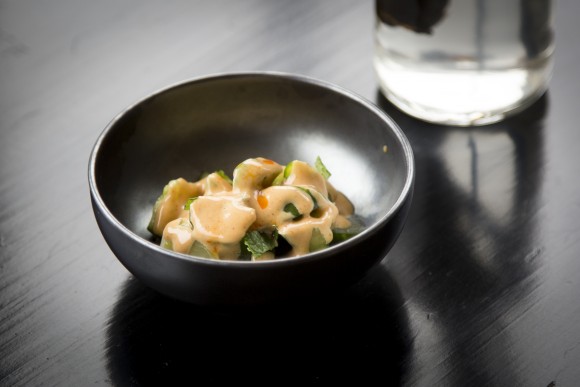 Drinks include beer, cup sake, tea, and soda ($3 to $15), while dessert is a rotating selection. Currently, Little Tong is serving crispy almond cookies (3 for $2) and a fresh yogurt pudding with toasted rice purée and rose jam ($4).
Little Tong Noodle Shop
177 First Ave. (at East 11th Street)
East Village
929-367-8664
LittleTong.com
Hours:
Tuesday–Sunday
5:30 p.m.–11 p.m.
Closed on Mondays