If Mardi Gras in New Orleans conjures images of debauchery in your mind, one thing is certain: You're not from there.
"Mardi Gras for people who live there is such a wonderful homecoming and street party," said restaurateur Leith Hill.
Hill, a sixth-generation New Orleanian who lives in New York City, comes from a family of esteemed New Orleans locals. The courthouse in the Central Business District is named after her uncle, and the business school at Tulane University is named after her great-grandfather. "When my parents married, it was like a mega-merger of New Orleans," she said.
It's impossible for her to walk on the street without bumping into family members. Years ago, her young son asked her, after they'd run into cousin after cousin on the street, "Mommy, is there anyone we're not related to?"
On Mardi Gras, away from the mayhem of touristy Bourbon Street, all eyes are on the elaborate floats, as everyone tries to recognize someone they know.
"You are standing in the street with all of your cousins—your fourth, your third, your second—everybody—and all their kids," said Hill, who herself used to ride on the Krewe of Muses float.
"You know everybody who's on the float riding, and they're all masked, so sometimes you know so-and-so is going to be on the seventh float on the lakeside or riverside. … But sometimes, someone is just throwing stuff at you, and they know you but you don't know who it is. It's really fun."
The fun, though, is tempered by the prospect of the morrow. "The thing is that, in New Orleans, you have to get up and go to work the next day," Hill added. "You get your ashes for Ash Wednesday and you go to work the next day. So if you act like a drunken, naked fool, everybody's going to see you the next day."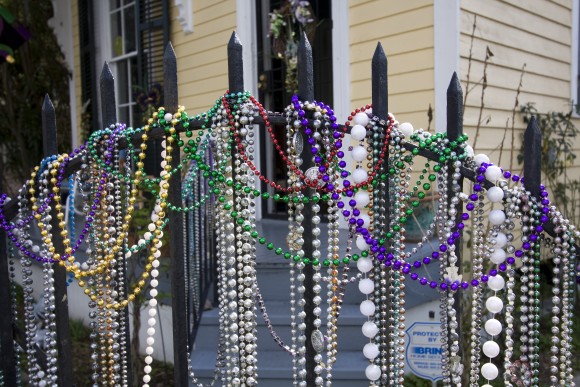 Chef Thomas Dunklin, a New Orleanian who headed to the Pacific Northwest in 2001 and now helms Portland restaurant The Waiting Room, remembers heading to the same spot year after year with his family to watch a Mardi Gras parade. "We'd be eating fried chicken on a blanket and just having fun. … The food brings everybody together. New Orleans really entices people," he said.
At his restaurant, Dunklin brings together New Orleans cooking techniques with the flavors of the Northwest. A signature dish is the Ginger BBQ Shrimp, which is sautéed—there is no grilling involved in New Orleans barbecue shrimp—in a housemade Worcestershire sauce mixed with ginger beer and lemongrass, accompanied by a sweet potato biscuit. Oysters, fresh from Oregon's Netarts Bay just six miles away, are charcoal-grilled and dressed with Crystal Hot Sauce butter, Parmesan, pickled crawfish, and parsley.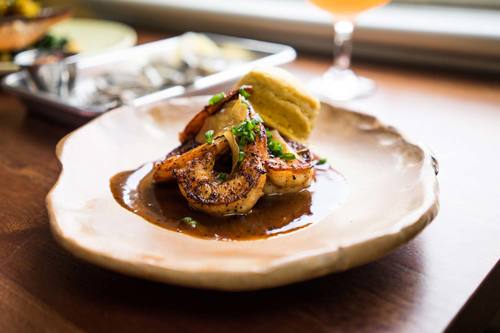 Dunklin also serves king cake doughnuts, inspired by the sugar-sprinkled, ring-shaped cake that is the traditional Mardi Gras dessert.
As for Hill, she grew up on Creole cooking—albeit with one anomaly: Despite being from "the land of butter, beignets, and booze," as she says, she was raised by her father to eat healthfully. He had lost both his grandfathers to heart disease, and at the age of 12, he decided he would not share their fate. Later, he made sure his own family's eating habits followed suit—rice and beans without sausage, steamed string beans without fat or sugar, and fruit for dessert, for example.
Hill's restaurant Ellary's Greens, with locations in the West Village and in underground marketplace Turnstyle near Columbus Circle, doesn't carry New Orleans dishes, but it does continue her family's tradition of healthy eating. And it carries a wide selection of drinks—from fruity smoothies to organic wines to kombucha on tap. That's from a habit that Hill developed in New Orleans, where, due to the sweltering heat, she would always have three drinks on the go at the same time.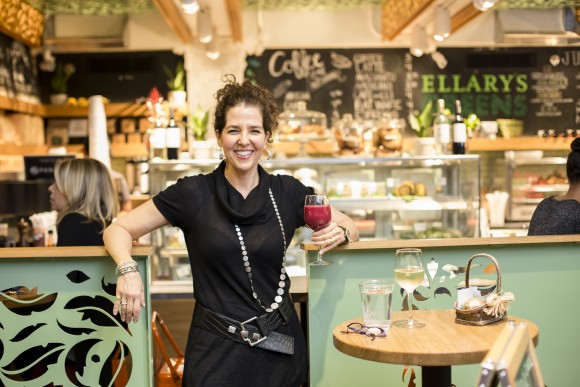 At home, shrimp creole is one of her go-to dishes. She can't get Creole tomatoes, that Louisiana variety ("absolutely, positively unlike any other tomato I've ever had, with the most tomato-y, amazing flavor," she said), but the dish wins points by being fast to cook. "Honestly, the longest part of making shrimp Creole is peeling the shrimp and chopping an onion—that's it."
Hill, who also added to her cooking chops by moving to the south of France after high school, simply sautés an onion and shrimp, then adds chopped fresh tomatoes, a can of peeled tomatoes, Tabasco, Worcestershire sauce, and garlic powder. And there it is—served over rice (brown for her, please), it's an almost instant taste of home.
Voyage to New Orleans
For a fine-dining take on New Orleans cuisine, look to Café Boulud on Manhattan's Upper East Side. Every few months, in addition to the regular menu, executive chef Aaron Bludorn highlights (in a series called Voyages) the cuisine of a chosen destination. This time, it's New Orleans.
"When Daniel [Boulud] and I talked about it, we were getting really excited because we've done Voyages with Senegal, Vietnam, and all throughout the world. Every time, you see these threads from where the French colonized and what they brought and how the technique is so deeply rooted in the cuisine itself: the roux, the use of spices, emulsifications, braises.
"There's such a deeply embedded culture that created these classics, such as gumbo and étouffée, that's been passed on orally, but they're all rooted in French technique, which is really fun for me."
To kick off the new destination, Bludorn invited chef Jason Goodenough of New Orleans's Carrollton Market to co-host two Mardi Gras dinners (now sold out) on Feb. 27 and 28.
"I grew up around the corner from Café Boulud, and I'm going back to my old neighborhood and serving pig tails. Who'd have thunk it?" Goodenough laughed.
At his restaurant, Goodenough steers away from the classic dishes: "When you talk to a New Orleanian, well, 'nobody's gumbo is ever as good as mama's gumbo,' you know," he said.
"I don't want to be looked at as an imitator, so that's why in everything I do at Carrollton Market, I try to be totally true to the traditions and the foodways and the culture here, but at the same time, try to avoid the ubiquity, and keep fresh and new," he said.
One of his signature dishes is Pig's Tail Tots. He braises pig tails, then mixes the shredded meat with herbs and the vegetable "trinity" of Cajun cooking (onions, bell peppers, and celery). Then he forms the mixture into disks and deep-fries them. "It looks like a tater tot but it's a boneless pig tail," he explained.
Bludorn will have four dishes—most of which were featured at the Mardi Gras dinners—on the regular menu for about three more months: Oysters Rockefeller, Shrimp Gumbo, Bronzed Redfish, and Creole Spiced Pork Rack.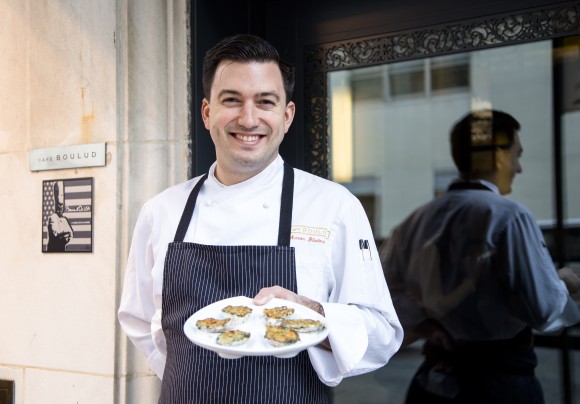 New Orleanians could argue all day about gumbo, and it all comes down to personal preference in the end.
As far as thick or thin, Blurdorn's version falls right in the middle—neither thin like broth nor gravy-like in consistency—it's like the Goldilocks of gumbo. It is fragrant and deeply smoky, with a base of stock made from Maryland blue crab and shrimp, thickened with dark roux, and made even more flavorful by slices of the café's housemade smoked andouille and potato rémoulade sitting on top.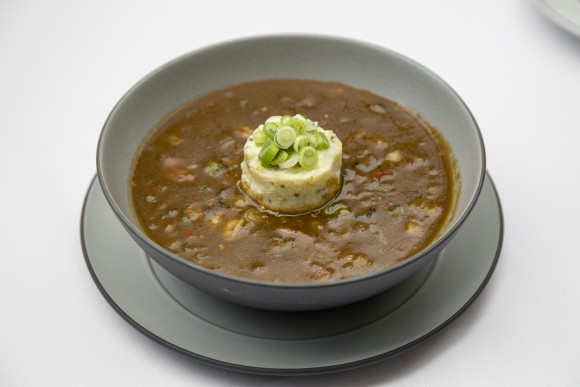 "The food here, especially with these gumbos, when you read the ingredient list, it's pretty simple and straightforward," Goodenough said. Yet a seasoned hand can coax the most flavor out of the ingredients. 
"So much of Cajun cuisine—gumbo, jambalaya—relies upon caramelization and the Maillard reaction. Caramelization is a huge part of how they cook here. … They'll cook it slowly and let it caramelize, stick to the bottom of the pan, hit it with a little deglaze," he said.
The rest of the dishes squeeze in as many New Orleans flavors as possible. The Bronzed Redfish sits on top of jambalaya and is accompanied with a crab-stuffed mirliton (also known as chayote); the pork rack is accompanied by boudin, mustard greens, celery rémoulade, and sauce Creole. And indeed, when Bludorn and Goodenough were working on the dishes, Bludorn thought: "What can we not be without? How do we make it almost a caricature of New Orleans, in a way?"
As for the Voyages cocktails at Café Boulud, they are all about "honoring the classics," according to head bartender Darryl Chan, who heads down to New Orleans at least once a year for the annual Tales of the Cocktails event. The list is so classic that one of the cocktails, the Brandy Crusta, even predates the Sazerac. "For that time, it was very cutting edge to add lemon to soften the spirit," Chan explained. Other cocktails will include the Sazerac, the Vieux Carré, and the Ramos Gin Fizz.
"[Making] egg white cocktails is always tough," said Chan, "but we couldn't honor New Orleans without putting it [the Ramos Gin Fizz] on the menu, so we're ready for it. The guys have been working out. It's a long shake. Back in the old days, they used to have kids—shaker boys—just to get that meringue at the top."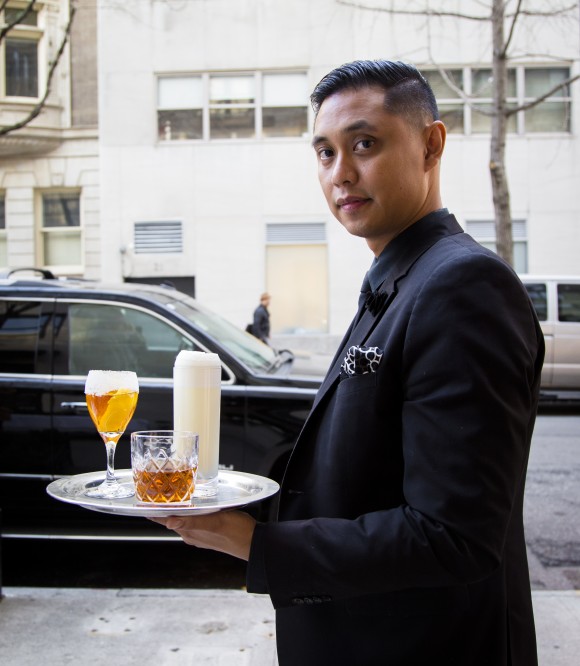 The most eye-catching drink of the evening, though, may well be the Café Brûlot with Grand Marnier. Traditionally, flaming alcohol is ladled down a spiral of orange peel studded with cloves, creating a ribbon of fire.
"It's quite the show," said Goodenough. "The flaming alcohol, the orange peel, and the cloves—it puts out a great smell in the dining room. It's multisensory."