Ten years ago, Claire Lomas's life changed forever. The then 27-year-old from Leicestershire, England was competing in the Osberton Horse Trials, when her horse, Rolled Oats, hit his shoulder on a tree and Lomas was thrown forward.
She smashed into the tree, fractured her neck, back and ribs, and damaged her spinal cord, suffering a punctured lung and requiring a tracheotomy to breathe. The doctors said she would likely never walk again.
"I worked as a chiropractor, so I knew it was a serious injury," she told Mirror in a 2013 interview. "I remember lying on the ground, unable to feel my legs, thinking, 'This is really, really bad'."
Still, she refused to admit defeat.
"When the specialist told me I'd be in a wheelchair for the rest of my life, I remember thinking: 'You don't know who you're dealing with,'" she said.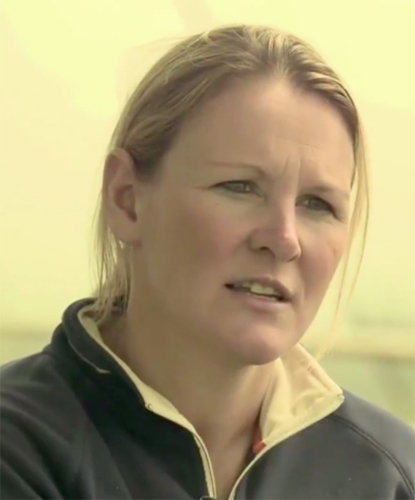 After just eight weeks in the hospital, Lomas was ready to go home.
"I was desperate to get out. So I set myself small goals," she explained, "My focus was on short-term tasks such as learning how to catheterize myself and get in and out of a car. I wanted to be as independent as I could. I'd never had to rely on anyone before, and I didn't want to now."
Of course she had to rely on her family and friends more than she had hoped. The amount of tasks she could no longer do was staggering. At this point, she had gained weight, had trouble dressing herself, and would wet herself as many as five times per day. All of this took a serious toll on her mental health.
"I'd have good and bad days where I couldn't get out of bed," she said. "I'd never suffered depression, but I don't think you can have a spinal injury and not get depressed."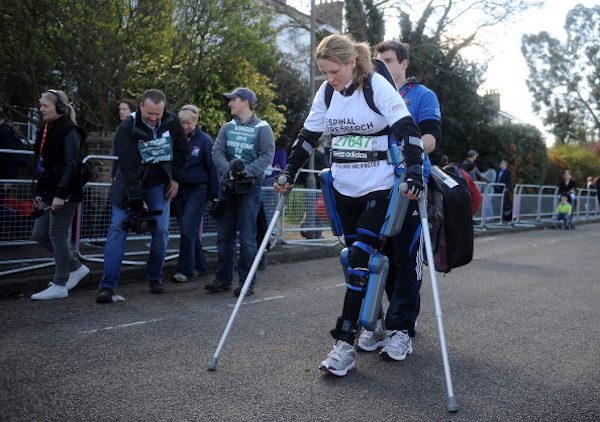 After three months, she found something that lifted her spirits. It was, ironically enough, getting on the back of a horse again. Riding felt a lot different than before the accident, yet it gave her a feeling of freedom that she hadn't felt since.
"I felt powerful and strong again. Not like the weak injured person sat at home doing nothing," she explained. "I realized then I needed to be active and have something to focus on. And I was determined to walk again, despite what the doctors had said."
From there she took up skiing. Then she took up running using a robotic exoskeleton. After that she took up biking. She was back to her athlete self and finding love as well. In 2008, she met Dan Spicer, who she married two years later. Spicer and Lomas now have two daughters, Maisie (5) and Chloe (9 months).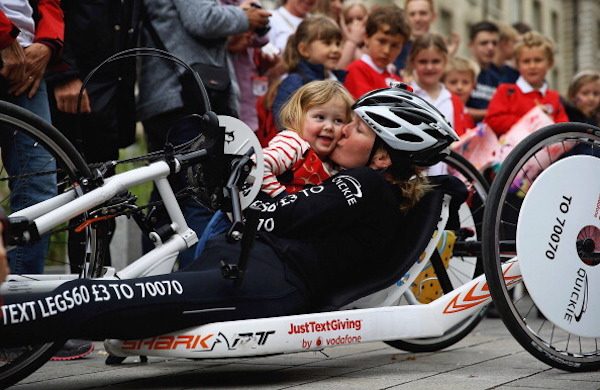 "Becoming a mum was the most amazing thing in the world," she said. "I wasn't sure if I would ever get the chance after my accident – or that I would meet anyone ever again because I was in a wheelchair, but I told Dan the moment we started to chat online and he said he didn't care."
Since then Lomas has competed in The London Marathon, running upright instead of in a wheelchair through her ReWalk robotic suit. She lit the Paralympic cauldron in Trafalgar Square in 2012, took a 400-mile handbike ride in 2013, and obtained her motorcycle license in 2017, so now she can participate in even more events.
Most recently she participated in The Great South Run, walking 10 miles in 24 hours. In The London Marathon just five years prior, she could only walk for about two hours per day and had to complete the roughly 26 mile marathon over the course of 17 days.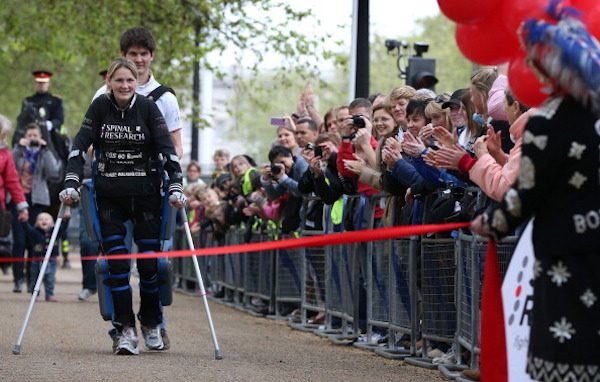 Every year, Lomas can travel more distance in less time. Yet what's even more incredible is how every event she competes in raises money for Nicholls Spinal Injury Foundation. So far her events have raised over £575,000 for the organization—and it doesn't seem like she's going to stop competing any time soon.
"When I think back to that first year or two, I would have loved for someone to tell me what the future had in store – back then, everything felt so bleak with so many dark days", she said while accepting an award for her charity work. "I forced myself to take small opportunities and it has led on to bigger things. It has taken a lot of small little steps to get here."
"So many amazing things have happened to me since I became paralyzed that I never dwell on the negatives," she told Mirror, "I thought my accident would hinder me a lot but it has been the making of me."
[via Mirror, The Guardian, Light Workers, and Claire's Challenge]