It doesn't matter what tough situation you're in—if you throw a surprise puppy into the mix, the situation instantly improves. Think about it. Your spouse chews you out for forgetting an errand? Surprise puppy! Everyone is smiling again. Car broke down? Surprise puppy! Who cares about the car anymore? Look how cute that puppy is!
On a serious note, puppies can also have incredible impacts on young children suffering from debilitating diseases.
When one doorman at a Boston hotel noticed that a sick boy staying at the hotel seemed happier while playing with the hotel's mascot Black Lab, he set out to get the child his own little mascot.
Surprise puppies make any situation better!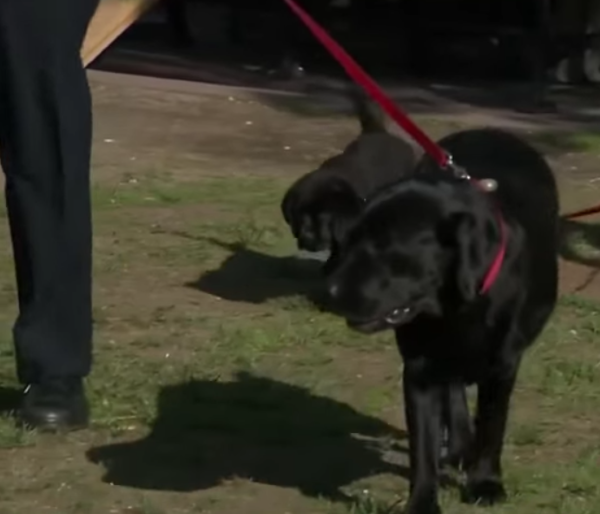 Michael Eades, a doorman for Boston's Fairmont Copley Plaza hotel, had noticed 12-year-old Brandon Leach many times.
Brandon often stayed at the hotel while undergoing treatments for mitochondrial disease. The disease, which generally only affects children, can include seizures, severe developmental delays, as well as the inability to walk or talk. Though generally not fatal, the treatments are rigorous.
For any young person, it's a difficult condition to live with.
But Eades noticed that when Brandon interacted with the Fairmont hotel's mascot Black Lab, Carley, his attitude seemed to change—he went from a quiet little boy, to a much happier child.
That was when Eades came up with a plan. With Brandon's parents' blessing, he went about searching for a Black Lab puppy for the young boy.
The perfect new puppy was found.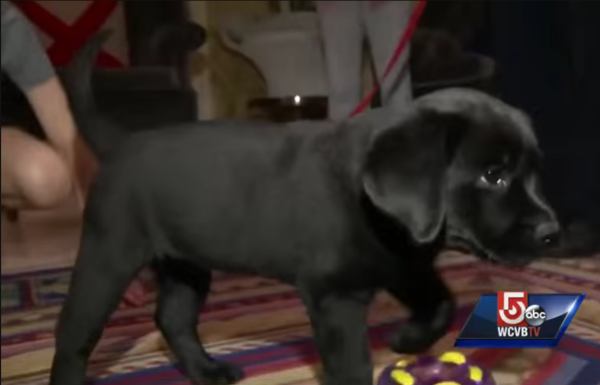 Dogs are often used as therapy animals for children and adults.
"In Brandon's case, for mitochondrial disease, Black Labs can be trained to recognize choking symptoms," Eades told WCVB News.
The entire hotel staff pitched in money to buy the puppy for Brandon, but Eades was the one that found the puppy and even drove an astonishing 11-hour round-trip from Boston to Pennsylvania and back, to pick up the dog.
In a small ceremony, Eades brought out the Black Lab and presented it to Brandon.
"At first, I just thought he was bringing out a puppy that I could pet," Leach told WCVB News. "I could not believe this is my little puppy."
His parents noticed a change in Brandon almost immediately.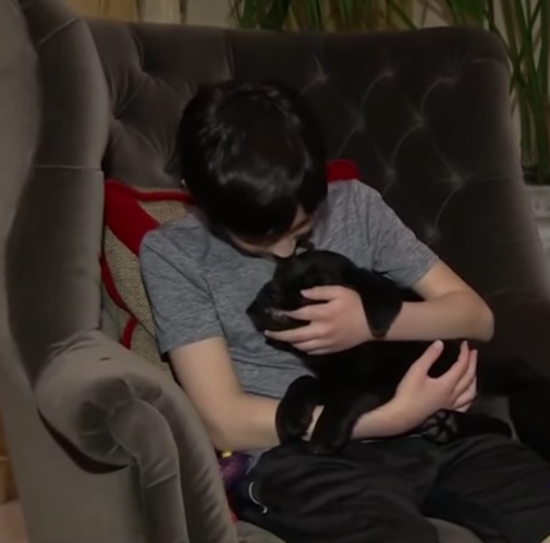 "Since we got the puppy, Brandon has been so much better," Brandon's mother Susie Leach said according to WCVB News. "It's the happiest he's been and it seems the best he's felt."
Brandon's parents also marveled at Eades' kindness toward their son.
"I mean, he was compelled to do this just because he cared about this little boy," Brandon's dad Rick Leach said according to WCVB News.
Brandon for his part immediately fell in love with his new puppy, which he named Copley, in honor of the hotel.
"I already know I love it," Brandon said of his puppy in an interview with WCVB News.
See? Puppies—and amazing doormen—make everything just a little bit better. We hope that little Brandon and his new friend Copley enjoy their lives together, and we are absolutely grateful that people like Eades are out there trying to make the world a better place.
Watch the story below: