Do you remember the first time you saw snow? If you've never seen snow before can you imagine your reaction to witnessing it falling from the sky or feeling its coolness on your hands?
Bella is a rescue horse, who before finding her forever home with Stacy Pierce Dadd, lived in South Florida. The mare never saw snow, until she recently encountered the white stuff for the first time at her new home in Michigan.
"Bella's been dreaming of a white winter and she finally got one this week."
Dadd first came across Bella when she volunteered at Hope Equine Rescue in Auburndale, Florida. The mare had called the rescue her home for over a year and patiently awaited a permanent home.
According to PEOPLE, the former teacher helped care for Bella for two years before adopting her and moving to Michigan, where they currently reside.
Bella couldn't help herself and rolled in the snow.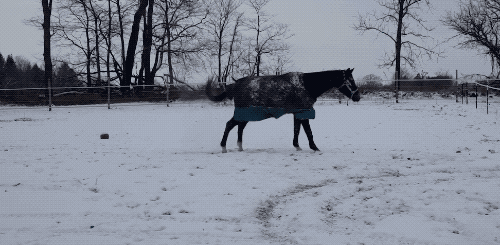 When Bella arrived at Hope Equine Rescue, she was in extremely poor shape. She had trouble walking, her withers were swollen, bullet fragments were found in her knee, and she had large wounds on her belly along with various other injuries.
But that didn't stop volunteers from working their hardest to save Bella and it certainly didn't mean Bella had given up either.
After a long stay at Hope Equine Rescue, Bella was finally able to go home.
Luckily for Bella she lives in Michigan where she's bound to have another day to play in the snow.