Members of the homeless community can often get a bad reputation. Many are quick to write them off, assuming they landed on the street by way of their own actions and decisions.
There are a number of ways someone can end up on the street. On the whole, homeless individuals can be honest, caring people, who happen to be down on their luck.
Maria Proffitt lives out of her faded green Ford pickup truck with her Chihuahua called Baby. As such, she spends a lot of time around the Kangaroo gas station in Colonial Heights, Virginia.
Those in the area know her by name. In January 2017, that familiarity saved a life.
Maria Proffitt lives out of her truck with her dog named Baby. Usually well behaved, Baby became upset one day in January 2017.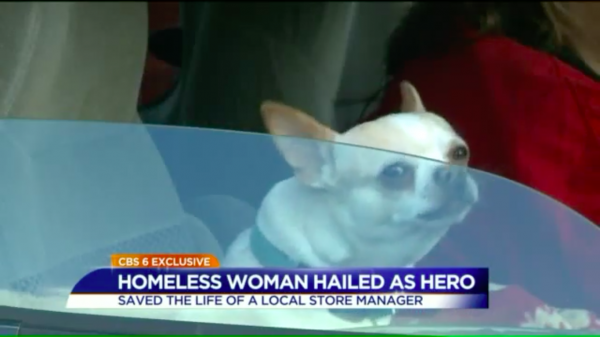 Proffitt swung her head around to see what Baby was barking at, but before she could find the source of the distress, she heard a cry for help.
"Help! Maria! Help me, please!" Phyllis Hicks yelled, according to WTVR.
Hicks, the manager of the Kangaroo, and someone that Proffitt has come to regard as family, was having a heart attack. Proffitt ventured away from her truck to where Hicks was standing.
But as she got closer, she realized that Hicks was in desperate need of medical attention.
Phyllis Hicks, a manager at the Kangaroo, had a heart attack in the gas station parking lot. Proffitt was the first one to notice and act.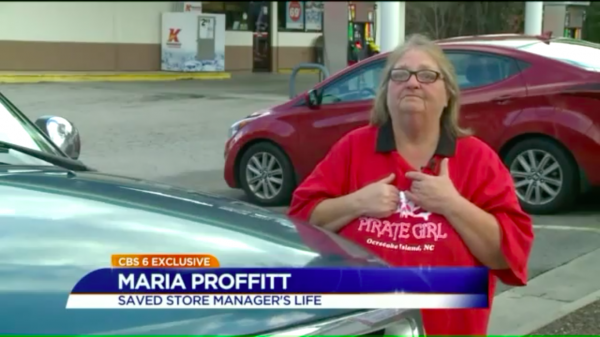 Hicks was telling Proffitt to call 911.
"I don't want to die," Hicks told Proffitt right before she lost consciousness.
Proffitt said that Hicks turned blue. Realizing that Hicks needed immediate medical attention, she yelled for a Kangaroo employee inside the store to call for an ambulance.
The recording of Proffitt speaking with the dispatcher is chilling. Proffitt was in a panic, worried that the medical team was taking too long, and that Hicks will be lost.
Proffitt contacted 911 and a team of paramedics arrived within minutes. They worked to get Hicks' heart started in earnest.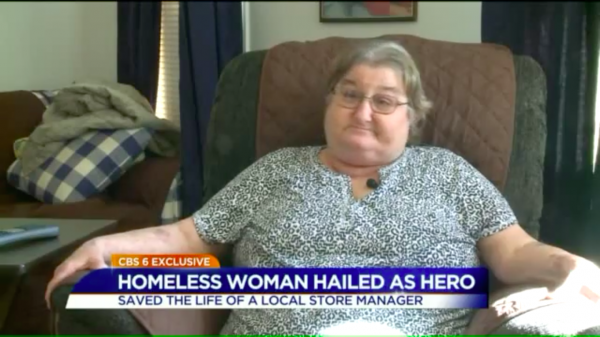 Today, Hicks is alive. Ask her who is responsible for that and she won't hesitate to answer.
"Did she save your life?" a reporter from WTVR asked Hicks in her home.
"She absolutely did," Hicks said.
But Proffitt doesn't see it that way. She emphatically denies the idea that she did anything special.
"I'm just glad I was there to help," she said, fighting back tears.
Shortly after word of Proffitt's heroism got around, local Virginians rallied to get her out of her truck, and into an apartment.
Touched Proffitt's life saving action, fundraisers quickly got her off the street. In only a few days, the homeless hero and her canine companion had a comfortable place to sleep at night.
Thanks to generous donations, and the efforts of a number of volunteers, it took little time to find Proffitt an apartment.
"I can't believe this is really happening. I'm really amazed, I'm overwhelmed," said Proffitt. "I just love the layout, just enough for me and Baby."
Donations of furniture and groceries soon followed, and Proffitt was happy to be able to do something as small as make a pot of coffee for herself again.
What goes around, comes around. Because of Maria Proffitt's willingness to help, though she had nothing, she now has a safe place to lay her head after a long day.