At the start of every season teams create a list of goals, and among those goals is one that everyone wants to achieve: get to the championship game and win.
But in the end there's only one who can say mission accomplished.
When the time comes for the championship game it's inevitable that one team will lose. And despite knowing that the losing team is still one of the top teams in their division, it doesn't make a loss during the final game hurt any less.
At the very least Cody Smith, a catcher on the winning team, could offer his opponent some words of encouragement.
In June 2016, Roncalli High School upset the number-one ranked Zionsville High School in the state championship.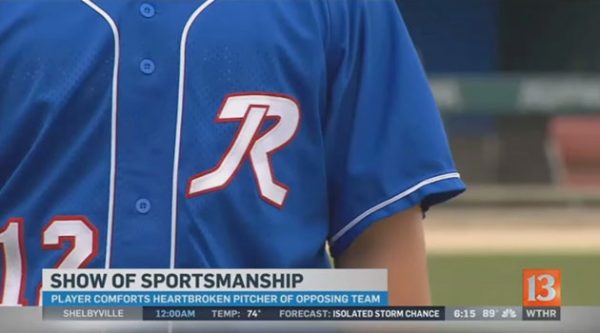 The Class 4A Baseball State Championship held at Victory Field in Indianapolis, Indiana, was an exciting matchup between an unranked team, Roncalli High School, and a number-one team, Zionsville High School.
In the end Roncalli won the game in extra innings, 3–2.
Everyone went wild when Roncalli won.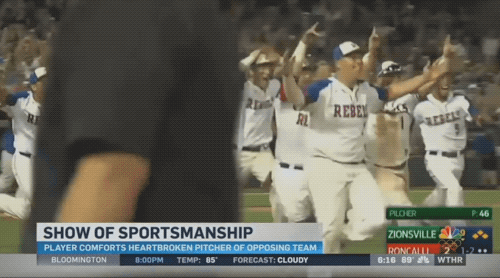 "It was a battle throughout the whole game until the very last play," Cody Smith, a catcher for the Roncalli Rebels, told WTHR in 2016.
After a misstep by the Zionsville Eagles, the Rebels scored their winning run.
As the Rebels rushed onto the field to celebrate their huge win, Smith couldn't help but notice his opponent's pitcher.
He was face down near the mound.
As Smith walked back to the dugout he spotted the Zionsville pitcher near the mound.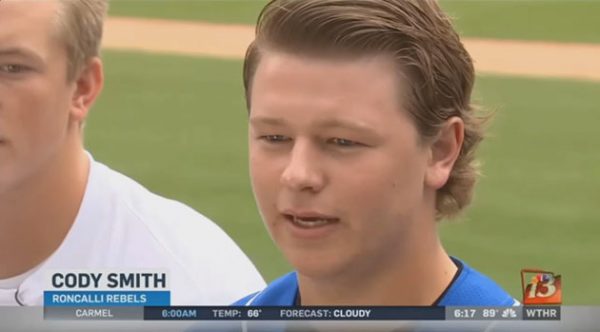 Jack Pilcher, Zionsville's pitcher, had just pitched his final game as a high school athlete. He was understandably devastated at the outcome.
"Right when it happened, I was in shock. I just kind of collapsed by the mound, face first, I don't know," he recalled. "You can't feel much worse than I did. Especially being the pitcher at the end."
Instead of going to celebrate with his teammates, Smith walked over to Pilcher.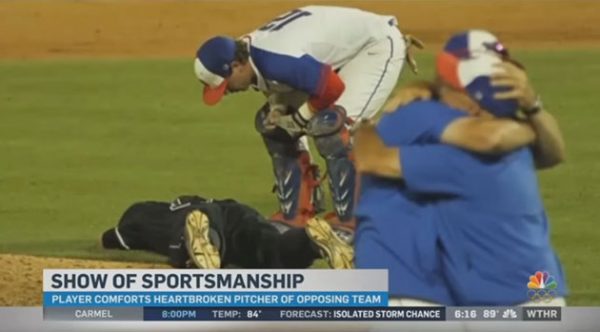 "I saw the heartbreak and the stress on all their players but especially him lying almost lifelessly by the mound," Smith said. "It just really got to me and I just wanted to go over there and tell him everything was going to be alright."
So, before celebrating with his teammates Smith walked over to Pilcher and offered some encouraging words to the high school senior.
The moment was captured on camera.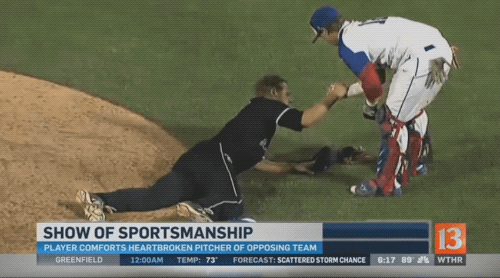 As Pilcher lay on the ground he remembered feeling comforted by Smith's actions. Michael McAvene, another player on the Roncalli Rebels, also approached Pilcher.
"It was probably better than anyone on my team could have said," Pilcher said.
Although it was an exciting game, the best part came after the final inning.
"I will definitely remember the last play, but I will also remember talking to Jack after the game," Smith shared with WTHR.