Who says married life is supposed to be boring?
Clayton and Brittany Cook, a couple from Cambridge, Ontario, got married on Friday. But almost immediately after tying the knot, the two were thrown into an unexpected life-or-death situation—during their wedding photoshoot.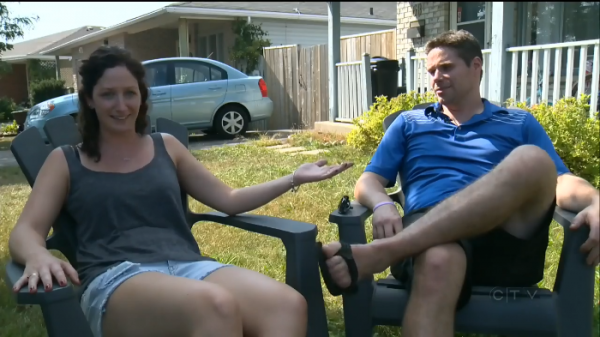 After the ceremony, the newlyweds were posing for photos by Darren Hatt, their wedding photographer.
Hatt was looking for a better backdrop for their portraits, so he suggested they move to a nearby park, which was on a scenic river.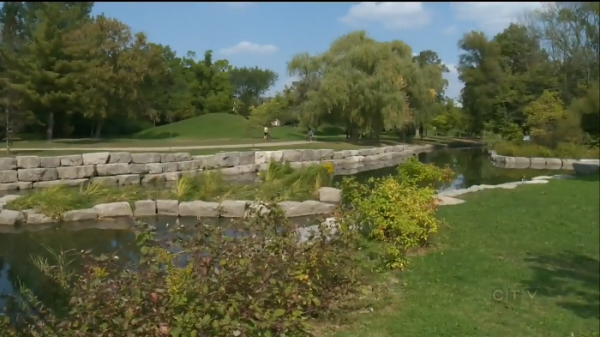 It was a sunny day, and the park was crowded, especially with children—and one group became fans of the newlyweds.
"We had three kids just following us around and cheering for us," Brittany told the BBC. "They were excited to see us in our wedding outfits."
With the idyllic scenery in the background, the couple got plenty of nice, traditional photos:

But the most memorable shot was one they didn't plan.
After taking couple's portraits, Hatt decided to take photos of them individually.
Brittany posed for her photos first and was momentarily split up from her new husband—she had no idea what kind of trouble he'd get into in that time.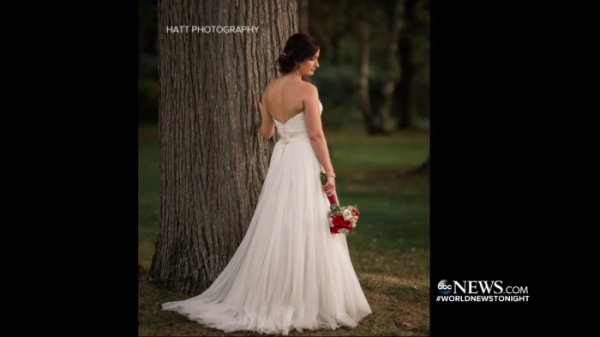 While posing, she noticed Clay seemed to be distracted—something in the park had caught his attention.
Before she knew it, he was suddenly gone. She looked around and finally found him: he was in the river, still in his suit. Brittany was confused.
"I look over and I see Clay in the water and I think, what is he doing?" Brittany told CTV.
She thought he might've jumped in as a joke. But then, she realized what he was doing—and it was deadly serious:
He was saving a drowning kid.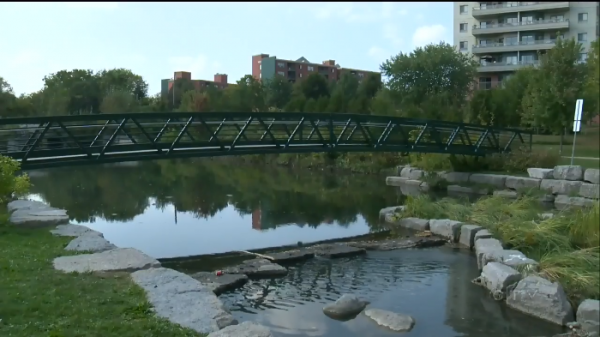 Clay had been waiting by the pond, and saw the kids who were following them.
"I was sort of keeping a close eye on them, just because they were close to the water," he told the BBC.
But then he noticed the kids were standing on the rock ledge looking down at the water—and there were only two instead of three. At first, Clay didn't assume anything was wrong, that the third kid was just out of sight. But to be sure, he went over to check on them.
And then he saw what the were looking at:
The third kid was in the water—and it was clear he couldn't swim.
"His face was underwater and he was fighting, like he was really fighting," Clayton told CTV.
Clay jumped down the rock ledge and into the water—just in time.
"I was just able to reach his hand, just slightly," he told the BBC. "I had to yell at him, 'Grab my hand! Grab my hand!'"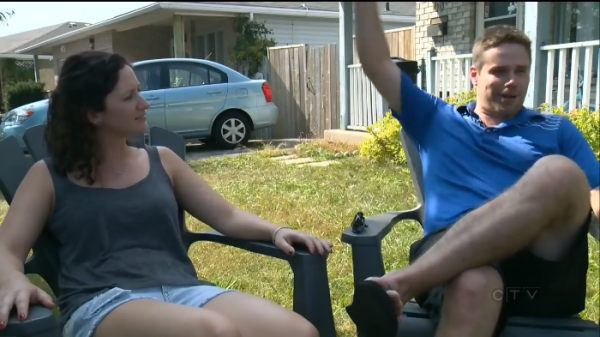 Then, he was finally able to lift the kid out of the water.
"Luckily, he was only a little guy," he told CTV. "I honestly just sort of hopped him up."
The rescued child ran off without saying a word, and a sibling reportedly took him from there.
Little did Clay know, the photographer caught the dramatic rescue on camera:

Talk about a candid wedding photo. Hatt shared the photo to his Facebook page, where it's gone viral with over 3,000 shares and nearly 10,000 reactions.
Hatt recalled being stunned after witnessing the rescue:
"It was a commendable thing that he did and he sprung into action incredibly quick," Hatt told CTV. "Almost as soon as I realized what was going on, he had already saved the day."
But for Brittany, it was nothing she didn't expect from her new husband—and another reminder of why she loved him on their big day.
"That's Clay, like, that's Clay to me," she said. "It's something he would just instinctively do."
And they were all aware of how narrowly tragedy was avoided—the decision to shoot at that park ended up saving a life.
"It was like fate almost," Brittany added.
"We were meant to be there."