Tornadoes had just ripped through parts of Texas and many were trapped in the stormy weather. One good Samaritan, Tom Mitchell, decided to go out and help anyone who might have been affected by the dangerous storms. What he came across while out driving was a very grim scene. A pick-up truck sat flipped over in a ditch with water rushing past and through it, even worse, inside the truck was a man, Phillip Ocheltree, and his two small children, Marshal and Addyson.
When Mitchell pulled up to the scene several, passers-by were already working to free the trapped family, and luckily, they weren't too late.
Fast-moving water made it difficult for rescuers to open the doors of the truck.

With sirens blaring in the background, rain pouring down, and an ominous sky in the background, Mitchell, who was physically unable to assist, recorded the entire rescue.
The Good Samaritans used whatever they had on hand to pry open the truck's doors. For the most part it was simply their strength.

Over two minutes after Mitchell started recording a baby was pulled out of the truck, followed by a toddler still strapped in her car seat. Rescuers quickly brought the children to dry ground and immediately started performing CPR on the limp children.
About three minutes into the video, Mitchell put his phone in his pocket so he could help perform CPR. In the video you can hear a woman, praying, "Dear Jesus, please let this baby breathe." Mitchell told WFAA that as soon as the woman started praying he "felt a response in that child."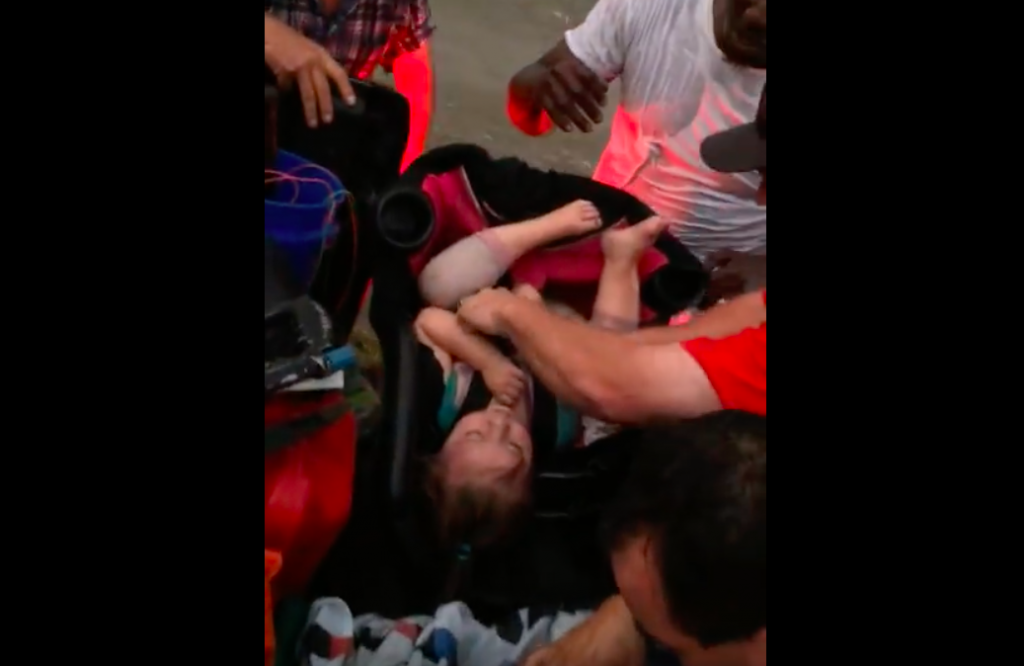 According to a Facebook live video shared by Phillip Ocheltree, the father of the two children, everyone is home from the hospital. Ocheltree also said that his children are "both full of life and doing just so much better."
(H/T: Sunny Skyz)