French brasserie Boucherie (meaning "butcher shop" or "the craft of butchering") offers meat lovers a new destination in the West Village, with its focus on prime quality meats and an in-house "Butcher Bar." There await dishes such as Côtes de Chevreuil (herb-crusted rack of venison) and Chateaubriand pour Deux (dry-aged filet mignon). 
Jerome Dihui, who worked as chef de cuisine at Keith McNally's Pastis, helms the kitchen at Boucherie, with a menu of French bistro fare, from cassoulet to choucroute garnie. Boeuf bourguignon is another classic, to which he added his own spin by using beef cheeks instead of chuck. The "gelatinous quality gives a new dimension to the dish while staying true to its French roots," according to Dihui.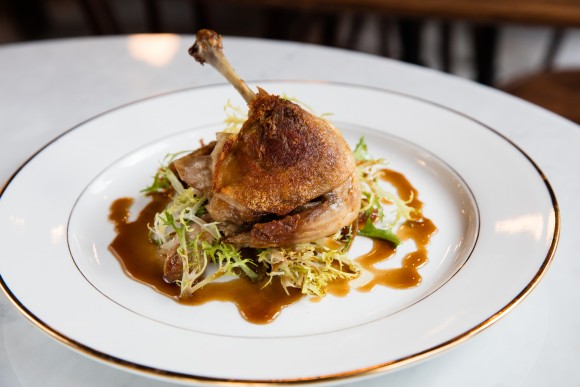 Dihui is most keen to introduce boudin noir, or blood sausage, to American diners. "The classical pairing of blood sausage with potato purée and caramelized apples is a French staple not many Americans are familiar with. Hopefully Boucherie will change that," he said.
Designed with belle epoque and art nouveau influences, the restaurant seats 320 in a variety of spaces, from a main dining room, to a more intimate mezzanine space, to the top floor overlooking the rest of the restaurant, with a fireplace. The bar offers cocktails, including some featuring an absinthe component.
Boucherie comes from the team behind restaurants Akashi, Dominique Bistro, and Olio e Piú.
Boucherie
99 Seventh Ave. South (between Christopher & Grove streets)
West Village
212-837-1616
Boucherie.nyc