Weekend Picks:
Chinese New Year Brunch at Buddakan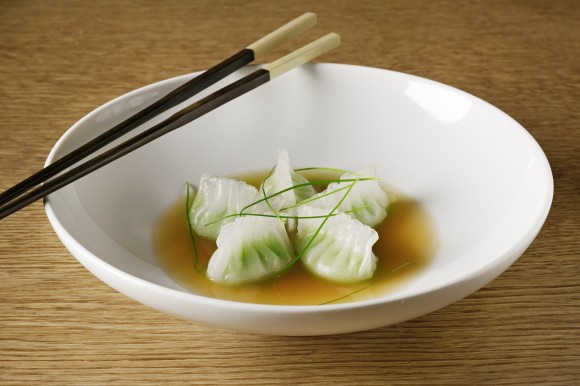 Buddakan, in the Meatpacking District, will host its only brunch service of the year: a dim sum menu to celebrate the Year of the Rooster. Dishes are riffs on classics, such as jade shrimp dumplings with pea shoots and water chestnuts; foie gras chicken dumplings with lemongrass consommé; short rib and scallion pancake with Asian pear and ginger; black truffle congee with Normandy truffle and miso-cured egg yolk; and sticky date cake with maple butterscotch and hazelnut croquants. In keeping with the holiday's rituals, at the end of the meal, red envelopes, with prizes inside, will be presented. Entertainment will be provided by Luen Hing lion dancers and DJ Timka.
Sunday, Jan. 29
Noon–2:30 p.m.
Buddakan
75 Ninth Ave. (at 16th Street)
BuddakanNYC.com
New Menu at Minton's 
Now that Harlem restaurants The Cecil and Minton's have merged, chef J.J. Johnson has created a new menu at Minton's. New dishes include Short Rib Toast with spicy pickled okra and yogurt; Niman Ranch lamb with Caribbean-style escovitch plantains, adzuki red beans, and concón (Dominican-style crispy rice); and Whole Market Fish marinated in housemade harissa (chili paste) and topped with red shallots, watercress, and pickled jalapeños. Some of The Cecil favorites will remain, such as the Afro-Asian-American Gumbo made with smoked chicken, Chinese chicken sausage, Gulf shrimp, and crab; and Oxtail Dumplings with green apple curry and taro root.
Paying homage to Minton's history as a jazz club, the restaurant will feature regular music performances. On Jan. 27, the Tim Green Quartet will perform. The following day, jazz vocalist Emily Braden will take the stage.
Minton's
206 W. 118th St. (between St. Nicholas & Seventh avenues)
MintonsHarlem.com 
Sausage Fest at Treadwell Park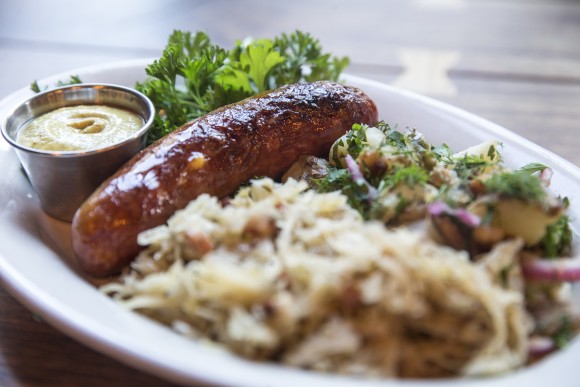 For a limited time, beer hall Treadwell Park is serving a selection of unique sausages made by different charcutiers around the city. Chef Stephen Lyle is serving Butcher Block's white sausage (seasoned with breadcrumbs), bangers-and-mash style with gravy and onions; Morscher's Käsekrainer, a smoked pork sausage made with cheese, served with sauerkraut and potato salad; Kiszka's kielbasa with horseradish mustard, braised cabbage, apple, and fried potatoes; Sorriso's sweet Italian sausage with fennel, along with Sorriso's mozzarella and olives, roasted cherry tomatoes, and polenta; and Treadwell Park's housemade grilled duck, foie gras, and black trumpet mushroom sausage, with port wine reduction, frisée salad, and fried potatoes. Each dish is matched with a beer pairing.
Through Sunday, Feb. 12
Treadwell Park
1125 First Ave. (at East 62nd Street)
TreadwellPark.com
Valentine's Day Specials
Orwashers Bakery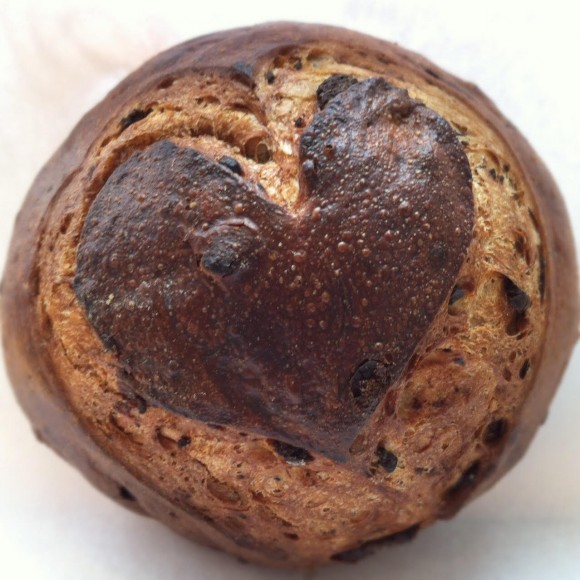 Orwashers is making a limited-edition chocolate chip challah for Valentine's Day, with a chocolate heart swirl on top. The challah will hit bakery shelves on Feb. 1. $6.50 per loaf.
Orwashers
308 E. 78th St. (between First & Second avenues)
440 Amsterdam Ave. (at West 81st Street)
Orwashers.com 
North River Fish Bar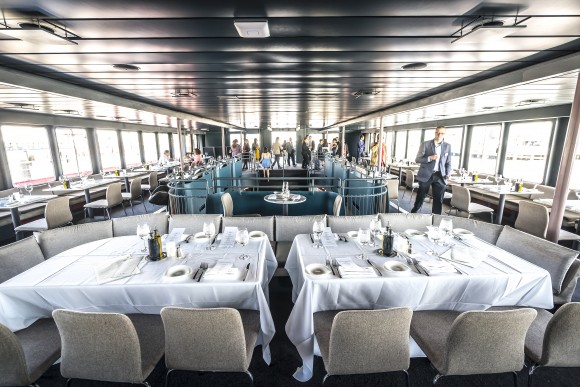 For a sweeping romantic gesture, take your significant other sailing down the Hudson River. North River Fish Bar, located on a three-story yacht docked at Pier 81, is serving a four-course prix fixe dinner, which comes with a champagne toast, a rose, and a complimentary sail down the Hudson. Boarding begins at 6 p.m. with sailing from 7 p.m. to 10 p.m. Dishes include black truffle burrata with tomato confit, balsamic glaze, and toasted oats; skirt steak with roasted vegetables, fingerling potatoes, and salsa verde; French chicken breast with faro, broccoli rabe, and herbed demi-glace; and raspberry cheesecake with mint Chantilly, raspberry coulis, and mixed berries. $135 per person.
Friday, Feb. 10, Saturday, Feb. 11, & Tuesday, Feb. 14
Nerai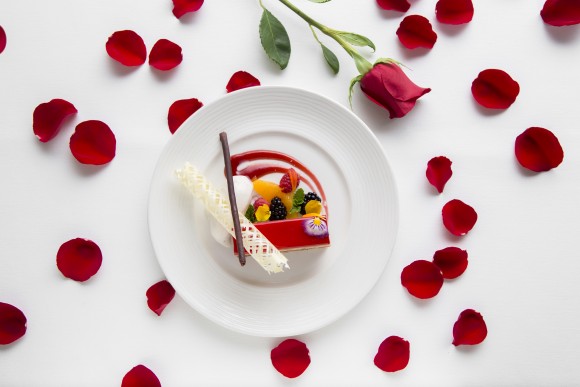 The Greek restaurant Nerai is serving a six-course prix fixe dinner for couples, each course with an optional Greek wine pairing. The meal begins with appetizers like Kumamoto Oysters with ouzo-cured roe, cucumber mignonette, and yogurt foam; and Seared Scallop Strapatsada (a Greek egg and tomato dish) with sous vide egg yolk, tomato marmalade, bacon tuile, and crispy bacon. The main course is your choice of Halibut with sepia (cuttlefish), braised salsify, saffron avgolemono sauce, and watercress; or Grilled Lamb Loin with fasolada (Greek white bean soup), roasted shallots, morel mushrooms, and parsnip purée. Dessert is a chocolate mousse with almond cake and raspberry coulis. $145 per person, additional $65 for wine pairings.
Tuesday, Feb. 14
5:30 p.m.–10:30 p.m.
Nerai
55 E. 54th St. (between Madison & Park avenues)
NeraiNYC.com
Japan Society Talk With Japanese Master Chef
Chef Kiyomi Mikuni, a top French chef and restaurateur in Japan, will be speaking about shokuiku, a philosophy of conscious eating. Shokuiku has become the basis of food education for Japanese schoolchildren, introducing them to nutrition, food safety, and sustainability. Mikuni will discuss how to incorporate the concept into daily life. After the talk, he will provide a cooking demo and tasting for how to make dashi, or Japanese stock. $19 per person.
Monday, Jan. 30
6:30 p.m.
Japan Society
333 E. 47th St. (between First & Second avenues)
JapanSociety.org
Burger Competition at The Ainsworth 
Submit your idea for a dream burger to The Ainsworth, and it may become a real menu item. The top four submissions will be featured for a week in February at all The Ainsworth restaurants and diners can rate the burgers. The winner, chosen on March 1, will not only be added to the menu, but also its originator will receive $1,000. Interested participants can submit their burger ideas online at the company's website.
The Ainsworth
All locations
TheAinsworth.com