After you unbuckle your seat belt and before you get your bag out of the overhead bin on an airplane, chances are you check under the seat in front of you and inside the seat-back pocket for any of your belongings.
You'd hate to leave something behind, because who knows if you'd ever see it again.
Well, if Jeff Nowotny was working your flight, chances are great.
Rachel Braverman accidentally forgot a bag of breast milk on a plane.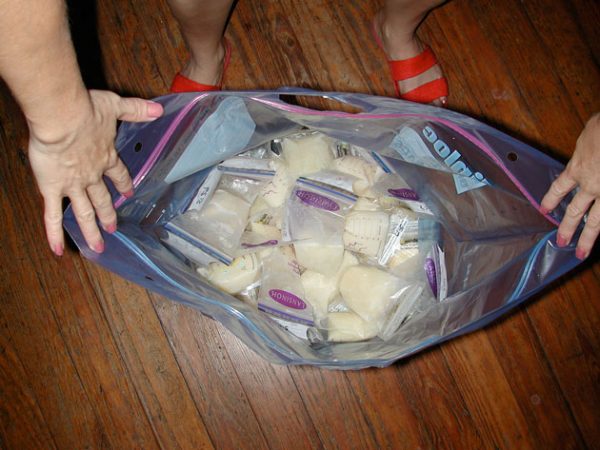 Rachel Braverman had just returned home to northern New Jersey from a trip to Walt Disney World with her family when she realized her mistake. She forgot a bag that held 100 ounces of breast milk on the airplane.
"I just started crying," Braverman told PEOPLE. "I was exhausted, and it's frustrating. You spend so much time and effort pumping in the five spare minutes you have a day, and it was a lot of milk!"
The mother of four had been stockpiling while away on vacation.
Braverman, who had been stockpiling her milk for her 4-month-old son Brent while she was at Disney, was beside herself.
Her friends suggested she call United Airlines to inquire if her breast milk had been turned in to a lost and found, but the mother of four didn't have any hope.
"There was really nothing I could do at that point," she said.
After the family returned home, Braverman's husband received a random text message.
After the family had been home for several hours, Braverman's husband received a text message from a United flight attendant.
"It said, 'Hi, my name is Jeff, I'm a flight attendant on United and I think I have something that belongs to you, please call or text me,'" Braverman recalled.
Braverman didn't waste any time and called Jeff. The flight attendant, who wasn't even working on the family's flight, told her he had her breast milk.
A flight attendant found her breast milk and wanted to return it to her.
"I called him and he was like, 'Oh my god, I have your breast milk, don't worry, I've had it on ice all afternoon,' which was the last thing I had on my mind, whether it was on ice or not. I could not even believe someone even found it," she shared with PEOPLE.
And that wasn't the end of the surprises.
The flight attendant, Jeff Nowotny, informed Braverman that he would deliver the milk to her home when he was finished with his shift.
After his shift, Nowotny drove from the airport to Braverman's home and dropped off her breast milk.
Nowotny, who kept the 100 ounces of breast milk on ice for two back and forth trips between Newark, New Jersey and Orlando, Florida, delivered Braverman's milk to her doorstep overnight.
"He's one of the nicest people I've ever come across," Braverman said. "He's a very sweet, nice guy."
She has since contacted United Airlines to let them know about Nowotny, their star employee. Others who commented on Braverman's Facebook post, where she publicly thanked Nowotny, agreed with her praise.
"Thank you Jeff, it's people like you the world needs more of!" one woman wrote.