Animal rescues are usually the beginning of a journey. For the pups who are pulled out of a dangerous situation, it marks the start of a new life under the care of someone who will love and look after them.
Police officers and firefighters often respond to these kinds of emergencies before turning the animals over to organizations that will nurse them back to health.
The Colorado Springs Fire Department assumed a call on March 16 was no different.
Colorado firefighters recently rescued what they believed to be eight Labrador Retriever pups out of a manhole.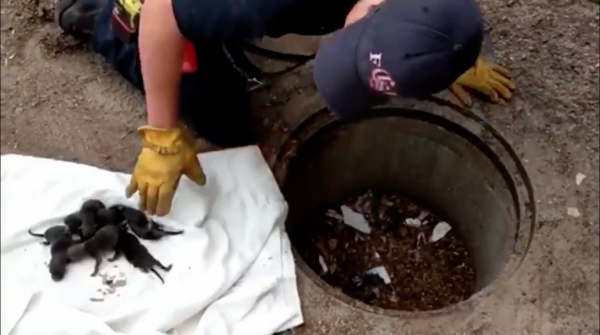 In a video posted to social media by CBS 4, a firefighter pulls a seemingly endless number of small black critters out of the manhole. They are placed carefully on a white towel where they squirm and wriggle.
With the mother nowhere to be found, it was a mystery how these black lab puppies ended up in the manhole.
But upon arriving at the Humane Society of the Pikes Peak Region, the firefighters learned the shocking truth. The puppies they saved weren't puppies at all.
The litter originally believed to be puppies were actually red fox kits.
The firefighter who pulled the foxes out of the manhole was shocked, to say the least. It was an honest mistake, and an easy one to make if you don't know what to look for.
"This time of year there are a lot of animals that are starting to have their young," Travis Sauder, Colorado Parks and Wildlife District Wildlife Manager. told CBS 4 Denver. 
"They have them in small dens that are places that we can encounter when we're recreating in the outdoors like we like to do."
Red fox kits are born blind, deaf, and toothless, with dark brown fluffy fur. At such a tender young age, they are easy to mistake for another animal.
Officials and experts concluded that the best thing to do was put the kits back where they were found.
The mother fox is likely wondering where her babies are, as red foxes usually stay with their young for two or three weeks as their kits are unable to thermoregulate. They're also fiercely territorial of their young.
"These animals are going to be put back where we found them hoping that the mother is still in the area and can pick up the normal duties like she would. If the mom's not around anymore we can take them to a licensed re-hab," Sauder said.
Officials will be monitoring the manhole to make sure the kits don't go unattended for too long.
These firefighters in rescued what they thought were puppies from a storm drain… but it turns out they're red foxes!
What to do now?
Reporter @AbeytaCBS4 shares the story: https://t.co/ubpMJjjj8h
(📹: Colorado Springs Fire Department) pic.twitter.com/Mksg0A0IJH

— CBSDenver (@CBSDenver) March 16, 2018