Anyone who has had a close animal friend for a long time can tell you that the connection lasts forever. When a pet passes away, it's heartbreaking, but that's just nature's way. Yet there are sometimes cases where people have to give up their pets while they're still alive, which can be even more tragic.
Four years ago, Bay's family fell upon hard times. They had to sell her horse, Spook, in order to support themselves financially.
Bay had quite the relationship with Spook. Not only was he a great friend but also an excellent partner in barrel races. Spook had helped Bay win numerous races, earning many belt buckles along the way.

When Bay had to give up Spook, she was crushed.
"I was strong at first, because I knew that Spook would help another little girl learn to barrel race," a sign held by Bay said on video. "Then came the tears. Letting go of that lead line was the hardest and [most] heart crushing thing I have ever gone through."
For the next several years, Bay followed Spook's owners on social media. She was glad to see him doing well but was still sad that he was gone.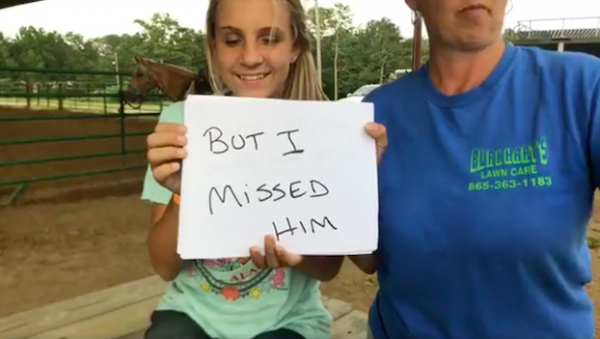 Last month, Bay's parents, Mandy Choate and Mike Ralston, decided to surprise their daughter by buying Spook back. Wanting to build up the anticipation and share the incredible moment with others, they filmed their daughter holding signs with Miss Wendy, a family friend.
Bay couldn't see the signs as they went through them, so she had no idea what she was telling the audience. The signs told Spook's story before building up to the big reveal.
"Bay has no clue what's about to happen but me and Mike bought Spook back," read one of the final signs. "Thanks to Mike and his big heart, he made this happen. He bought Spook and fixed Bay's broken heart. Are y'all ready?"
The last sign was facing towards Bay. The audience didn't get to see what it said, but Bay immediately turned around and ran.

She found her dad and a man named Mr. Charlie standing with Spook. She ran over and gave Spook a big hug and started crying, while her dad gave her a pat on the back.
Such a beautiful reunion!
Watch the video below:
Operation Spook

Posted by Mandy Choate on Wednesday, August 9, 2017