Rumors have long circulated that a mother would be able to lift a car off of their child in a crisis. The urban legend is well known, but short of summoning the strength of four bodybuilders, lifting a car is scientifically impossible.
But one 85-year-old-man was out to prove that adrenaline-fueled acts of heroism are indeed real.
Lindell Marbut doesn't fit the profile of your typical hero. The senior citizen needs a cane to walk, and requires a caretaker to help him get along on a day-to-day basis.
In January of 2017, then 85-year-old Lindell Marbut was at his home in Burleson, Texas when a car flipped over and caught fire in his driveway.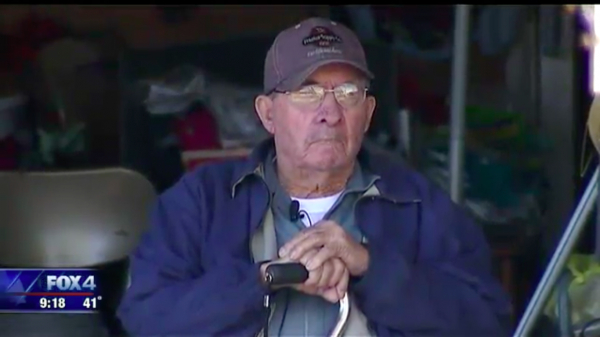 "I was born April 15th, 1931," Marbut told Texas' Fox 4 News.
He's seen a lot in over eight decades of life, but never anything like this.
Marbut was with his caretaker, Sondra Young, when a car came careening through his front lawn. It skidded along the ground before catching fire. There were two passengers in the car, both in their early 20s.
Young darted out of the house quickly to call the fire department from a neighbor's phone. Meanwhile, Marbut did his own impression of darting out of the house. Using his cane to bear his weight, he went straight for the fireball.
Sondra Young, Marbut's caretaker, ran to a neighbor's house to call the fire department. Marbut limped towards the fire.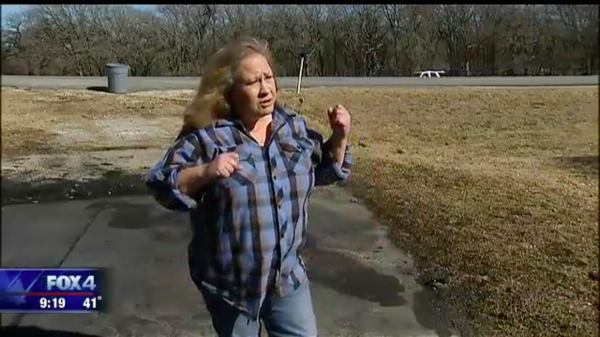 Not as able-bodied as he once was, Marbut didn't use his difficulty walking as an excuse to stand idly by and watch the blaze consume two young lives.
"I got my walking stick, and pulled it out and seen this woman's hand sticking out and I got her and pulled her out," Marbut said.
After getting the 22-year-old woman out of the car, Marbut dragged her into his garage, safely away from the blaze. As he returned to the car to rescue the second woman, his caretaker rushed from the neighbor's house to help.
According to Young, Marbut was banging on the windshield of the vehicle with his cane to communicate with the woman trapped in the car in order to save her.
Marbut pulled a 22-year-old woman out of the burning car and dragged her to safety. Then he returned to save the other.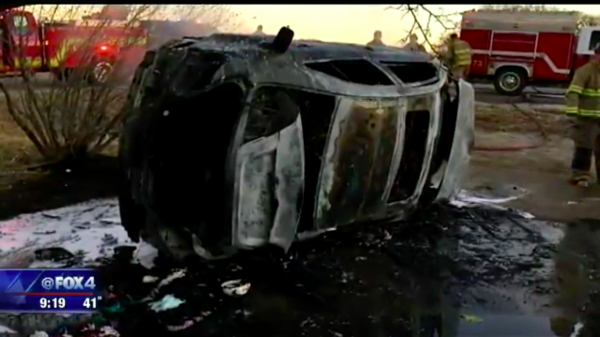 "Amazing, 85 years old and he drug her into the garage. I couldn't believe it. He can barely walk as it is. He has to use a cane to walk," Young told Fox 4.
Young assisted Marbut in pulling the remaining woman out of the car. Both passengers were a safe distance from the vehicle by the time fire rescue arrived.
Johnson County Fire Department responder Keith Flemming told Fox 4 News that Marbut was likely the difference between life and death for the young passengers.
"If it wasn't for the gentleman to pull them out, it wouldn't have been a good turnout," Flemming said.
According to the Johnson County Fire Department, the two women likely would have died if it weren't for Marbut's heroism.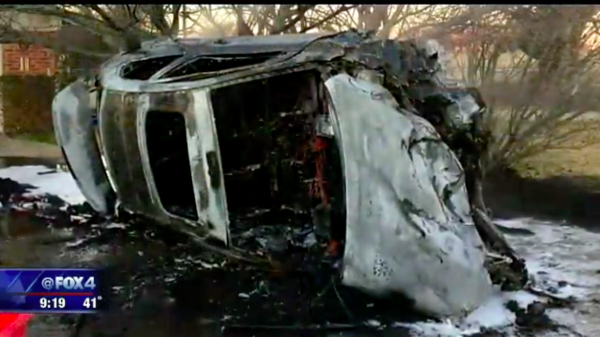 Marbut was called a hero by members of the fire department, but he didn't see it that way.
"I just feel like an old man trying to save somebody's life. I'd do it again if I had to," he said.
Department of Public Safety officials said the two girls were speeding when the wreck occurred. They suffered internal injuries from the crash, but thanks to Marbut, escaped the inferno still alive.