Derek Shaw and his wife Ann were on vacation in the seaside town of Cromer in the east of England, and had decided to take a leisurely stroll along the cliff tops one morning, not expecting any drama.
But as the couple were walking along the coast path atop the 250-foot-high cliffs, they heard shouts coming from the beach down below.
Derek looked over and saw they were indicating something was stuck on the cliff just below him.
Derek peered over the edge of the cliff, and 6 feet below him was a dog.

Millie the border collie was missing for 21 hours before Derek spotted her. The pooch was in a precarious position, digging her paws and claws into the cliffside tightly so she wouldn't fall.
Millie had spent the night there as she was unable to climb back up the steep cliff face.
Derek decided he had to mount a rescue.
"I love dogs and I just didn't want to leave it there," Derek told the Mirror Online. "It was only on a tiny ledge and it had dug its claws into the sand so it could cling on. It was just out of my reach and I couldn't get it to move."
So he lay down on the ground and stretched over the cliff to try and reach Millie.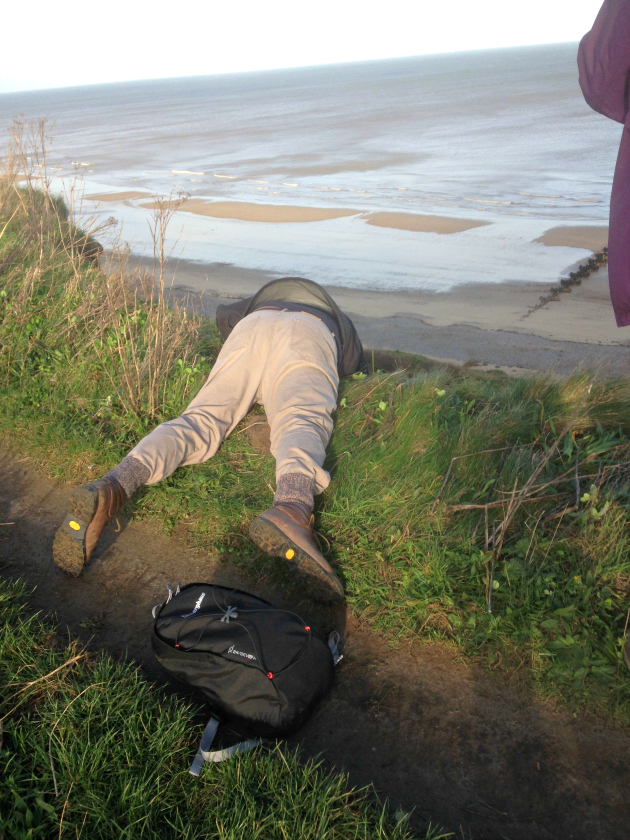 "It was a bit dangerous, but Derek was determined to get the dog," said his wife Ann.
Luckily, at that point, another couple also on vacation, came by, and grabbed hold of Derek's ankles to stop him slipping over the edge!
"My wife and this other guy grabbed hold of my ankles to stop me going over. Then the dog seemed to sense that I was trying to help and stood up," Derek said.
Millie finally got close enough for him to grab hold of her and pull her back up.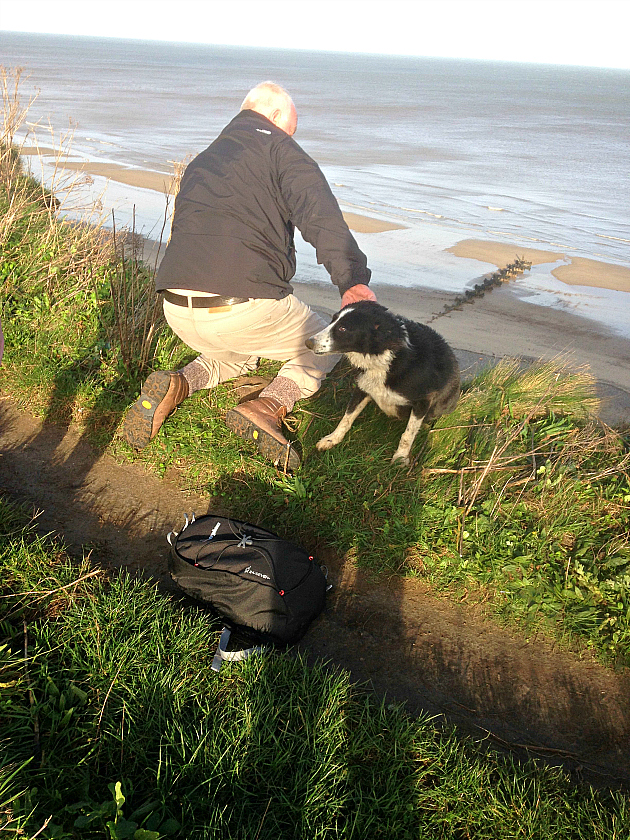 "Looking back it was probably a bit of a stupid thing to do," said Derek, "but when you are a dog lover you do not think."
The couple called the emergency services who were able to trace the owner of the dog.
The owner, Bobby, a local man, and his girlfriend Lauren were overjoyed to be reunited with Millie, who had gone missing the previous afternoon after being scared by another dog.
"We contacted the police, vets, dog wardens and radio stations. We also went round giving out posters and our numbers," said Lauren, according to Eastern Daily Press.
"I just started crying when she came back," said Lauren. "Her face when she saw me was  lovely."
Other than suffering from some mild dehydration, Millie went home to make a full recovery.
"I offered Derek money but he wouldn't take it and we can't thank everyone enough for the support in finding her," said Lauren.
What an amazing rescue!