Imagine you're going about your day, happy and frolicking without a care in the world. Then, you're accused of a crime you didn't commit and are sent to jail. After the case goes to trial, you're found guilty, and sentenced to be put to death.
For Hank, that hypothetical is a reality. This 2 1/2 year-old pitbull was accused of killing two goats and biting the face of a neighbor's pony in Washington state. Another dog, his mother Sadie, was also implicated in the attack. The description of the attack was brutal, but Hank's involvement was highly questionable. He may have simply been playing around the scene, while Sadie did the killing.
His owners took the case to trial. For over a year, Hank battled through the legal system trying to clear his name. Three judges recused themselves from the case, and the court documents totaled over 450 pages. The trial bounced to five different courts, and Lewis County prosecutor Jonathan Meyer told the Seattle times he's spent "hundreds of hours" on the case.
Hank's story has been a complicated one, and his future was long in doubt.

Hank's legal troubles started with three weeks in front of a judge in Thurston County last year. Hank and Sadie were both found guilty of their crimes and deemed to be "dangerous dogs." County regulations said their owner needed to buy at least $500,000 insurance for any damage they may cause in the future, or they would be humanely destroyed. But their owner did not have money for the insurance.
Hank, or as he was called at the time, Tank, was taken to an animal shelter so that he could be euthanized. The shelter had 48 hours to follow through with the ordinance to put Tank down. But after several months, Tank was still there. Staff at the shelter couldn't bring themselves to follow through with the court's decision.
Later, the judge who called for Tank's death would write that he was "inexplicably not destroyed," and charges were brought against Amy Hanson, director of the county animal shelter, and The NOAH Center in Stanwood. The mission of the NOAH Center is "stopping the euthanasia of healthy, adoptable and treatable homeless dogs and cats."
The charges against Hanson would later be dropped, but several emails detailing her reluctance to euthanize a dog that she viewed as totally harmless were entered into the court documents.
Hanson describes Tank as a "super sweet well-behaved boy" who "never jumps up on you, will sit politely when asked, shakes hands and loves his stuffed toys."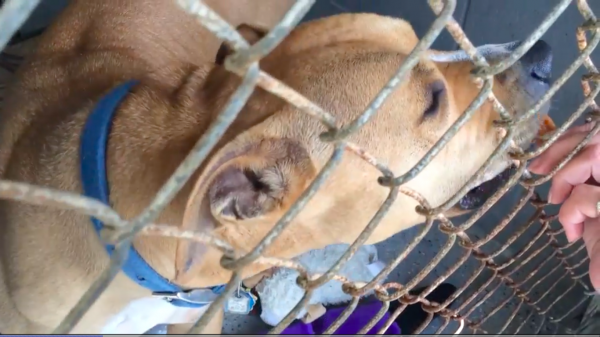 It was Hanson and the employees at the shelter that decided to change his name from "Tank" to "Hank." It was a chance at a new start, and it helped allow them to circumvent the ordinance to have him euthanized.
Hank's mother Sadie was somehow able to avoid the shelter, and she was quietly given away by her owner to a family in another state.
The shelter in Washington was required to euthanize a dog named Tank. But a dog named Hank? Well he was technically available for adoption. Under his new name, a woman named Jann Propp-Estimo fell in love with him.
Propp-Estimo says when she first came and saw Hank, there was a tag on his gate saying he wasn't available. "I want this dog," she said. A week later, the tag was removed, she paid the $70 adoption fee, and Hank went home with his new family.
"I saw Hank and he immediately stole my heart," Jann Propp-Estimo said.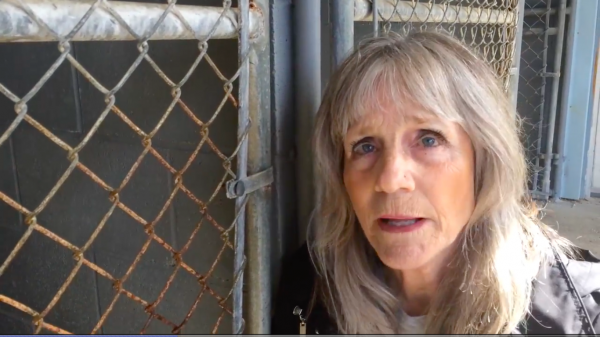 Hank lived in domestic bliss for four months until police officers came knocking on the door looking for him. The court had finally called the shelter to see what happened to Hank, and found out he'd been adopted. Propp-Estimo was totally unaware of his past, and she surrendered him to officers on May 9th.
Hank was taken back to the shelter and placed back on death row.
But this time Hank had the determination of Jann Propp-Estimo on his side. His new owner wouldn't go down without a fight, and she hired Adam Karp, a distinguished local attorney specializing in animal law.
Karp came out swinging on behalf of Propp-Estimo and Hank the dog. First, he filed a lawsuit against the county for $250,000 for the "thousands" spent caring for Hank, and for "severe emotional distress." Then, he filed a lawsuit for breach of contract and violation of federally protected constitutional rights.
"There's a dog in our hearts at the start of each day. A dog in our hearts each time that we pray," according to a song written specifically about Hank.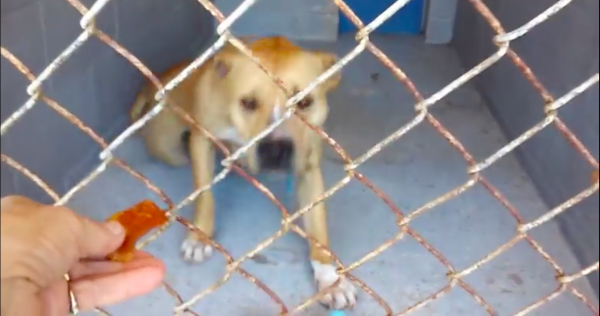 While the attorney handled legal proceedings to bring Hank home, Propp-Estimo rallied the court of public opinion. She blitzed social media, starting a Facebook page, a website for Hank, a Twitter account, and a YouTube channel. Several of the videos posted to Hank's channel feature music written specifically for the cause of getting him out of the shelter.
The blitz worked. Hank garnered a huge national following, and as locals became aware of the situation, they rallied around him and Propp-Estimo.
County commissioner Edna Fund recalled hundreds of people who showed up to town hall meetings holding signs and chanting that he be set free. "We're lucky to get four people to come to discuss something as vital as the county budget," she said.
Hank's supporters continued to argue that it was only his mother Sadie that had bitten and killed the animals last year, and Hank was truly innocent. At some point, the person that had accused the dogs changed her story, saying she didn't see Hank specifically harm any animal.
"He's touched the hearts of many people around the world."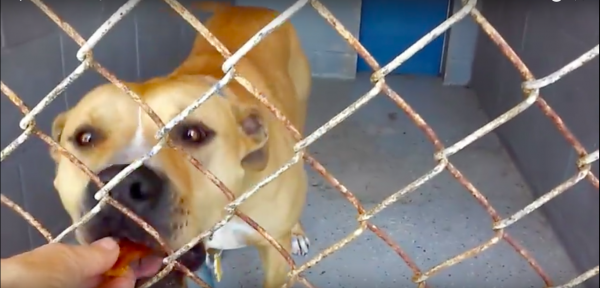 After months of rallying support, fighting legal fire with legal fire, and appealing to the humanity behind the law, Hank and Propp-Estimo made a major breakthrough.
With a new judge, a preliminary injunction to "immediately release Hank" was ordered.
Following the triumphant decision, Propp-Estimo drove to the shelter as she had so many times before. But this time, she wouldn't just be visiting. Hank was coming home.
"I'm ecstatic," she says. "I'm gonna love Hank and make him feel at home."