Dogs are known for performing all kinds of tricks. From shaking your hand to rolling over on command to jumping through hoops, most of the tricks dogs do are simple little things humans would be able to do rather easily.
Yet Norman isn't like other dogs. Nicknamed "Norman the Scooter Dog," this pooch has set world records for riding a scooter, can ride a bicycle just as well as a human, and has even been known to surf from time to time.
Norman has seen ups and downs over the years, but he's kept going throughout it all, including his 6-month-long battle with cancer.
Norman the French sheepdog has been riding scooters since he was just a year old.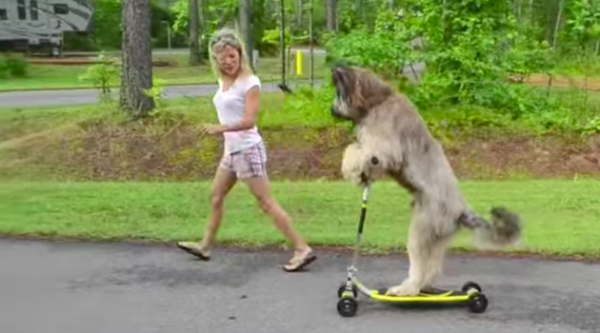 Norman was born on July 14, 2009 and has been a star for nearly his whole life. According to his official website, he was originally trained to compete in Agility, Herding and Obedience competitions. At 15 months old, he received a Companion Dog Title in Obedience with all first placements.
"Norman can do all the traditional parlor tricks," his owner, Karen Cobb, told Barcroft TV in 2013. "[He can] play dead, roll over, shake paw, and of course he has some other unique ones."
The most famous of those unique tricks is his ability to push a scooter like a person would: a skill he was first trained in as a puppy to help him overcome social anxiety.
"French sheepdogs can be kind of skittish as a breed, so you really want to socialize them a lot," Cobb said. "So we just thought it'd be fun to introduce him to all the kids' toys. We put him on the kids' scooter and he loved it!"
Soon Norman became proficient at scooters. According to TODAY, he made his first TV appearance on "The Late Show with David Letterman."
From there he started making more media appearances as a big star.
He smashed the Guinness World Record for fastest dog on a scooter, traveling 30 meters in just 20.75 seconds.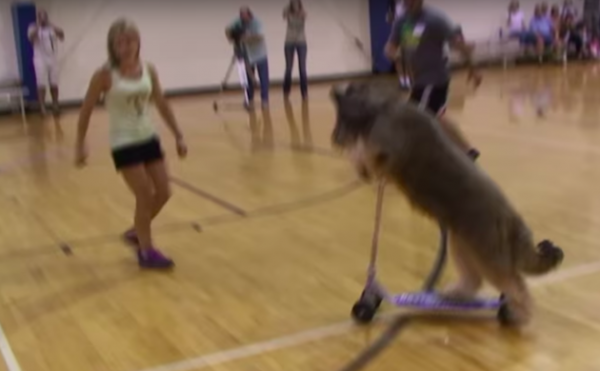 He also began to pick up other vehicles such as the bicycle, skateboard, and even the surfboard.
"We are always teaching new tricks. We never want to have him bored," Cobb told Barcroft TV.
Unfortunately, in 2017, Norman had to take a break from shows and tricks as he was diagnosed with Stage 4 lymphoma.
Cobb first noticed something was off with Norman back in June when he got very clingy and wouldn't stop panting but she later discovered lymph nodes on his chin and bottom. Two days later, the lymph nodes had tripled in size and Norman was taken to the vet.
There, the worst suspicions were confirmed. Norman had cancer and, if it wasn't treated quickly, he would only have 2 to 8 weeks to live. Norman needed chemo and a bone marrow transplant, if he wanted to survive.
The support of his fans helped him fight cancer.
The closest location for this procedure was seven hours away and would cost over $20,000 just to perform. Cobb's friend, Annette Redner, set up a GoFundMe hoping to raise enough for just the procedure itself. Yet currently the campaign has raised over $32,000.
As the campaign continued, Redner posted regular updates which confirmed that Norman got his marrow transplant thanks to a donation from his sister, Muse.
Norman's recovery process took quite awhile and was more expensive than expected (the GoFundMe page raised its cap to $68,000). For a few months, he was shaved down to the point where he didn't even resemble himself anymore.
Yet now he's feeling much better. His Facebook page confirms he was released from the hospital on December 1, 2017 and a March update shows him running around an agility course with a far more familiar hairdo.