For a lot of kids, test-taking can be a stressful process that they try to avoid, while other children may not take their studies seriously or even put in the work. Many people take for granted what a privilege it is to have access to education, even right down to being able to take a test.
But this boy truly knows the value of education, and he even overcame his severe disabilities to take his required tests and receive very good grades.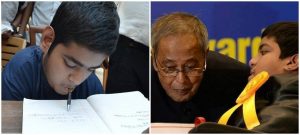 Tuhin Dey is a seventeen year-old boy from eastern India who had been affected by arthrogryposis multiplex congenita, a disorfer that occurs while in embryo, causing a reduction in mobility for the baby's joints, hands, and legs. Because of this, Tuhin has officially been declared 90% disabled. Despite this, Tuhin works hard in school and normally receives more than 90% on his exams. For his recent Class 10 exams, he recently earned 88%, although he had hoped to receive over 95%.
He has been able to do this without any help, even having to write with his mouth on his tests due to the lack of mobility in his hands.
Tuhin faces a lot of challenges at school. According to the Hindustani Times, "Since Tuhin did not participate in the co-curricular activities due to his disability, his school could send only B2 Grade to board due to which his overall percentage fell down," his mother, Sujata Dey, explained in a statement.
Tuhin usually does not receive any indulgences because of his disorder. "Tuhin wrote his Class 10 exam without help of a writer or using extra time given to students with disabilities," his mother added. Reportedly, Stephen Hawking is a great role model to Tuhin.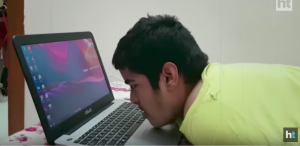 That is not to say that Tuhin has not received any recognition for his hard work over the past few years. "Tuhin got the National Child Award for Exceptional Achievement in 2012 and Best Creative Child Award with Disabilities in 2013 from President Pranab Mukherjee," his mother added, "Since his birth in 1999, Tuhin has undergone more than 20 surgeries. But that did not deter this boy from studies." Tuhin has also earned a scholarship from Allen Career Institute, worth more than $1800 a year.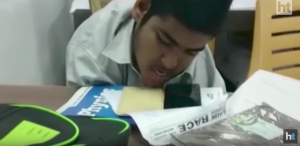 Tuhin also has quite the supportive family. His mother gave up her job in the central government's education department, and his family is supported by his father, Samiran, who owns a real estate business.
His father also drives him daily to school, due to it being nearly nine miles away from their home. As Tuhin is an only child, his parents also had the freedom to move from West Midnapore to Kota to be there for there son while he prepares for his IIT entrance exam.