It's never easy moving on when your pet passes away. But one of the best ways to cope is to get a new pet, so that the love never stops.
When Donya DeLuca's dog passed away, she made sure her family wouldn't spend their time grieving. They would spend it loving another dog.
Haus is a German Shepard that was rescued by the DeLuca family of Florida. Given that their previous dog had just passed, it seemed fitting to add this happy dog that was just two years old into the family to spread some joy.
And he almost instantly became attached to the family, especially the DeLuca's 4- and 7-year-old children.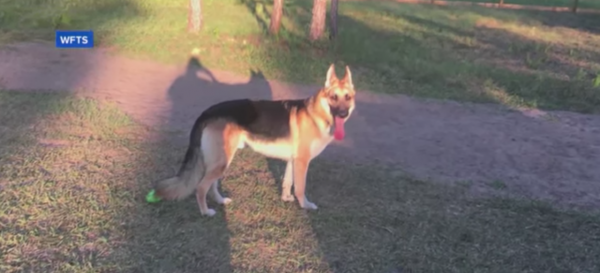 "He's very protective of the kids," DeLuca told TODAY. "He follows them around, he takes care of them."
Haus seemed to know how young the children were, and would be ready should anyone or anything try to attack them.
One day last year, Molly, the eldest child, was in their backyard with Haus. It was here that a rattlesnake appeared, and had seemed to be getting closer to Molly and the house. But Haus wasn't going to allow this to happen.
Haus stepped in between the snake and Molly, and fought off the snake while receiving several bites from it.
"He was just kind of holding his ground," DeLuca said.
Haus was doing everything he could to make sure the snake wouldn't get past him.
Eventually, the snake took off, and Haus had saved Molly and the family from what could've been a deadly attack. But they weren't out of the woods yet, as the family now realized how severe the bites to Haus were.
The snake was identified as an Eastern Diamondback rattlesnake, considered to be one of the most poisonous snakes in the United States.
The family immediately took Haus to a veterinarian clinic, where he was given an anti-venom to combat the bites, and was monitored around the clock.
And for days, the family was in doubt about whether or not he would pull through, as he was not the energetic dog he once was.
DeLuca didn't know if the doctors could help him.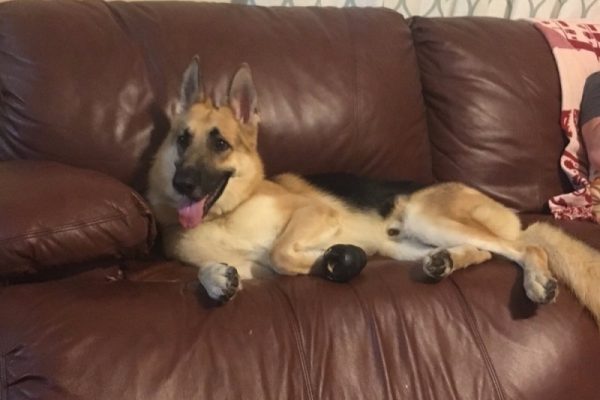 It took a few days, but Haus was able to make a full recovery and return home from the hospital, even if he was forced to wear the cone of shame.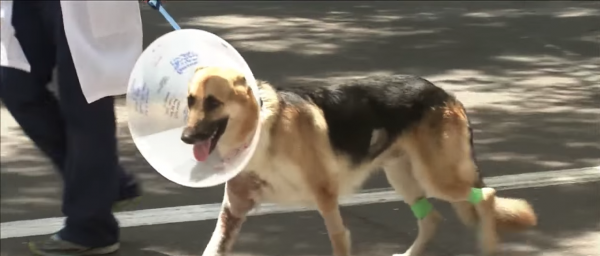 "It's semi-miraculous," DeLuca said about his recovery. "I can tell that his mindset is to just keep going."
Haus, even through the treatment and pain from the bites, still had energy to wag his tail whenever Molly or a family member would come visit him.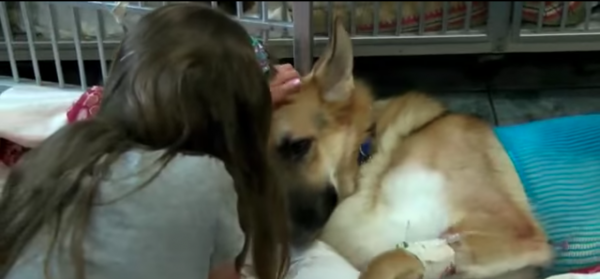 The treatment wasn't cheap either, as doses of it added up to around $9,000.
"I don't know of anyone that could easily pay for something like this," DeLuca told ABC News.
Because of the hefty cost, a GoFundMe account was set up by one of DeLuca's friends to help cover Haus's treatment, with the goal being $28,000.
Since then the page had reached over $50,000! And DeLuca said that any leftover money was donated to a non-profit dog rescue organization.
"I'm really grateful that he loves us so much that he would give his life to protect us," DeLuca told ABC News.
Had Haus not intervened that day, who knows what would've happened to Molly, or any member of the DeLuca family.
Regardless of how he might've turned out after confronting the snake, Haus risked his life to protect his family. And he is just another dog in this world that will do anything for its loved ones.