Every morning and night for 20 years Ben Lawton greeted the crane operators as they drove their vehicles through the front gates of ABA Crane Hire in Walsall, England.
So when Lawton, who had autism, suddenly passed, everyone knew there was only one way to properly remember the 35-year-old.
According to The Sun, Ben's father, Steve Lawton, asked the crane company if they'd be willing to do a special tribute for his son. The answer was obvious, of course they would.
Ben became interested in cranes when he was a little boy.
Although Ben had spent the better part of his life waving to the crane operators, the first time he became interested in the heavy machinery was when he was very little. His father told The Sun that as a little boy he'd like to look out his window at the crane yard that was next door.
Ben came to know ABA Crane Hire after his mother worked across the street from the company.
"Once he was a teenager he would get up at five or six o'clock in the morning, go to ABA and stay there all day," Steve told The Sun. "He knew everything about them."
The crane operators enjoyed seeing Ben every day.
Employees marveled at how much Ben knew about their operation and looked forward to greeting him every day.
"He knew every crane, knew all the drivers, he knew the different engine noises," Anne Baggott, the director of ABA Crane Hire said to Express & Star. "He even had his bike painted in our green colors. It was his life."
Everyone at the crane company was devastated upon learning the news about Ben's passing and commented how they will miss the man they called the "crane oracle."
The crane company organized a procession with company vehicles.
At Ben's service several of the crane operators, who had become fond of Ben over the years, served as pallbearers. They dressed in bright orange reflective gear.
Ben's casket was placed in the back of one of the company's vans.
The tribute was extremely moving for everyone involved, but especially for Ben's father.
"I knew he used to go up to ABA but I wasn't aware how strong the relationship was," he said. "I didn't know how fond they were of Ben, it blew me away really, it's incredible."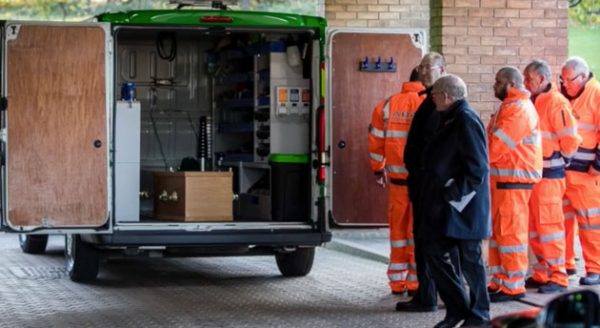 In addition to the procession of cranes and company vehicles, according to Metro, the crane company created a plaque in honor of Ben and plan to hang it on the fence where he stood and waved to the operators for so many years.