One of the great joys of a wedding is inviting your friends and family to celebrate with you. For the happy couple it's their big day, but for everyone else it's a big party, full of dancing and drinking.
So naturally, sometimes people just can't resist—and show up uninvited.
We're all familiar with the concept of "wedding crashers"—hopefully from the movie, and not from real-life experience. Guest lists are carefully organized and brides and grooms usually don't like to feel taken advantage of by strangers on their wedding day—but one couple had a different perspective.
Robby and Casey Butler, from Queens, New York, tied the knot in October. With about 300 guests in attendance, they had a private reception at the Bungalow Bar, where guests partied the night away.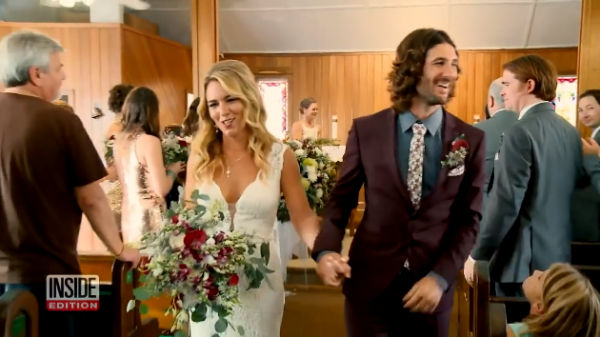 They hired a videographer to record the evening, and months later sat down to watch the footage of their reception.
It was then that they noticed two unfamiliar faces in the crowd.
And they weren't exactly hard to spot—in fact, they were the life of the party.
"There they are, smiling at the camera," Robby told Inside Edition. "Almost with a smirk."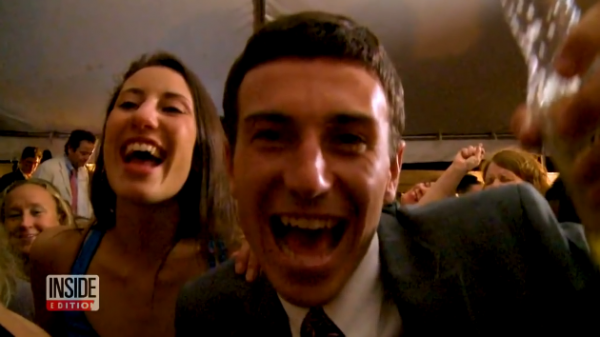 It didn't take the newlyweds long to realize they weren't part of their usual crowd.
"These guys are young!" Casey said. "We're not friends with young kids like this!"
But watching these wedding crashers having a great time, hamming it up for the camera, and seemingly totally unafraid of getting caught had the newlyweds watching in admiration of these two.
"I wish I were bold enough to do something like that, and wave in the camera, and take pictures with the photographer," Casey explained to CBS New York.
Robby agreed—and the couple had become determined to track the strangers down, not to call them out but just to meet them.
"I want to shake his hand, because it was a job well done."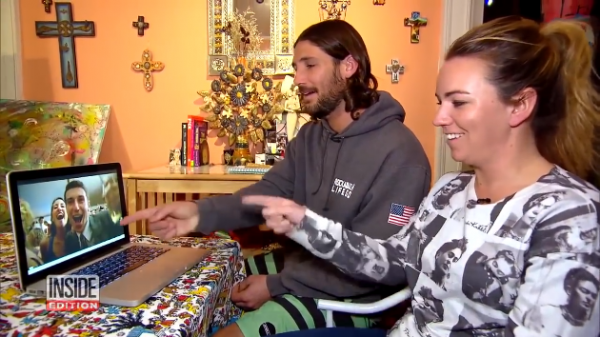 To find the crashers, they posted a photo on Facebook, hoping that someone would recognize them.
They emphasized that they were actually very chill about it:
"We're not mad," the post read.
"Just want to be properly introduced to legends."
It only took about 20 minutes for one of those "legends" to be found and outed.
"His cousin sold him out, immediately," Robby told CBS.
The male crasher turned out to be Patrick Goldberg, 22, who was a regular at the Bungalow Bar.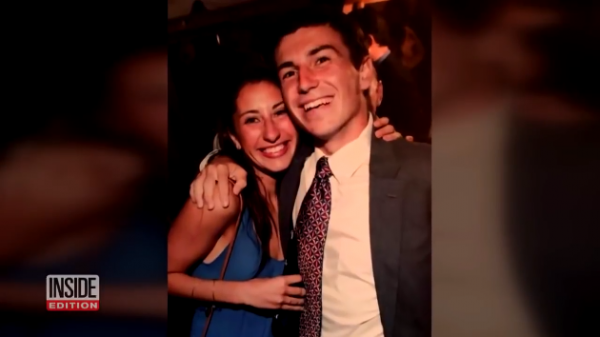 When he and his guest saw there was a wedding going on, they took a chance.
"We're like: 'Oh, there's a wedding nearby,'" he told CBS New York. "There's a perfect opportunity.'"
He says the two only drank and danced without having any plates of food. He also assumed he'd gotten away with it by now: "I thought after three months, I was going to be good."
But after he was caught, he agreed to meet the couple in person.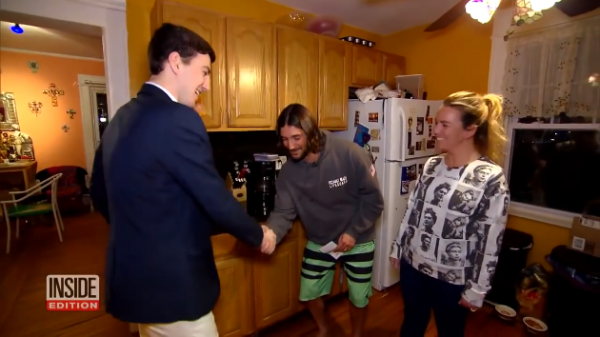 True to their word, the couple wasn't mad and happily greeted their wedding crasher.
Goldberg's wedding date, Regina Paskoff, lives in San Francisco but chatted with the couple over webcam.
"We kind of walked in and looked at each other like… 'we're in,'" Paskoff recalled to Inside Edition.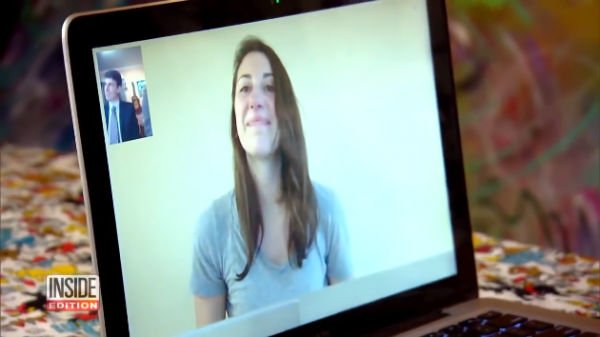 Overall, the newlyweds were just happy the crashers had such a great time—and brought some party spirit to their reception.
"Overall we are very impressed," Robby told them. "It was very boldly done."
"It looks like you guys had a lot of fun, and isn't that the point of a wedding?"