Sometimes a police officer will go above and beyond their job responsibilities when it comes to making sure their community is safe. There are stories of cops doing amazing things for everyday people—like talking them out of suicide, providing victims with financial support in their time of need, and even just double-checking to make sure children are safe.
Sergeant Wayne Faircloth said he was on a normal daily patrol recently in Asheboro, North Carolina, when he saw a school bus has broken down on the side of the highway, according to WFMY.
Sergeant Wayne Faircloth recently checked up on a school bus that has broken down on the side of the road.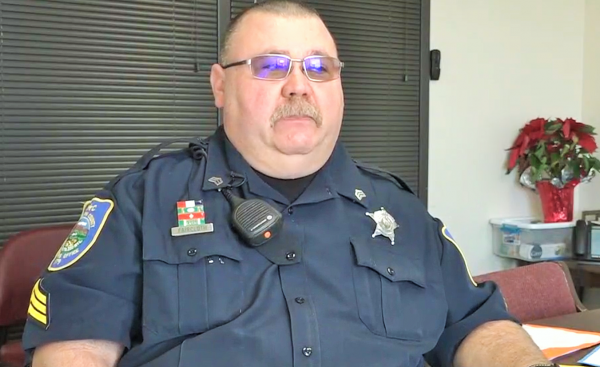 Like any officer, Faircloth was curious and wanted to make sure they had everything they needed during this unfortunate situation, so he boarded the bus. The students had been headed to the YMCA for a Special Olympics event, and the bus driver informed the cop that he had already contacted his transportation center to send another bus.
Some police officers could have been satisfied with that information and simply continued with their day, but Faircloth decided to wait with the bus and keep an eye on them.
While waiting, the children told the kind cop that they were a little cold. Luckily, he keeps useful supplies in his car to give out to people, so he left the bus and came back with some blankets to keep the kids warm.
"The little kids were just all excited about their blankets," he told WFMY.
Faircloth helped the children stay comfortable—and have fun too!

When the second bus arrived to pick the children up, Faircloth made the children more excited by giving them some unexpected gifts.
"I went back to my car and got some stuffed animals out, you know, gave them that, and they were just overwhelmed," Faircloth explained.
A week later, Faircloth received an envelope addressed to him and signed by the students. Inside the envelope were thank you cards from the teacher, bus driver, and students, created by hand for the generous officer who took care of them while they waited for help.
A week later, the kids sent the officer a touching gift, which brought him to tears.

Faircloth was so touched by the kid's reaction that he started to tear up while recalling the situation later.
"To see kids react, you don't know how to take it," he said. "So for them to do this means a lot to me."
Faircloth explained that he will save the letters in a keepsake box where he places other special cards and notes he gets from people he encounters.
"If I've made a difference in one of their lives, I've done my job."