Attending college is an incredible time in a person's life. Many people end up finding themselves or rediscovering lost passions from their youth there, and others put their efforts towards creating new memories that could last a lifetime. With so many different things to do, spare time is a rare commodity that is typically put towards homework, clubs, and other such activities.
For one college student, however, he chose to use his time in a more meaningful way.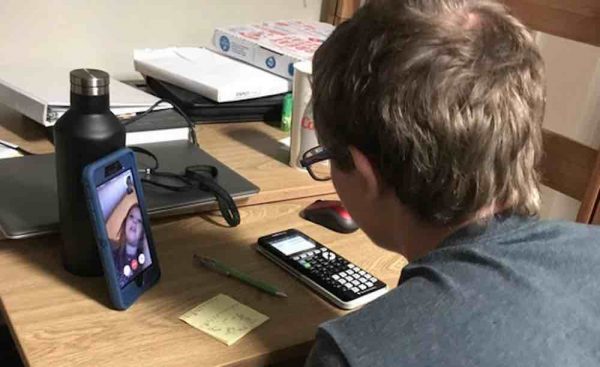 A Reddit user on the popular forum site going by the name TheRylan shared in a post that his college roommate has been spending his free time doing something heartwarming for his sibling. The roommate, who TheRylan chose not to identify, spends time every week helping his younger sister learn math via video calling on his phone.
The kindness of his gesture was felt not only by his roommate, but also the 120,000 people who upvoted the post.
Reddit is an open, online, community that allows visitors to comment on different discussion topics in addition to the system of upvoting and downvoting posts. For TheRylan's post, the picture of his roommate achieved thousands of comments, the overwhelming majority of which were positive.
For many Reddit users it triggered memories of their own time studying with their siblings.
"Such an insignificant task on his end will stay with her forever. He's going to be her hero for years to come," Reddit user gothamhunter shared in a comment on the post. "Source: [I am a] big brother, have cried at a letter my sister wrote me about everything I did, no matter how insignificant, for her while taking care of her when we were growing up."
Dubbed "a good algebro" by one user, in addition to the praise and upvotes, TheRylan's post has even been awarded with virtual gold, a high award doled out to exemplary comments or posts.
"People with siblings; the little things count immensely," gothamhunter added to his comment. "Read them a story. Help them with homework. Spend a sliver of your time a day with them. Show them how to play your favorite video game. Pour them a bowl of cereal. Cook em a grilled cheese. It doesn't take a lot or a big gesture to leave an impact that shows you care about them."

Though the identity of TheRylan's roommate continues to remain a mystery, the fact that he has touched so many people and made them feel happy shows that he can be an example to all.
"Taking care of my sisters was hard, especially with how our upbringing was, and knowing that I helped shape their lives and make them better people, rather than just thinking it, was a validation I never knew I needed until I had it," gothamhunter also commented.
"I think that's what love is. Helping people through the big events and struggles, but also the little stuff in between," ethangamer12 commented. "It's such an amazing feeling knowing that someone loves you and cares about you like that."