Few things can evoke a breadth of emotions the way a clown can—everything from excitement to absolute terror are within the realm of plausibility for most people.
Doo Doo the Clown, also known as Toronto resident Shane Farberman, is doing his part to make sure everyone knows that real clowns are the good guys, not the bad guys.
Doo Doo has carved out an impressive career being an affable, goofy, and approachable clown. He's professionally trained and has been working at his craft for decades. He even made a notable appearance in the Adam Sandler film Billy Madison.
Doo Doo the Clown is famous in entertainment circles, but it's what he did during an emergency that made him a hero.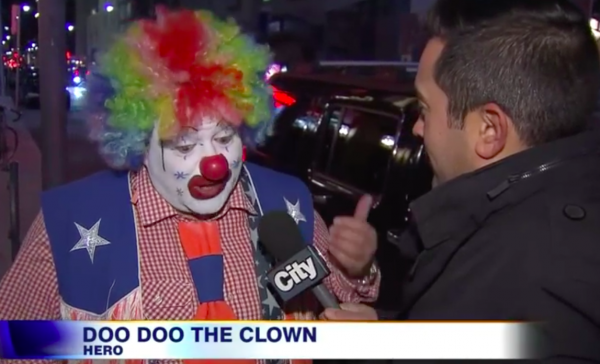 Doo Doo was recently on his way back home from a performance at a charity event. He decided to offer a few of his colleagues a ride home after the event—all clowns in full costume and makeup.
As they were driving home, they saw what they described as a "crazed man" terrorizing people in the street.
"He was just out to get whoever he could. He was walking on cars, punching things," Doo Doo told reporters after the incident. Just as he was on the phone with the police, the man aggressively shoved a woman who was walking down the street.
"He just punched a lady!" Doo Doo yelled at the police dispatcher. The crazed man's reign of terror was just beginning.

As the two women were walking away, trying to make sense of having been assaulted, thing escalated quickly. Caught on Doo Doo's dash cam footage, you can see the man turn around and start sprinting towards the two women walking down the sidewalk. Panic ensues, and Doo Doo urges the women to jump in the car.
The two women, who moments ago were walking down the street minding their own business, were now faced with an improbable decision. They could either stand to fight a violent and dangerous stranger, or they could jump into a Hummer full of clowns, one of whom was pregnant.

They were forced to make their decision quickly, as the man was barreling down the sidewalk at them as quickly as he could. They jumped into the car just in time to shut the door behind them.
That didn't mean the man was going to give up his pursuit, though. He started kicking and punching Doo Doo's car, ripping the passenger mirror off in the process.
The man didn't stop beating on Doo Doo's car until police arrived. It took a total of eight officers to subdue him.

Police now believe the man was possibly on methamphetamine. His behavior, already wild and unpredictable, could have become deadly if Doo Doo and his band of clown mates weren't there. Fortunately, everyone was injury-free and the man was taken into custody.
Doo Doo says he hopes people will "step up" and do something if they see other people in danger. "My kids are proud of me today, that's all that matters," he says.
"Doo Doo the Clown to the rescue," a reporter says as he speaks to the hero. Never was there a better time for Doo Doo to utter his catch phrase: "Unbelievable!"