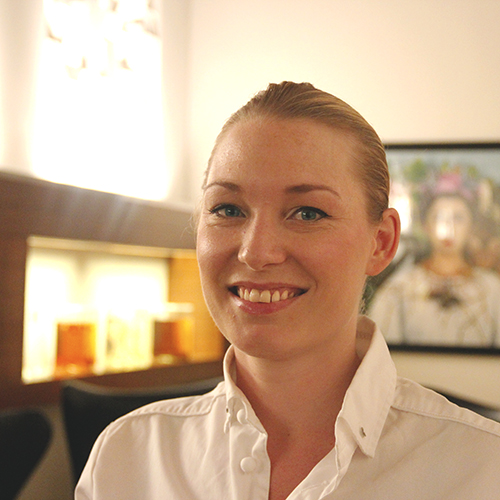 Emma Bengtsson, Executive Chef, Aquavit
Glogg (mulled wine) is without a doubt my favorite beverage. In Sweden we actually buy our glogg as there are many reputable producers of it. Blossa is a very popular brand and each year, they have a flavor of the year, everything from sea buckthorn to blueberry. I just saw that this year's flavor was Earl Grey, which sounds quite lovely. 
As far as my favorite winter foods, I'd say cabbage and pork belly. We eat three different kinds of cabbage dishes during the holidays: red wine-braised cabbage, caramelized cabbage, and green cabbage (kale) in cream sauce. The pork belly can be served with the cabbage, or the fat can be used to add extra flavor to it.
I hate the cold. But I love the snow so I've learned to deal with it. Basically, I will do whatever it takes to be outside to enjoy the snow, even if I have to look like the Michelin Man with lots of layers of clothing.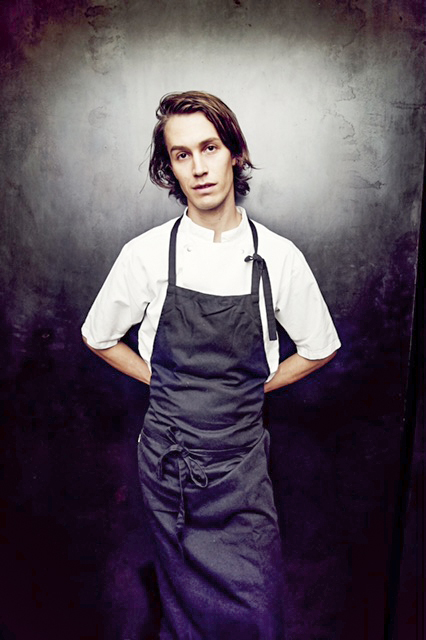 Fredrik Berselius, Chef and Owner, Aska 
Growing up in Sweden I loved winter and I still love it today. Something about the short days, it being dark and cold, and how the snow on the ground helped make short days lighter, and how everything around you turned peaceful and quiet. 
With a white sheet covering trees and houses, everything looks beautiful, and I always found it powerful and somewhat mysterious. You would wake up in the morning and walk outside and you might see traces and footprint of animals that you had never actually encountered during the day when the sun was out.
Depending on how much snow fell, houses and roads transformed, and it presented a challenge that made you feel very alive. When you are presented with a situation where you are one against or with nature, and you have to listen to your hardwired instinct, everything is put into perspective.
It being cold outside also made eating or cooking hearty foods and drinks even more enjoyable. When you are indoors in the winter and it's getting dark outside, and you see the temperature continuously dropping on the outdoor thermometer on the outside of your window, you appreciate the fact that you have a home and roof over your head and food to eat and a kitchen to cook it in.
Celebrating the holiday season and Christmas was something that was reflected through everyone's homes and in school and with everything that goes with it. Since moving to New York I have tried to hold on to the traditions and dishes that made the cold times of the year more special.
Christmas was all about food and cooking. On Christmas Eve itself we always started with glogg and gingersnaps early around 2 p.m.–3 p.m. and soon after transitioning into dinner around 3 p.m. We probably did not finish eating until late in the evening, with dinner ending around 9 p.m., and after dinner, candy and drinks around midnight. 
When we cook at the restaurant and approach an ingredient, we look to those elements where food and a feeling meet. In the restaurant, we want to bring the guest closer to that time in nature or that holiday or special memory or moment that occur around us all the time but that we often are too busy to reflect on or even notice. Winter food traditions in Sweden influence me by cooking heartier foods and things that are fun to eat with a group of family and friends. We will put a hot spirit or cocktail on the drink list and just cook food that we would want to eat coming inside from the cold. 
[One of my favorite winter dish is] Jansson's Temptation: a gratinated potato dish with anchovy or herring and allspice. I always make meatballs for Christmas—probably the only time of year that I make them. People have their own recipes and slight variation what they think is the right size or exact flavor. And for drinks, snaps—infused liquor that we drink in shots together with the meal; glogg served hot with almonds and raisins; and Jul must, something in between a coke and root beer.

Daniel Burns, Chef and Partner, Luksus at Torst
[One of my favorite dishes is] Aebleskiver, or fritters. It literally translates to apple slice. It's like a small ball of batter. You use a special pan to cook it, and it's done in sweet and savory versions.  
Pickling is something we do a lot here at the restaurant and the bar. We have a lot of seafood on the menu, which we pickle, salt, and cure in some way. We use fluke, oysters, and mackerel. We don't have fresh herring here, so we use mackerel. It's a similar fatty fish that works well for pickling. 
Another thing we do at the bar is we make the traditional Danish rye bread, which is something the Danes eat every day for lunchtime. It's something unique for our customers to try for the first time.