If dreams of summer beaches inspire you to revive those old winter resolutions about eating healthier—because, let's face it, what kind of crazy idea is it to start dieting in the dead of winter, anyway?—there's a cookbook for you.
It's "100% Real: 100 Insanely Good Recipes for Clean Food Made Fresh" by chef and restaurateur Sam Talbot.
He has good reason to write such a book. Talbot, who has Type 1 diabetes and leads an active life—whether it's gym workouts, yoga, surfing, or snowboarding—gets a lot of curious people asking him about his diet. Talbot was motivated to write a book not just for the 29.1 million people in the United States diagnosed with diabetes, but for anyone who is generally interested in clean food without "fabricated, processed, added nonsense," he said in a phone interview. "It's real cooking with real ingredients."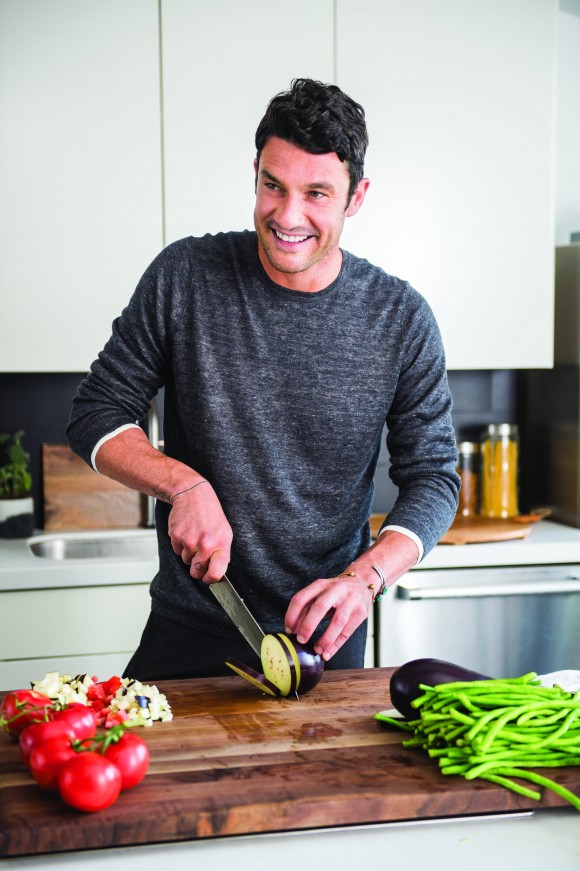 The cookbook release coincides with the opening of his new Brooklyn restaurant, Pretty Southern, which mirrors a similar approach to eating. Pretty, he said, can be taken different ways. To Talbot, the essence of the word means organic, clean, and sourced sustainably. For example, the restaurant serves gluten-free fried chicken and lemonade that makes use of puréed strawberries as a sweetener—"like, why wouldn't you do that?" he asked, as if it was the most obvious thing in the world.
In his cookbook, the list of pantry must-haves that Talbot recommends is remarkably pared down: some grains, legumes, healthy oils, vinegars, herbs and spices, nuts, seeds, and a handful of "powerhouse" ingredients such as chia seeds and maca.
"To cook, you need a clean environment so … you can see where your favorite spices, your favorite grains, your favorite flours are. Not 19 of each, just one," Talbot said.
Nothing about "100% Real" feels self-denying or ascetic in the least, though. And if the pantry list is pared down, that's because all the other ingredients are fresh.
The dishes I tested from the cookbook burst with bold flavors. One of Talbot's cheffy traits is his embracing of acidity, an element in dishes that literally makes your mouth water.
"I love citrus, I love acid," Talbot said. "Food, when it's lacking something, it's usually one of two things: acid or salt."
For example, he has a recipe for iron skillet shrimp with three sources of acidity: a pink grapefruit, rice vinegar, and fresh lime juice—the latter two in a zesty vinaigrette. As for the shrimp, they get a dusting of cumin and paprika before they're sautéed. All of the ingredients come together—with a handful of fresh cilantro, thinly sliced red onions, and toasted hazelnuts—to create a lively combination. Even more popular with my testers was the Chicken Meatball Banh Mi. With spicy-sweet meatballs, crunchy pickles, and crusty bread, it made for some very happy eaters.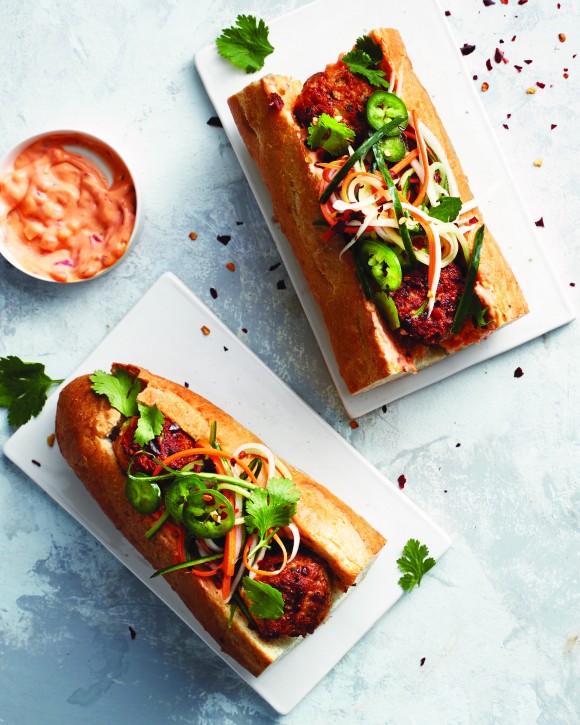 Talbot walks Manhattan's Chinatown markets as well as the city's green markets, so in the cookbook you'll see ingredients like Chinese long beans, bok choy, oyster mushrooms, and pea shoots. And the influences are not just Asian, but global, in scope. For example, there are recipes for skirt steak with a rustic chimchurri sauce; plantain chips; an Italian-inflected shrimp and grits with pancetta and heirloom tomatoes; and warm Camembert topped with strawberry sauce.
Talbot offers a dessert section as well, with recipes like vegan chocolate chip cookies with salted chili (which are "moist, chewy, delicious—everything you need in a cookie," Talbot told me). If your sweet tooth is particularly assertive, there's Apples Foster With Coconut-and-Whiskey Caramel. But the beauty of Talbot's recipes is that they're so bold and packed with flavor, dessert just seems superfluous.
"100% Real: 100 Insanely Good Recipes for Clean Food Made Fresh," published by Oxmoor House, is priced at $29.99.
Get the recipes for: