Someone had hurled an animal out the window of a moving vehicle and nearly over the side of an overpass.
Erin Brown and her son Gavin Orlowski were stunned at what they had just witnessed on the road. Someone driving in a van directly in front of them just threw a cat out of their window and sped off. It was a moment that would leave most of us frozen in shock, but Gavin immediately rushed to action to save the cat.
No Ordinary Cat Rescue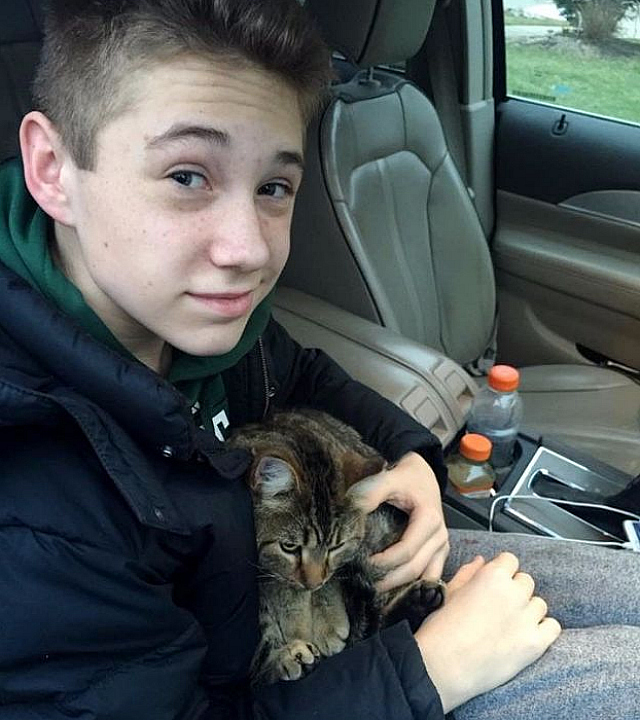 Gavin had to overcome some pretty serious obstacles before he could reach the cat, however.
The little feline was now hanging on for dear life at the edge of a highway overpass—and traffic was speeding by.
The cat was thrown out of a moving van's window.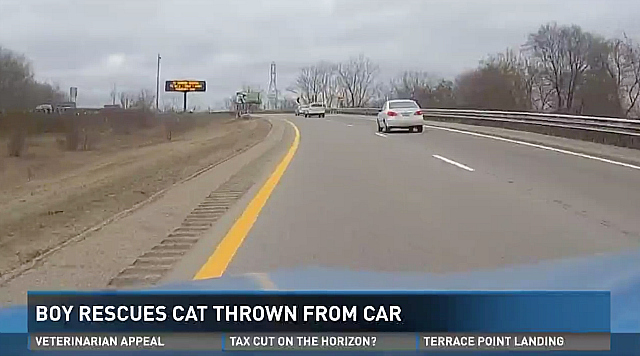 With no time to spare, Gavin had to find a way to help. 
"I was just thinking I need to get this cat," Gavin told WZZM in an interview.
The situation was precarious, to say the least. In a dangerous move, Gavin decided to start by stopping traffic. "I turned back and held up my hand [to stop traffic]," he said. "The cat [was] hanging off the over-bridge, like 75-percent of his body is like over the bridge."
It worked—Gavin was able to get close and pull the cat back from over the edge.
The cat was more than appreciative and had obviously found a new hero. It wouldn't leave Gavin's side. 
But how could someone be so cruel?

After that, "It was gone. The truck just bolted out of there," Gavin said.
The authorities were alerted and started searching for the animal abusers, but Gavin was baffled and clearly disturbed by the whole incident.
"Why wouldn't you just let a cat go? At least just let him go, not just throw him off a bridge," Gavin said.
Rushed To The Hospital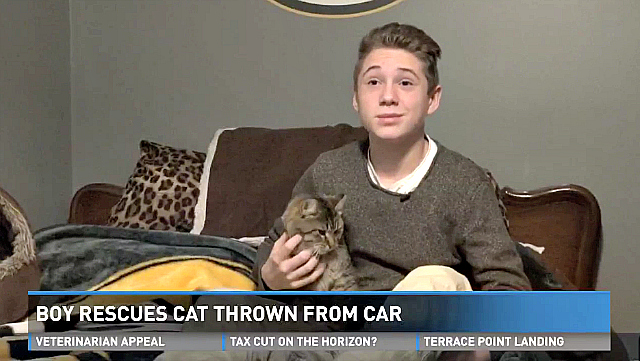 Immediately following the rescue, Gavin and his mom quickly brought the cat to a local animal hospital. They wanted to be certain that, after everything the cat had just experienced, there were no internal health issues. 
"Turns out nothing was really wrong with it except all of his nails got cut off because of him trying to grasp the asphalt on the road and his back hurt from the fall," he said.
Paid In Full

Gavin and his mom were billed for the check up, but because someone had found out what they had done online, the bill was paid by a kind Facebook friend.
Not only did people feel that it was an act of bravery and quick thinking, but they also saw the bond that Gavin and the cat had created over the incident.
Hmm… How about a name?

All that was left for Gavin to do now was to name the cat. "I thought of the name Lucky, because it is lucky to not be hit by a car on the highway," Gavin explained.
Makes sense. It appears that Gavin is also lucky to have a gained a new, loyal and grateful friend!