Driving down the road, it's possible you'll see one, maybe two, cars that have an interesting paint scheme or attention-grabbing details. But you'll probably never see a truck decorated with images of Carrie Underwood, especially not one with a man behind the wheel.
Earlier this week, an image of a Chevy Silverado was shared on reddit. It wasn't the first time redditors spotted it and shared a photo of it online, but this time it created quite the conversation.
Many questioned the owner's intent and speculated as to what type of person would wrap their truck with images of Carrie Underwood. However, like most speculations, none of it was true.
The truck has been spotted and photographed many times.
At first glance it's bizarre, but once you hear why Lawrence Young wrapped his truck you'll smile.

In 2010 Lawrence Young's wife, Kathi, underwent surgery to help her fibromyalgia. When she came out of surgery, doctors discovered she had severe brain damage, her prognosis was not good.
Her final days were spent at the couple's home in Kansas listening to Carrie Underwood.
"When she died, she told me, 'Stick with Carrie's music and it will help you through life.'" Young told The Blast.
When it was time for a new truck, Young decided it was the perfect opportunity for a tribute.

Young recently purchased a new truck, and thought it would be the perfect-albeit unconventional way to pay tribute to not only his wife, but to Carrie Underwood, whose music has helped him through the past several years.
The truck's graphics, which were designed by Young's son, took 10 days to wrap, and cost roughly $2,000.
The 2017 Silverado is one of a kind.
Every once in awhile someone snaps a photo of it and shares it online.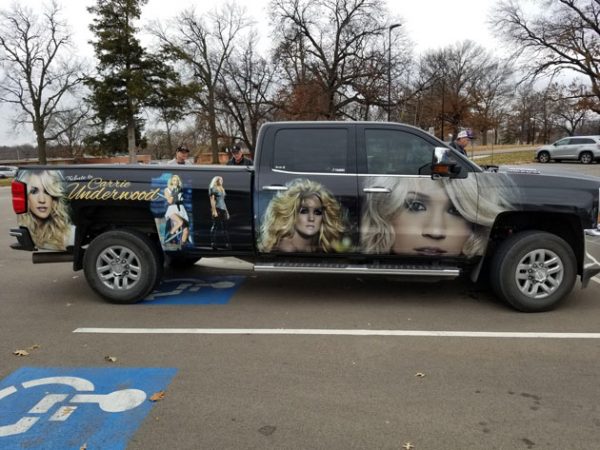 Not surprisingly, Young says that the only music he listens to in his truck is Underwood's.
"I've never even turned on my radio," he said.
Young hopes that one day he'll get to meet Carrie Underwood and show her his truck.
Young told The Blast that his special truck has become increasingly popular, but he doesn't intend to sell it, not even for $175,000, an offer which he recently declined.
"I didn't do this for money or attention," he insisted. "I did this as a tribute to Carrie and my wife."