Baby Anastasia was born on the first day of the New Year—as many other babies were—but likely none in as much of a rush as she was.
Tiffani Von Glahn and Carl Alewine were on their way to the hospital at breakneck speed as they realized their baby was coming three weeks early, and the hospital she was supposed to deliver the baby at was one hour away.
"I was told she was a high-risk pregnancy," Von Glahn said. The baby had been sitting in a risky position and doctors said she was likely to get stuck, so the couple was desperate to get to the hospital on time for a C-section.
"I was thinking, 'There was no way I could have her naturally,'" Von Glahn said.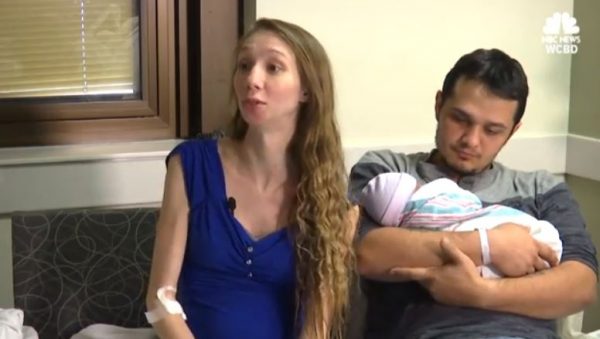 Fearing for her baby's health, they ended up speeding down the interstate highway, hitting speeds above 90 mph.
The next thing they knew, a police car was behind them, asking the couple to pull over.
Von Glahn's answer? No way.
"He [Alewine] was going about 90-95 and a police officer came up behind us to pull us over. And he was like, 'Do you want me to stop?' And I was like, 'No don't you stop!' because I felt her coming," Von Glahn recounted.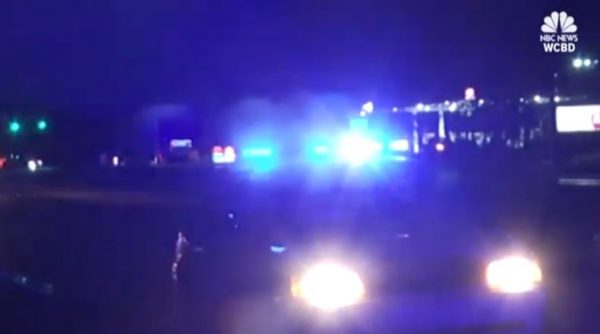 The police couldn't let the couple just go, not after they sped off when asked to pull over. A traffic stop turned into a full on police car chase, and when Von Glahn turned around again, she saw flashing lights and heard police sirens.
"I look back and there's like 20 police cars, and they had the exits blocked off and everything. Eventually, it got to where they had to box us in to stop us."

At that point, they had no choice but to stop the car, and everything happened in a blur.
The police ended up putting Alewine in handcuffs "just for safety reasons, because they were saying there are people out there that will fake having a pregnant wife.
Except Von Glahn wasn't faking anything—baby Anastasia was done waiting, and the police ended up helping deliver her right there and then.

"I'm sitting there, watching her born on the hood of the car, fireworks going off in the background because it's New Year's, and then they let me out of handcuffs, and the cops started clapping and congratulating us," said Alewine, Anastasia's father.
What a scene!
In some miracle, the baby ended up coming into the world the first hour of the New Year, delivered naturally without complications and totally fine.
"It happened so fast and the guy that delivered her was just there," Alewine said.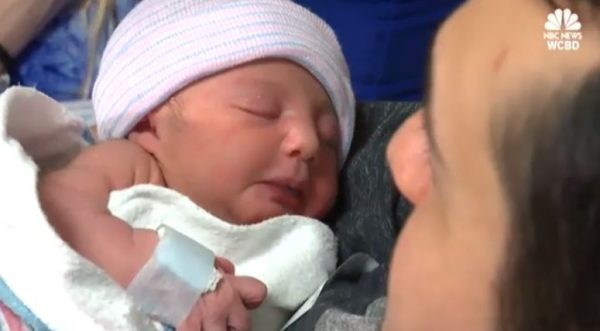 What a sweet, beautiful, innocent face. Hopefully she will convince her parents there's no need to try to outrun the police in the future!