All animals feel, no matter how humans perceive them. Though some may seem to act friendlier towards humans than others, they all have emotions. So it can be heartbreaking to see an animal deprived of its freedom.
The Wishing Well Sanctuary, based near Toronto, is a place that wants to see animals (and people) get the chance to live in peace. As an animal protection organization, they not only focus on educating the public but also in rescuing animals in need.
The Sanctuary is also home to two calves who were given a second chance at life.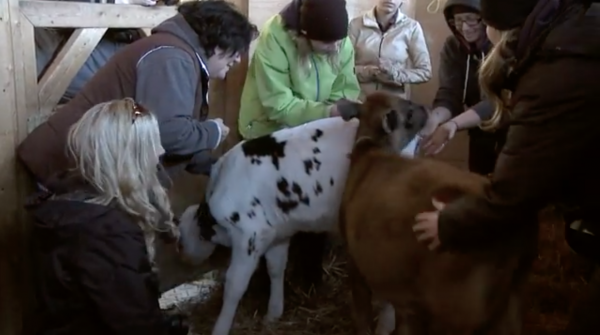 The calves are called Kai and Bali, and they were rescued by the Wishing Well Sanctuary in 2014.
Kai was discovered by a woman named Bethany Karn when she took her daughter to a pumpkin farm.
On the farm, the calf was found to be "chained and alone in his enclosure," and was destined to eventually be slaughtered.
She couldn't stand by and watch the calf suffer, so she called multiple Ontario sanctuaries, and negotiations began with the farm to extract the calf.
But then the Sanctuary saw that another calf was set to be slaughtered along with the original one. Brenda Bronfman, the founder of Wishing Well Sanctuary, took it upon herself to make sure that both of them were saved.
And they were.
Both calves arrived at the Wishing Well Sanctuary shortly after.
Kai is the brown calf, and was given the name by the woman who discovered him, Bethany. And Bali is the white one, and named after one of his rescuers, Paul Bali.
Once they were properly fed and taken care of, they were given a chance to roam the area, a far cry from them being chained up and prevented from running.
And they had no problem testing their legs!
Once they were given the chance, they both jetted out of the barn and into the open. Both Kai and Bali looked so excited to finally roam as they pleased.
Imagine what it's like to be chained up all day, and barely able to move, and then being able to run around. These calves could not look happier. They both even jumped over the obstacles in their way! It looks like they've been waiting to do this for a while.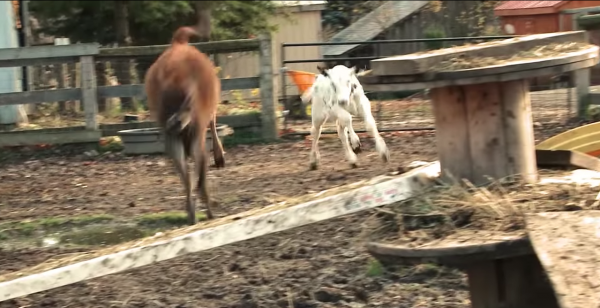 The two seemed at home more than ever at the Sanctuary. And when they came in, they needed a home, so the organization made a fundraising page to help raise money to build a home for the calves, which raised over $20,000!
Bali and Kai are just two of the numerous animals that the Wishing Well Sanctuary have saved and given a new home to. And with both of these calves formerly set to be slaughtered, it's a beautiful thing that they can live out the rest of their lives in this place where they're cherished like never before.