It seems that the recent craze is to try and find out about your roots through genealogy websites.
These sites, along with DNA testing, have led people to learn things about their own families that they went their whole lives without knowing.
Matt Shaw became a part of this phenomenon when he used a genealogy website and discovered something unexpected.

The man from South Carolina used Ancestry.com to find out that he had a half brother he had been separated from since after birth.
His brother's name was Ed Clark, who resided all the way in Enon Valley, Pennsylvania.

And in June 2018, Shaw and Clark reunited after decades of being apart.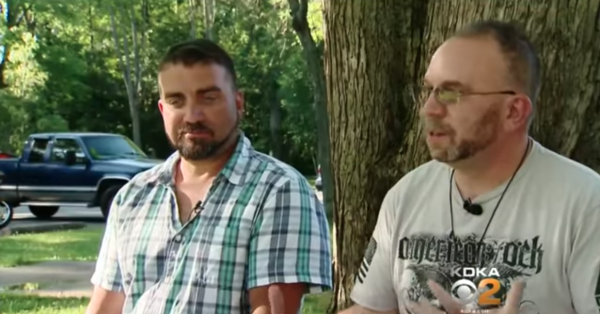 But their meeting wouldn't mark the end of searching for these brothers—if anything, this only led to more mysteries being uncovered.
After the reunion, the brothers had acquired information pertaining to more family members—they actually had long-lost twin sisters that were older than them.
And the brothers decided to find them next.
"I had seen other people doing something similar to it … and we said maybe we should do this Facebook thing," Shaw told CBS Pittsburgh.
With the help of Clark's family, the two sent out a plea to Facebook.

Regarding their plea, the two just covered the basics in this photo, pointing out 1968 and Ellwood City as the date and location of the birth of their twin sisters, respectively.
The post wouldn't guarantee results, but the brothers hoped that someone out there would know even the tiniest bit of information about the two girls.
To their surprise, the post reached over 6,300 shares, and a local news station also picked up the story.
At this point, it was almost a forgone conclusion that information on the sisters would be found.
And sure enough, that's exactly what happened.

Donna Haun and Dana Cameron from Hermitage, Pennsylvania, were Shaw and Clark's twin sisters, and the four met for the first time in July 2018.
It only took a month for the brothers to find their long-lost sisters, thanks to the reach of social media.
"We were just shocked," Cameron said upon finding out she and her sister had brothers.
They realized they may have even more unknown siblings out there. But right now, they'd all like to focus on getting to know each other.

"I hope we're all close," Haun said. "Because it's almost like we have to catch up on what we lost."
Some people spend their entire lives trying to find their biological family, and it's great to see that the four of them are able to make up for lost time.
But if there do end up being more family members, the siblings will most likely have no problem finding them, given the publicity they already have.