On Steinway Street, a bustling strip in Astoria, the diversity of New Yorkers displays itself in the storefronts, from Greek bakeries—remnants of the old Greek neighborhood—to Lebanese and Colombian restaurants that are reflective of more recent immigrant influxes.
As for a place for people of different cultures to sit down together for a meal inspired by all of their diverse backgrounds—it's not an easy find. Nor is it easy to accomplish. But such is the aspiration at Brik Bar Lounge and Kitchen.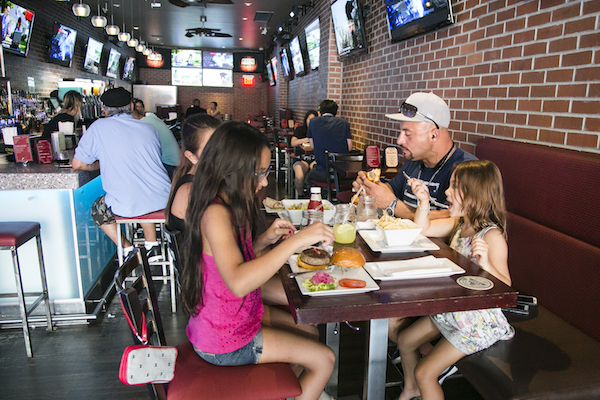 Unlike at most bars, the menu at Brik isn't just an afterthought. The owners are constantly testing out recipes to elevate bar favorites. The chicken tacos ($11), for example, are topped with a housemade avocado mousse and chipotle aioli (all of Brik's condiments are made in-house). The mousse is a creamier and more addictive version of guacamole. And with the smokey flavor of the chipotle, the spicy kick from the pico de gallo, and juicy grilled chicken, these tacos are seriously good eats.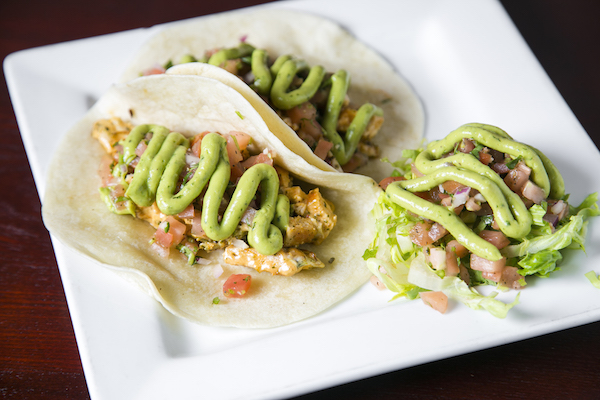 Similarly, the chicken skewers are fresh, seasoned with just the right amount of herbs, accompanied with warm, comforting pita and creamy, zesty tzatziki sauce ($10). The salads come in large portions, with fresh greens and dressings that are full of flavor but not overwhelming ($7–$12). Even the desserts here are made in-house, including a soft, luscious cheesecake ($7).
Other bar staples get a refreshing update: the popular Brik Burger ($12) comes with feta cheese, grilled tomatoes, and Greek slaw—a nod to the neighborhood's Greek immigrant history. The Mac and Cheese ($10) is made with manchego, a rich, sheep's milk cheese from Spain.
It's no wonder that the food at Brik has made it a neighborhood destination. Brik is a hip spot. No less than 24 flat-screen TVs make it easy to catch a game, while a touch-screen jukebox caters to musical inclinations from current top 40 hits to salsa.
Right off the Steinway Street subway station, Brik is the perfect place to drop by for a casual meal or drinks with family or friends.
Brik Bar Lounge and Kitchen
32–16 Steinway St.
Astoria, Queens
718-267-2745
BrikBarLounge.com
Hours of Operation:
Monday to Friday: noon–4 a.m.
Saturday to Sunday: 11 a.m.–4 a.m.
Kitchen hours:
Monday to Thursday: noon–midnight
Friday and Saturday: 11 a.m.–1 a.m.
Sunday: 11 a.m.–12:30 a.m.