When you enter the restaurant, the smell of ocean brine hits you first. Seafood is the star of many a Japanese meal, and at Okonomi, it takes center stage in a traditional-style breakfast.
During the day, this Williamsburg restaurant serves a set meal with soup, rice, and a platter of small bites, a format based on the cooking principle of "ichiju sansai," which literally means one soup and three dishes. This is how most home-cooked meals in Japan are served.
The soup is miso with seasonal vegetables floating inside, such as watercress and watermelon radish—something light and warming for the stomach.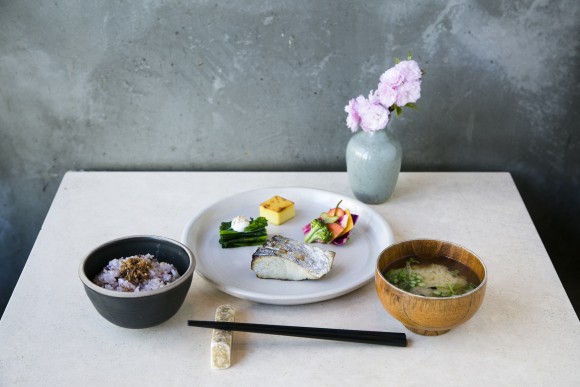 Seafood, sourced from Atlantic waters, is usually simply roasted with salt for a nourishing accompaniment to the bowl of rice. Diners choose one of two items, which change according to availability. King mackerel is surprisingly light, with notes of its oceanic origins, while striped bass falls apart into buttery flakes.
Other complementary bites include a cube of tamago omelette, lightly sweet and reminiscent of a savory flan; blanched broccoli rabe; and pickled vegetables, crisp and bright.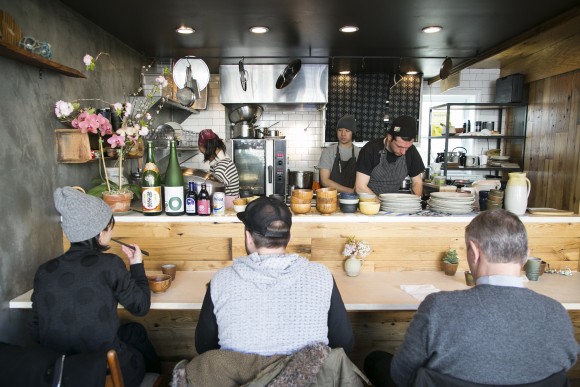 The bowl of rice can be enhanced with the addition of a Japanese-style poached egg, sitting in housemade sweet soy sauce and streaked with togarashi seasoning ($2.50). After you whip up the egg with the soy and pour the mixture over your bowl of rice, the soft, custardy bits of egg become a umami-filled, viscous sauce coating the grains.
Price of set meal, about $20, varies depending on the seafood options.
Okonomi
150 Ainslie St. (near Lorimer Street)
Williamsburg, Brooklyn
OkonomiBK.com
Breakfast hours: 
Monday, Tuesday, Thursday, Friday  9 a.m.–3 p.m.
Saturday & Sunday 10 a.m.–4 p.m.
Closed on Wednesdays