Perhaps it's only natural that French pastry chef Laurent Dupal would wax poetic about eating a croissant. "When they are warm and right out of the oven, it's an unforgettable moment," he said. "It's imprinted onto the brain."
Dupal, who has been making croissants and other French baked goods at the Lower East Side's Ceci Cela for more than 25 years, knows exactly what makes a perfect croissant: flaky on the outside, a little chewy on the inside, with just a hint of butter flavor. "When you eat it, crumbles have to fall down," he said.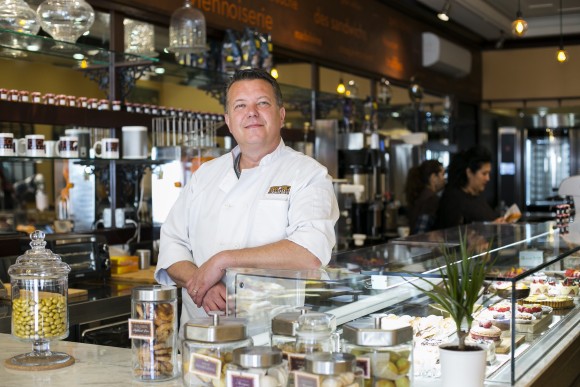 Making croissants is a three-day process at Ceci Cela, which bakes around 20,000 croissants per week for both wholesale around the city and its own retail shop. The pastry is notorious for requiring laborious folding and rolling of many dough layers. The French consider this deceptively simple pastry their quintessential breakfast item, usually eating it unadorned or occasionally with a bit of butter and jam, or sometimes paired with an omelette, Dupal said.
Back in France, everyone has a local boulangerie that's their go-to spot. Dupal recalls that after coming home from a late night out, he often would knock on the door of his local boulangerie in the wee hours of the morning, asking if the baker had any croissants coming out of the oven. "You have to have a good relationship [with the baker]," he said.
Dupal's croissant is a wonderful rendition: It makes a loud crunch as you bite into it; then, as you reach the fluffiness within, the lightly sweet aroma of butter is released. He also makes a chocolate-almond version, with a marzipan-like nuttiness and smooth chocolate, and a savory version stuffed with ham and cheese.
In the line of viennoiserie, a category of French pastries made from leavened dough, Dupal also makes a fantastic orange brioche bun. The dough is flavored with orange zest, while the inside is filled with delicious pastry cream.
Ceci Cela
14 Delancey St. (between Chrystie Street & Bowery)
212-274-9179
CeciCelaNYC.com
Hours:
Sunday–Thursday
8 a.m.–8 p.m.
Friday & Saturday
8 a.m.–9 p.m.